We spent the morning of day 5 putting together the class pictures for the final slide show to be presented later in the day. Each instructor at the Magnum Days workshop was showing a slideshow of the work from their class and we were excited to see what other students were up to! Hit the jump for more.
A Few Shots From Day 4
We got a chance to show any images shot on the afternoon of day 4 that might be included in the slide show. Didn't get a lot on previous day but I had a few pics that weren't horrible.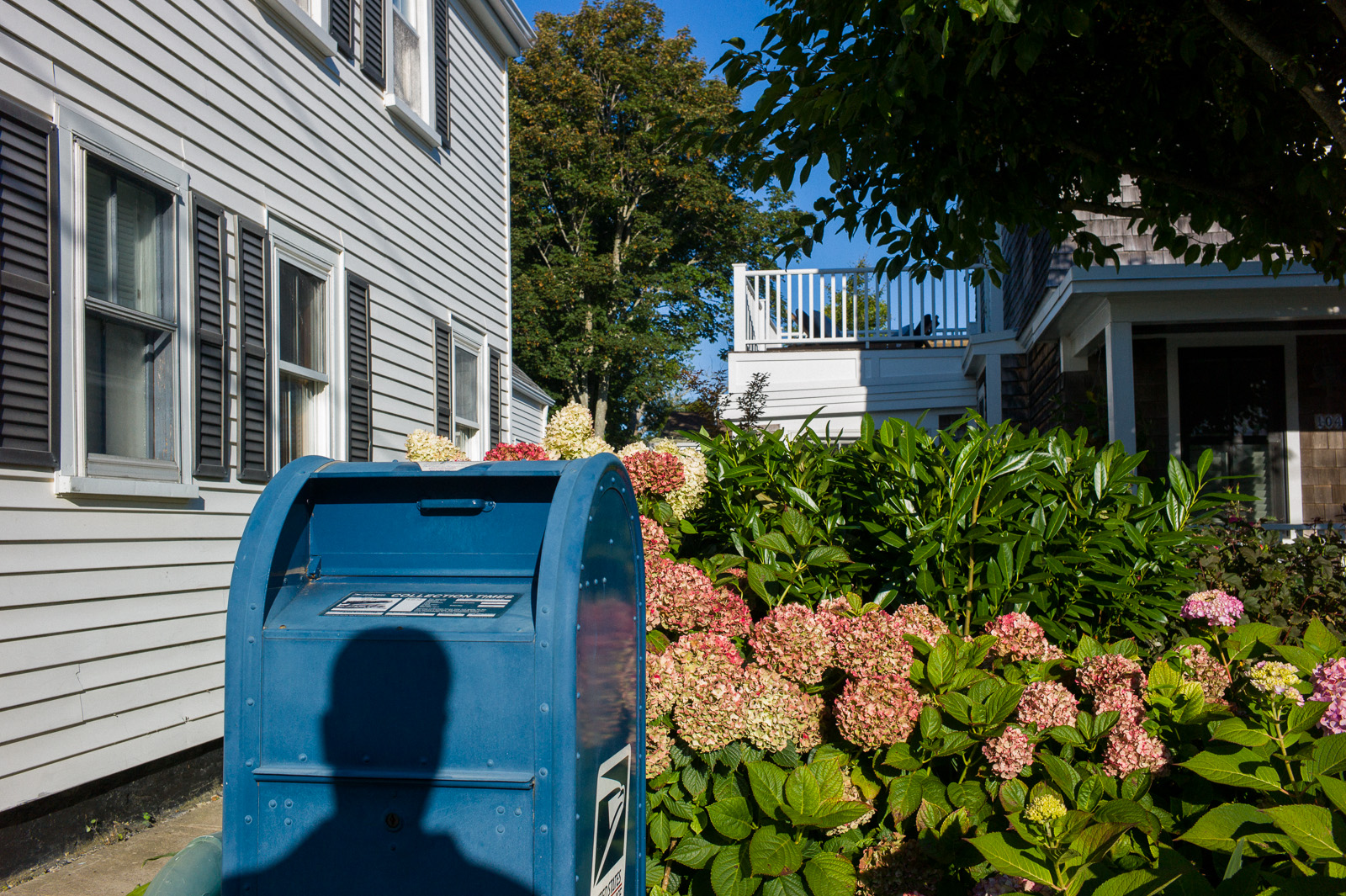 I spent most mornings out shooting with Kile Brewer, Eric Kim and Quoc Dien-Trinh. The early morning light meant we were all getting our shadows in the shots so we started having fun and placing out shadows as part of the composition. Costa didn't quite understand and moved on to the next pic. I wasn't particularly attached to the image so I moved on as well.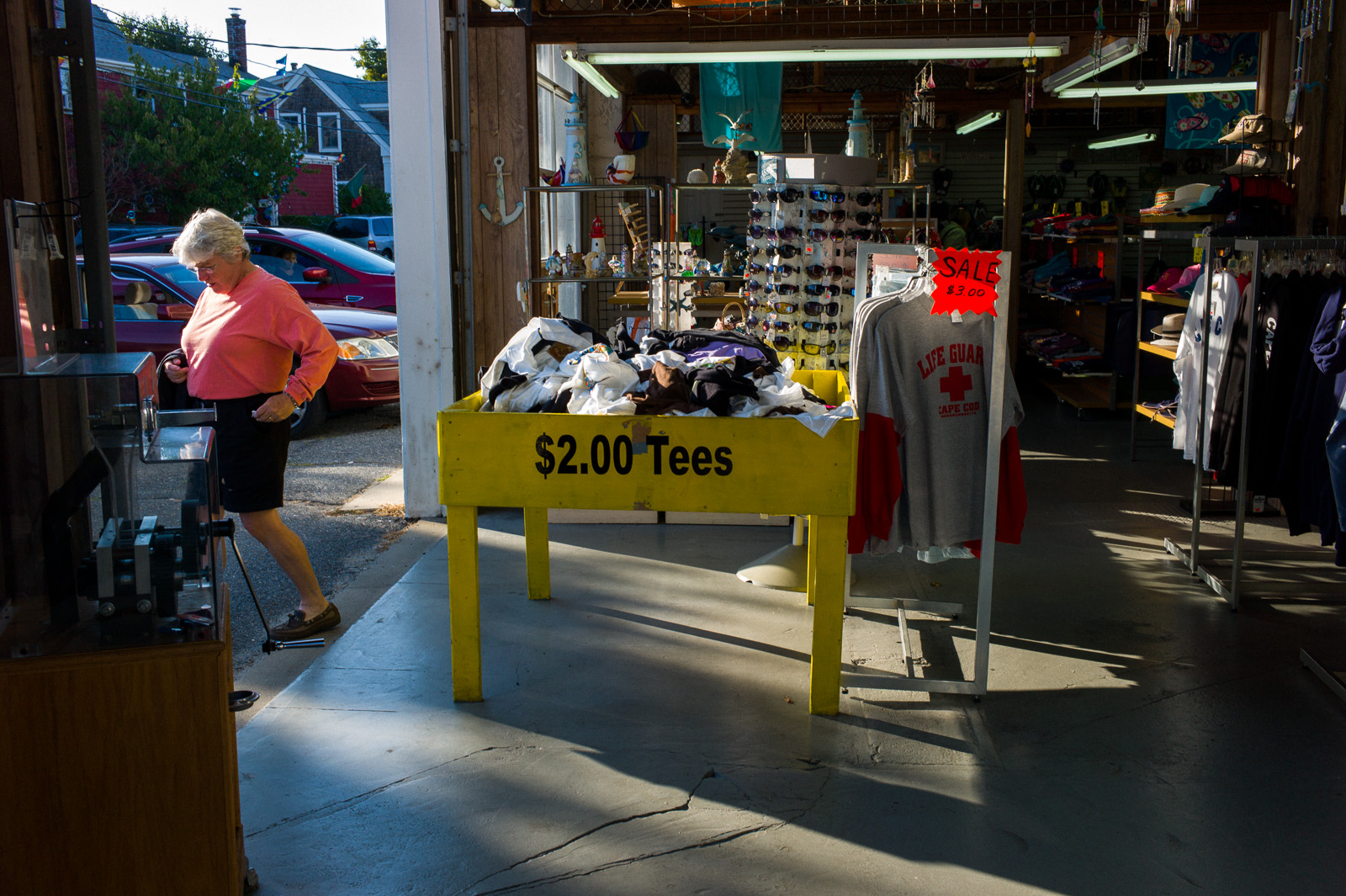 I sort of liked the light in this shop and the splash of color from the lady's shirt. Costa just said, "No." In retrospect, I have to agree. Not one of my best shots.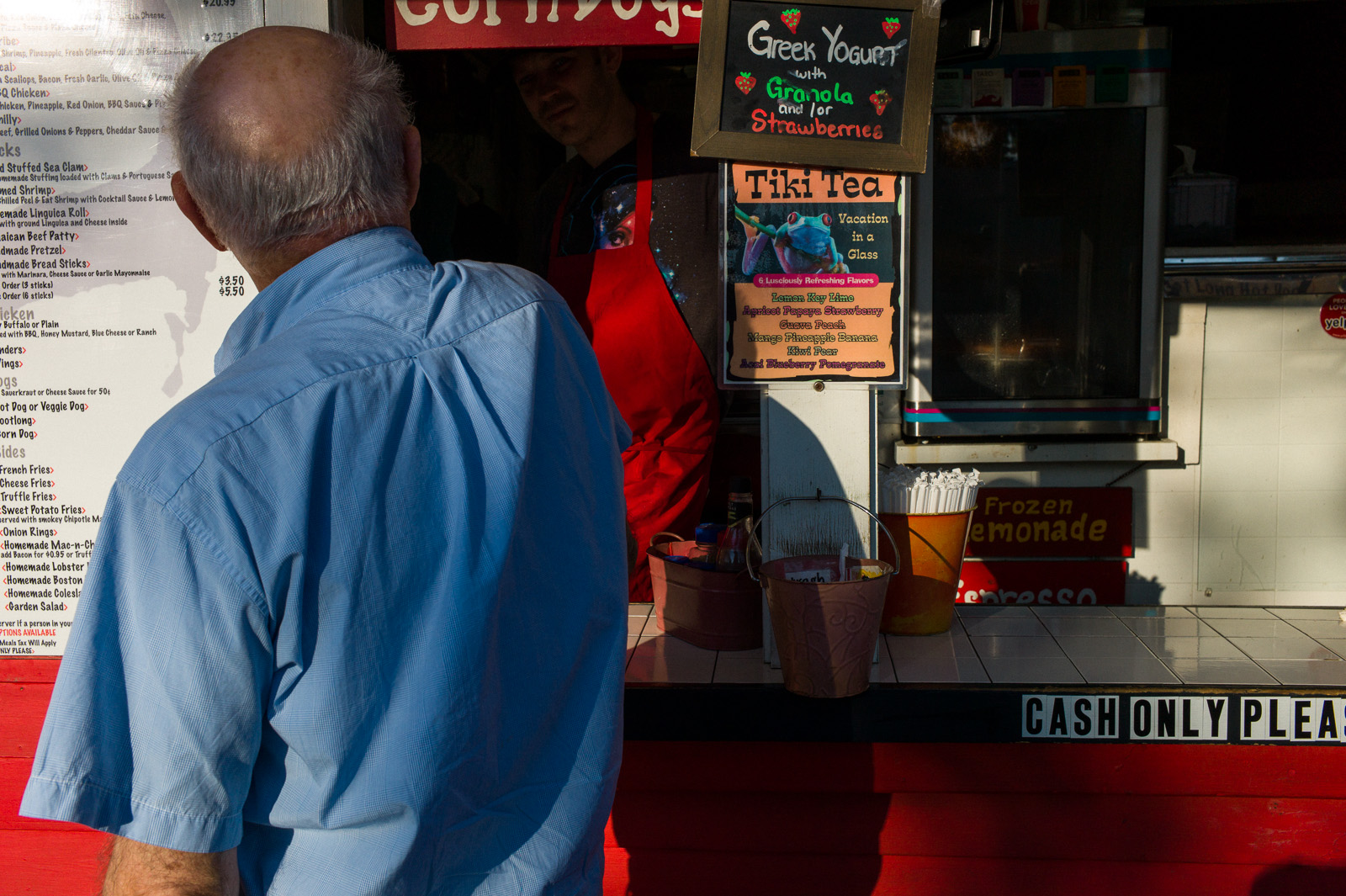 This shot didn't really project well so the shadow detail of the guy inside the window was lost. Originally I thought it was interesting with the large blocks of color but looking at it now it sort of just looks like a picture of the back of someone's head. Costa looked at it for a few seconds then turned to me and said, "Well, you've got lots of other good shots so let's just look at those."
8 images were chosen for each of us in the Costa Manos street photography workshop and assembled into a slideshow to be presented along side student work from the three other Magnum Days workshop instructors. Here are the videos –
Costa Manos Student Slideshow
Olivia Arthur Student Slideshow
Bruno Barbey Student Slideshow
David Alan Harvey Student Slideshow
Amazing work in a wide variety of styles from each instructor's students!
I don't regret a second of the time I spent with Costa Manos in his workshop but meeting these other amazing Magum photographers has only made me crave more knowledge. I'm pretty sure I'll be back for another workshop at next year's Magnum Days celebration in Provincetown!
Final Thoughts On The Costa Manos Street Photography Workshop
I can't stress how much of an excellent experience the workshop was. Not only could I learn from one of the great masters of modern color photography, Constantine Manos, but I could rub shoulders with some of greatest names in photography. David Alan Harvey was a colorful character and always took the time to stop and talk if he was able. Bruno Barbey's charming fluidity will be remembered fondly and Olivia's intense focus on her work is an inspiration to say the least.
Special shout out the Song who kept things moving throughout the week. An amazing woman that was always a joy to speak with. Sorry I missed you on the last night, Song. That's my loss for sure!!
In closing, I think the most appropriate message to take away from Costa Manos comes in the preface to his book American Color:
The subject of American Color is photographs, made in the United States but not meant to comprise a general or definitive statement about the country or its people. These images are a collection of specific moments picked from a narrow spectrum of public places and events. Presented without the constraints of captions, these photographs have a life of their own and invite a personal response from the viewer. My favorite pictures have always been complex ones which ask questions and pose problems, but leave the answers and solutions to the viewer.

My favorite pictures have always been complex ones which ask questions and pose problems, but leave the answers and solutions ot the viewer. These are images with a long and evolving life, in which the photograph may transcend the subject and become the subject. Central to the strength of these iamges is photography's most precious and unique quality, believability: that the moment preserved on a piece of paper is true and unaltered, that it really hapened and will never happen again.

In the search for photographs I have come to realize that the best pictures are surprises, images I subconsciously seek but do not recognize until they suddenly appear. These are thrilling moments in a type of photography which can be frustrating and upredictable, with the pictures often spoiled by something so minor as a wayward cloud over the sun or the momentary glance of a subject at the camera. In approaching people, I prefer to be the observer rather than the observed and value the human presence as the most important element in my picures.

The flow of people in a setting, their changing relationships to each other and their environment, and their constantly changing expressions and movements — all combine to create dynamic situations which provide the photographer with limitless choices of when to push the button. By chooosing a precise intersection between subject and time, he may transfor the ordinary into the extraordinary and the real into the surreal.
Well said, Costa.
American Color By Costa Manos On Magnum
Magnum Days 2014 In Provincetown