Magnum photographer Eli Reed is presenting a "Decisive Portrait" workshop as part of Magnum Days in Paris. Eli is a celebrated documentary photographer with the unique ability to see past the event he's covering and peer into the very souls of his subjects. But why would street photographers be interested in a portrait workshop? Hit the jump for more info.
Eli Reed
Eli Reed started as a freelance photographer in 1970 and joined magnum in 1983 . since joining magnum he has worked on assignment for some of the biggest print media publications including National Geographic, Life, Time, People, Newsweek, The New York Times, The Washington Post, Vogue, Harpers Bazaar, Sports Illustrated, Vanity Fair, Details, and GQ.
His work has covered the wars in central america and lebanon, the 1986 Haiti coup against Baby Doc Duvalier and more recently the Lost Boys of the Sudan:
Decisive Portrait Workshop
What's a portrait workshop doing on a street photography blog?
Eli's work is not only a document but seems to peer into the souls of the subjects. Often capturing delicate moments amidst the chaos of war or life in general. Even when he's shooting documentary work he seems to be capturing portraits of his subjects. captured in a fleeting moment but nonetheless charged with emotion and strength of character.
The workshop isn't simply about shooting portraits and seems to be based on Eli's unique skills as a documentary photographer. Combining portraiture and photo journalism in an unique way:
The decisive portrait

My class will be about taking the students to the place where they learn to see beyond the exterior image of possible subjects, in order to successfully capture the individuality of each subject.

I will help them discover how use everything at their disposal in order to reach the central core of the people that they are photographing within a limited box of time.

They will learn how to use environment, light, mood, and the feelings of those they are photographing. Learning the art of approaching unfamiliar subjects in order make strong portraits that stand out without being boring and how to make a portrait session gets the subject on the photographers side instead of the subject wanting it to end quickly.
Sounds to me like he's describing the very core of street photography!
As street photographers I think we often take our subjects for granted and use people as props in a composition. But excellent street photography can be so much more when it captures a split second of the subject's unique personality. Think of some of the most memorable images of the street and you'll see this humanity shining through. Take, for example, Bresson's Boy Carrying a Wine Bottle, (Rue Mouffetard, Paris, 1954)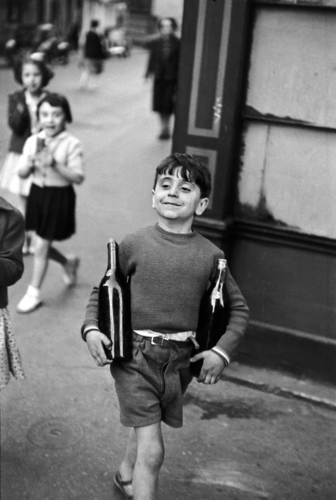 That triumphant grin, the sparkle in his eyes and proud step. One could argue that this photograph is as much portrait of the boy as it is a street photograph. Without his unique humanity shining through this image would be nothing.
Eli Reed's decisive portrait workshop is being held as part of Magnum Days in Paris which has a portrait theme so it makes sense that a documentary photographer would come up with a "Decisive Portrait" workshop fit this theme. Based on the description alone this sounds like a lot more than portraiture though. Registration is €950.
What do you guys think? Post your comments below and keep the conversation going!