The next Eric Kim street photography workshop is being held in Toronto, Canada on April 3-5th 2015. This is an intermediate / advanced workshop that focusses developing your style as a street photographer and atendees are encouraged to work on a single project over the weekend workshop. Hit the jump for all the details.
Eric Kim Street Photography Workshop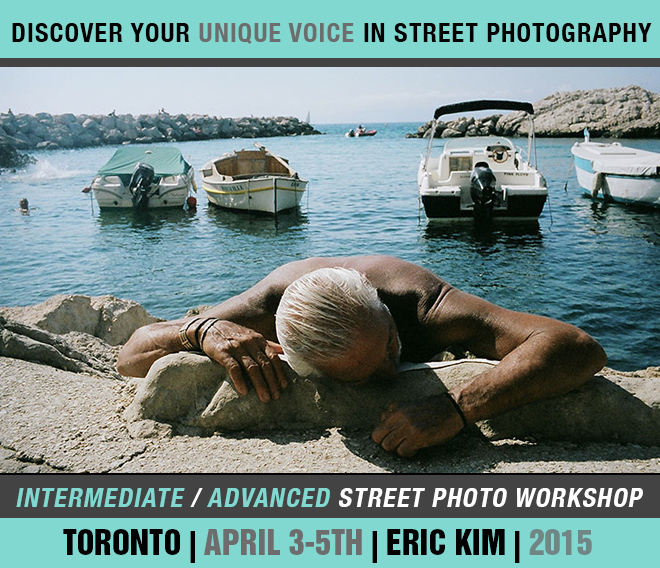 Eric Kim's enthusiasm for street photography and his ability to guide his students to a new level of seeing have made his workshops popular around the world. So it's great to see him in StreetShootr's hometown – Toronto, Canada! The three day intermediate / advanced workshop encourages students to work on a single project rather than concentrating on single images.
As with all Eric Kim workshops, the curriculum will be tailored to the individual needs of the attendees and there's plenty of 1 on 1 time with Eric to help you over and hurdles you might encounter. You can also expect pop-up assignments from Eric that are designed to break you out of your comfort zone and grow as a street photographer.
The curriculum for the workshop includes:
How to develop your style in street photography and stick out from the crowd.
How to master composition in street photography and develop your visual literacy.
How to create a memorable body of work and the secrets of unforgettable images.
How to focus on a project rather than just single images.
One-on-one counseling on what to look for when shooting on the streets.
How to identify your weakest images and effectively edit and sequence your work.
An in-depth study of famous Magnum and contemporary street photographers.
Personalized street photography assignments to push you to the next level.
How to develop a visual consistency in your work.
Advanced techniques on shooting on the street.
As of time of publishing, there's still a couple of places available for the Eric Kim street photography workshop in Toronto, Canada on April 3-5th, 2015.
Contact neil.ta@erickimphotography.com for more information.
Early Bird Rate Extended
Tuition for the Eric Kim street photography workshop is normally $800 USD with an early bird rate of $495 if you register by March 15, 2015. Of course, that date has already passed but Eric has extended the early bird rate until Monday March 23, 2015 exclusively for StreetShootr readers.
To take advantage of this lower rate be sure to mention STREETSHOOTR when you apply.
For more information you can contact Neil Ta at neil.ta@erickimphotography.com or visit the workshop page on Eric's site:
Eric Kim street photography workshop in Toronto, Canada.
Free Lecture – Conquering Your Fear Of Street Photography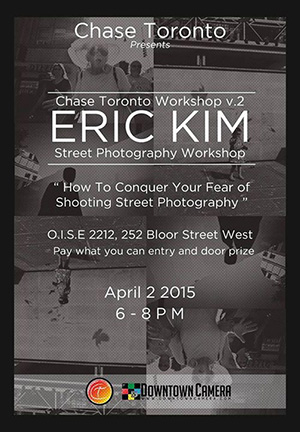 If you can't make it to the workshop you can still catch Eric Kim's free lecture on how to conquer your fear of shooting street photography. It's a great time to meet Eric face to face and hear some of his core ideas on how to get the most of shooting on the street.
The event is being presented by Chase Toronto and Downtown Camera (ask for Patrick) and is pay-what-you-can at the door. It's a good cause so dig deep and come up with a couple bucks for these guys!
Eric Kim Street Photography Blog
Chase Toronto Website
Downtown Camera
StreetShootr's Take
I have attended the Eric Kim street photography workshop in the past and I can tell you that it was worth every penny. The workshop really kickstarted my appreciation of street photography and set me on a path that would lead me toward a life guided by the creation of photographic images. There's no doubt in my mind that you'll leave his workshop with a better understanding of street photography and your own work. It is time well spent.
Eric is one of the most passionate people I've ever met (street photographer or otherwise) and he genuinely cares about helping his students improve their photography. His workshops come with a money-back guarantee so if you're not satisfied you have nothing to worry about.
If you're in the Toronto area and are interested in taking your street photography to the next level then definitely check out the Eric Kim street photography workshop.