Spring is in the air and the StreetFoto 2017 photo contest is accepting submissions. The international competition is broken down into four categories including single image, series, mobile and a special category for shots taken in San Francisco. This year's contest is being judged by street photography's original bad boy, Bruce Gilden so get your best shots out and get them in already! Hit the jump for more info!
StreetFoto 2017 Photo Contest Is Now Open
StreetFoto 2017 is now accepting submissions for its annual photo contest – The Henri Awards. This year's categories include single image, street photography series, mobile and a new San Francisco specific category for shots taken in the City By The Bay.
This years judges include Nick Turpin, David Gibson, Maciej Dakowicz, Aaron Berger, Jesse Marlow and Graciela Magnoni from In Public along with Vineed Vohra, Siri Thompson and the venerable Bruce Gilden. The judging for the initial rounds will be collaborative and the final picks will be made Bruce Gilden, Vineet Vohra and Nick Turpin.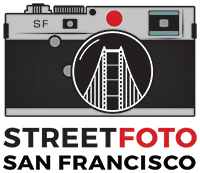 In addition to a world class photo contest, StreetFoto 2017 will also be presenting a series of workshops that include a 3 day workshop with Jesse Marlow and Aaron Berger from In Public, a 2 day workshop with Jack Simon and a 5 day workshop with Bruce Gilden called "Be Yourself". These workshops tend to sell out pretty quick so if you're interested in learning from some of the top names in street photography then you better get cracking!
StreetFoto 2017 is happening June 5 -11, 2017 with the photo contest finalists exhibition at the Harvey Milk Photo Center. This year's show is expected to include over 150 photographs by street photographers from 25 countries around the world.
StreetFoto 2017 Photo Contest.
StreetFoto 2017 Workshops.
StreetShootr's Take
There are a ton of festivals and even more contests but StreetFoto stands out for a lot of reasons. The festival is head up by Ken Walton, a dedicated street photographer in his own right. So it has a "by the people for the people" vibe right off the bat. StreetFoto is only in its second year but it's already established itself as one of the premiere street photography events anywhere in the world.
This years contest and amazing workshop lineup are sure to extend that reputation and bring street photography to a whole new group of people. If you're in San Francisco in early June, then be sure to check out the many events and exhibitions… It's going to be a good one!