The rumor of a new Leica digital rangefinder heats up as link to the mysterious "Leica M Edition 60" appeared briefly on the Leica Germany Website. Could this be the fabled Leica M with no LCD screen, or an upgraded Leica M-E? Hit the jump for more details.
Leica M Edition 60 Rumors
LeicaRumors is convinced that Leica will release a digital Leica M without an LCD screen at Photokina this year. The Leica M Edition 60 would be a special edition only and would sell for slightly more than the existing M 240.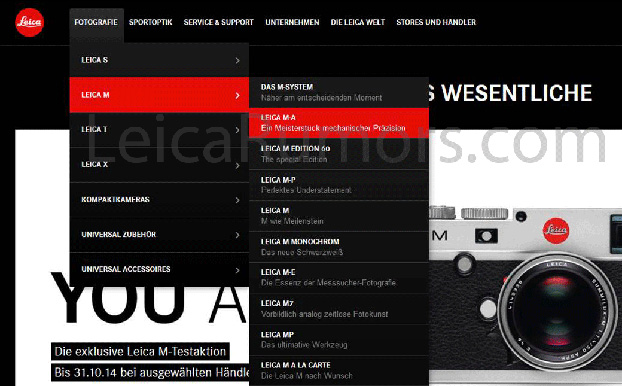 "it will be a special limited edition that will have an ISO dial on back instead of a LCD screen. The camera will only capture color uncompressed RAW files and will have the same sensor as in the M 240. The thickness and dimensions will also be similar to the M240. The new camera will be simplified with less dials/buttons and no video recording capabilities. The selling price will be higher than the M 240 ($6,950.00)."
Possible M-E 2
LeicaRumors reported earlier that Leica was also working on a replacement for the M-E. This camera is thought to have the same CCD sensor as the M-E and the M9 before it but will have a better LCD screen and larger battery. It's likely the new camera would also have the same body size and shape as the M 240.
The idea of a new M-E makes sense when you consider the link on Leica's German website was labelled "M-Edition 60″.
60 Years Of Leica At Photokina 2014
It looks like Photokina is going to be a big show for Leica. Their 60 Years Of Leica event happens on the first day of the show and the invites proudly display "M60" in large type.
UPDATED!
LaVidaLeica reached out to us via the twitter with their list of Leica rumors for Photokina 2014. Looks like a ton of new Leica gear could be on the horizon!