The APF Magazine has launched a new curated Flickr group that features street photography by emerging young talent posting and celebrated professionals alike. Four excellent images will be selected each month from the new flickr group and their existing Facebook group and will be promoted on their external website. Hit the jump for more details.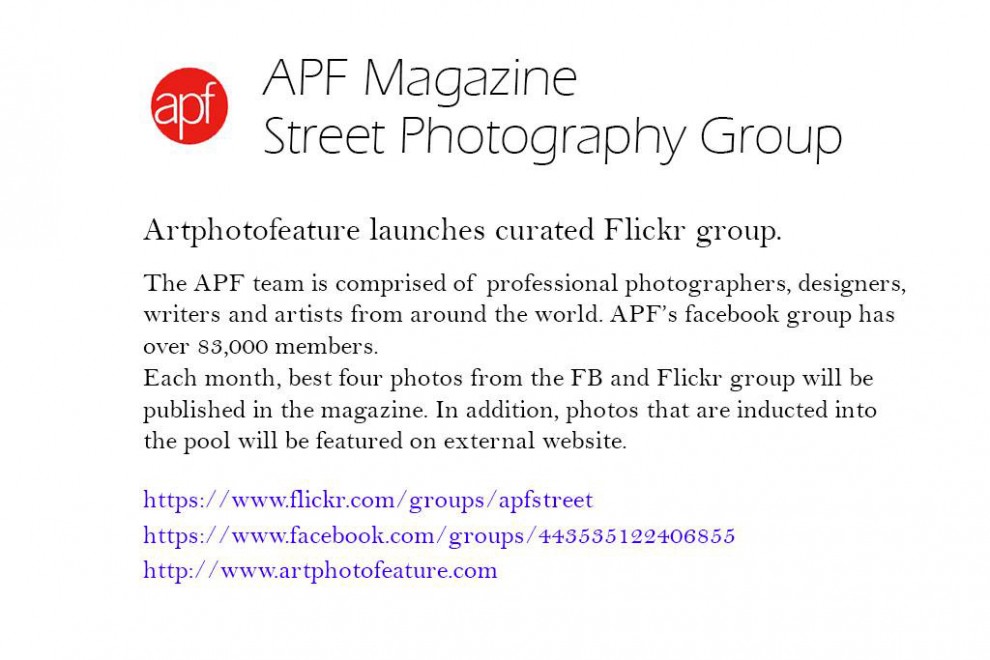 ArtPhotoFeature Magazine
APF (Artphotofeature) Magazine is an online publication that provides a platform for emerging photographers, artists & designers to showcase their works, both commercial and non-commercial, to create opportunities and open new doors. The site features a wide variety of photographic styles including street photography.
The Artphotofeature street photography group on Facebook has over 83,000 members posting all kinds of street photographs every day. The Facebook group is open for anyone to post and the street pics there run the gamut from "just okay" to truly amazing.
APF Magazine Flickr Group
The APF Magazine Flickr group promises to be more tightly curated and will only feature the very best images that have been submitted to the pool. Based on the initial selections this is going to be a top spot to find great street photography on Flickr!
APF Magazine Street Photography Group On Flickr