The StreetFoto San Francisco 2017 street photography festival just wrapped up and they've announced the winners of their international photography awards. Winners and runners up were selected in the single image, series, mobile street photography and the Streets of San Francisco categories. Hit the jump to see all the StreetFoto 2017 winning images!
StreetFoto 2017 Winners Announced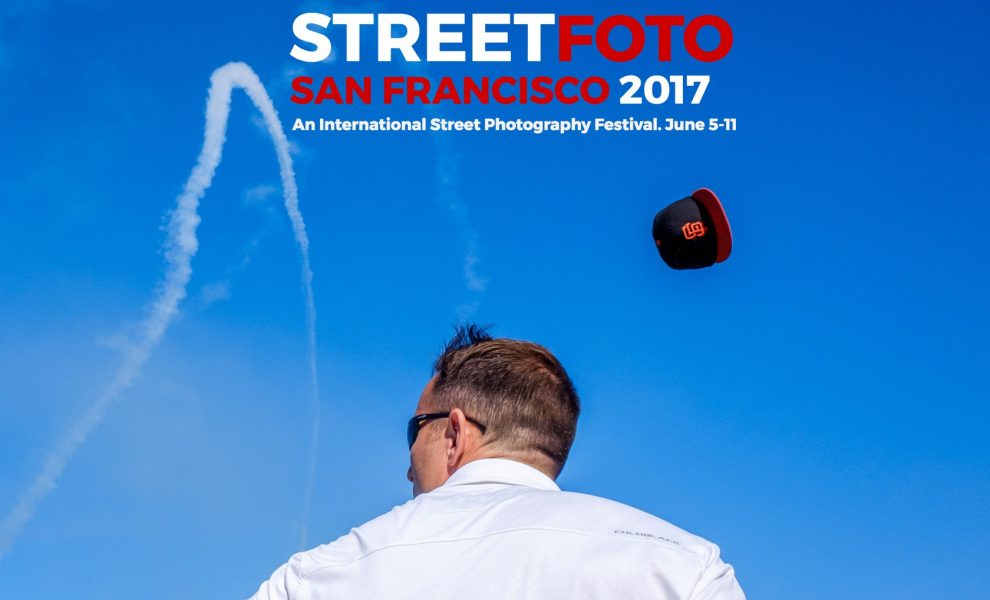 The StreetFoto San Francisco street photography festival is only in its 2nd year but it's already attracting some of the biggest names in the street photography world for a full week of lectures, workshops and gallery shows. This star of this year's festival was definitely Bruce Gilden who, in addition to his full workshop, conducted lectures and judged the photography cage match. His no-holds-barred style was a refreshing change from the ordinary and just about everyone walked away with an opinion on one of Magnum's best!
But no street photography festival is complete without a photography competition and the StreetFoto 2017 winners live up to the festival's burgeoning reputation. Here are the winning images:
Best Street Photograph
First-round judges: David Gibson, Maciej Dakowicz, Jesse Marlow, Aaron Berger, Graciela Magnoni.
Winners and runners up chosen by: Bruce Gilden, Nick Turpin, and Vineet Vohra.
1st Place – Muhammad Hassan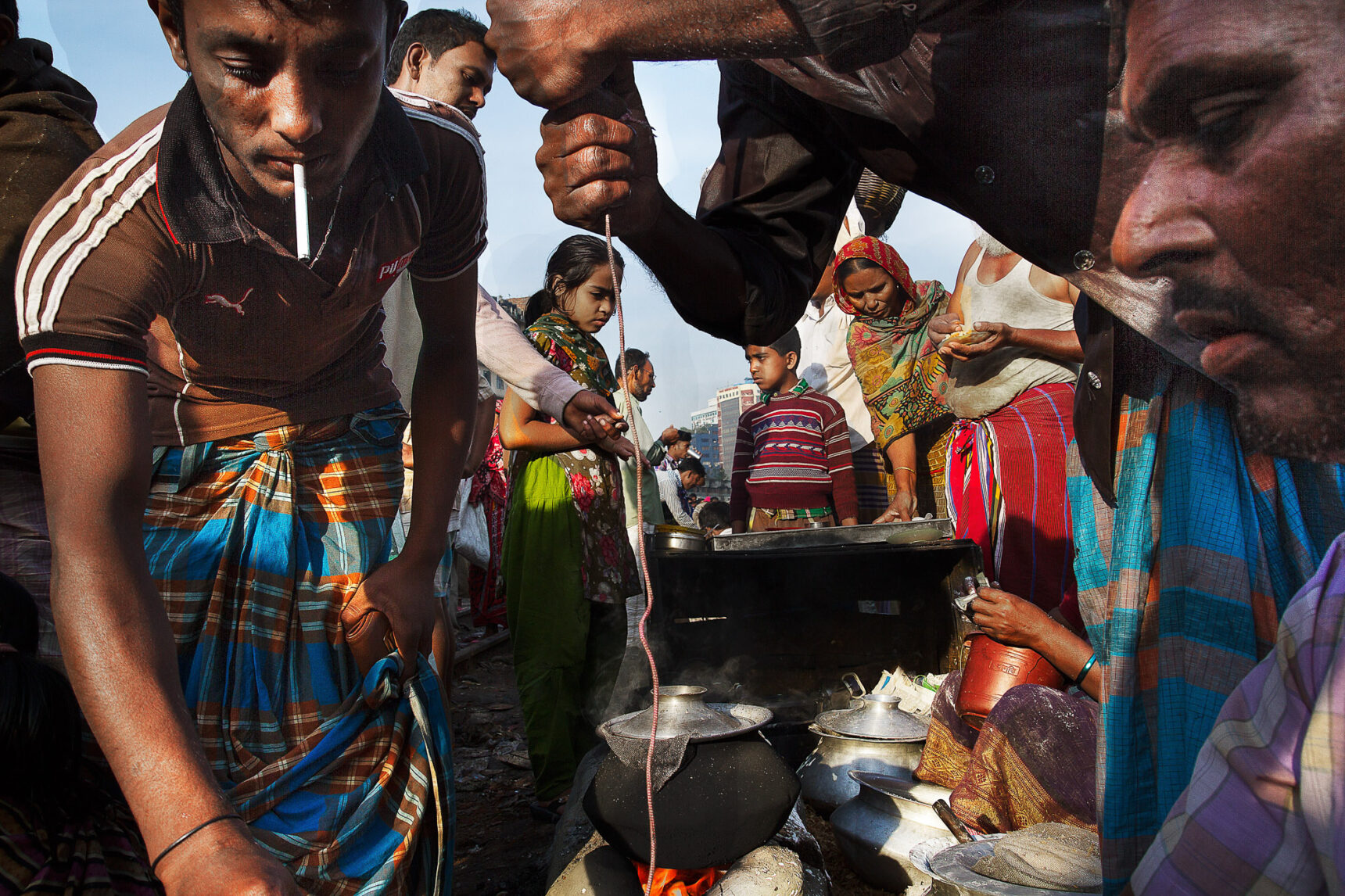 A complex study in layers encourages your eye to dance through the frame in a circular pattern as the story of the momment reveals itself. The variety of expressions and excellent execution combine to make this shot this year's single image winner.
2nd Place – Nick Harvey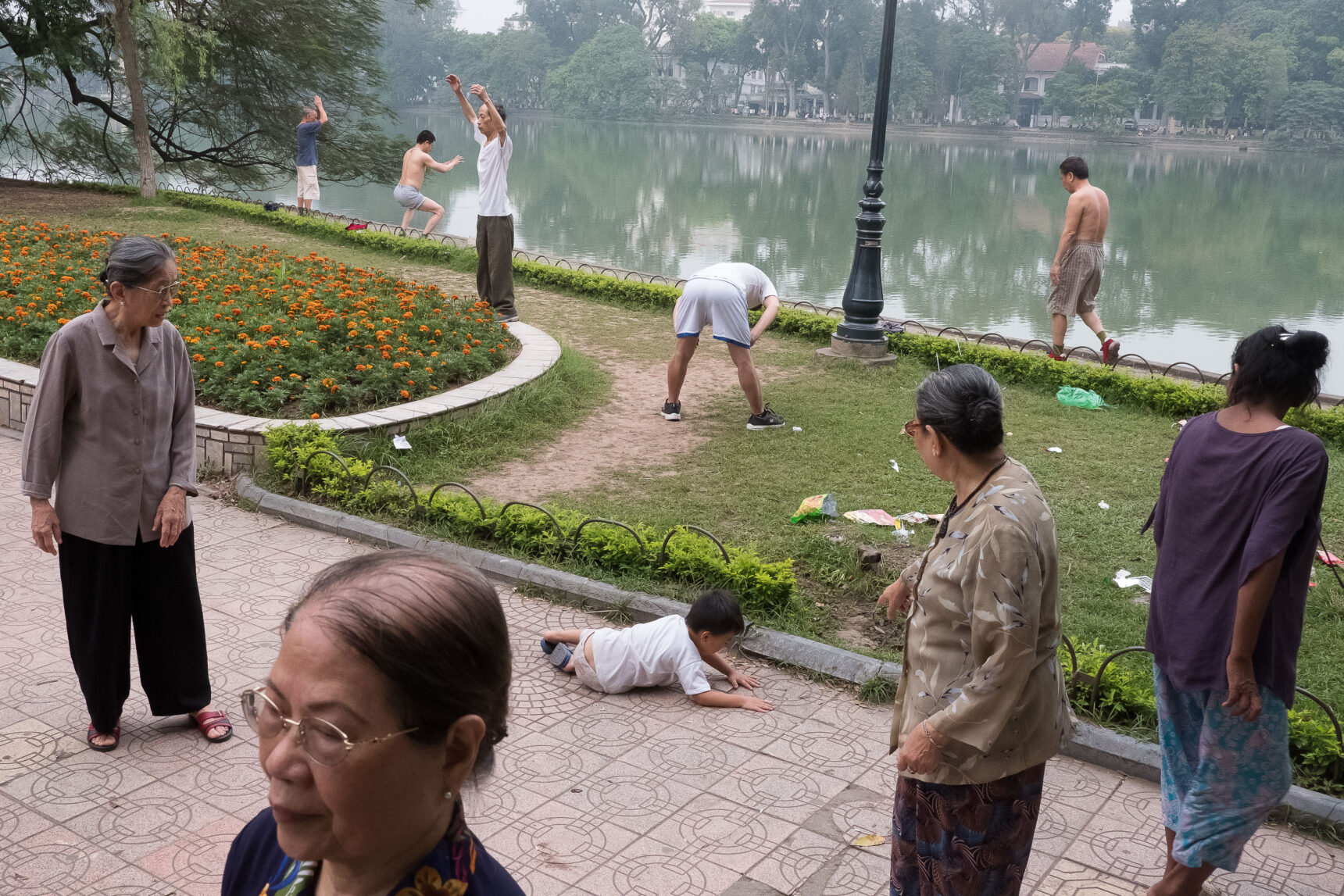 So many stories unfold throughout the frame as each morning excersize takes on new beauty that reminds me of Georges Seurat's, "Sunday on La Grande Jatte." Masterfully done.
3rd Place – Edward Tsimerman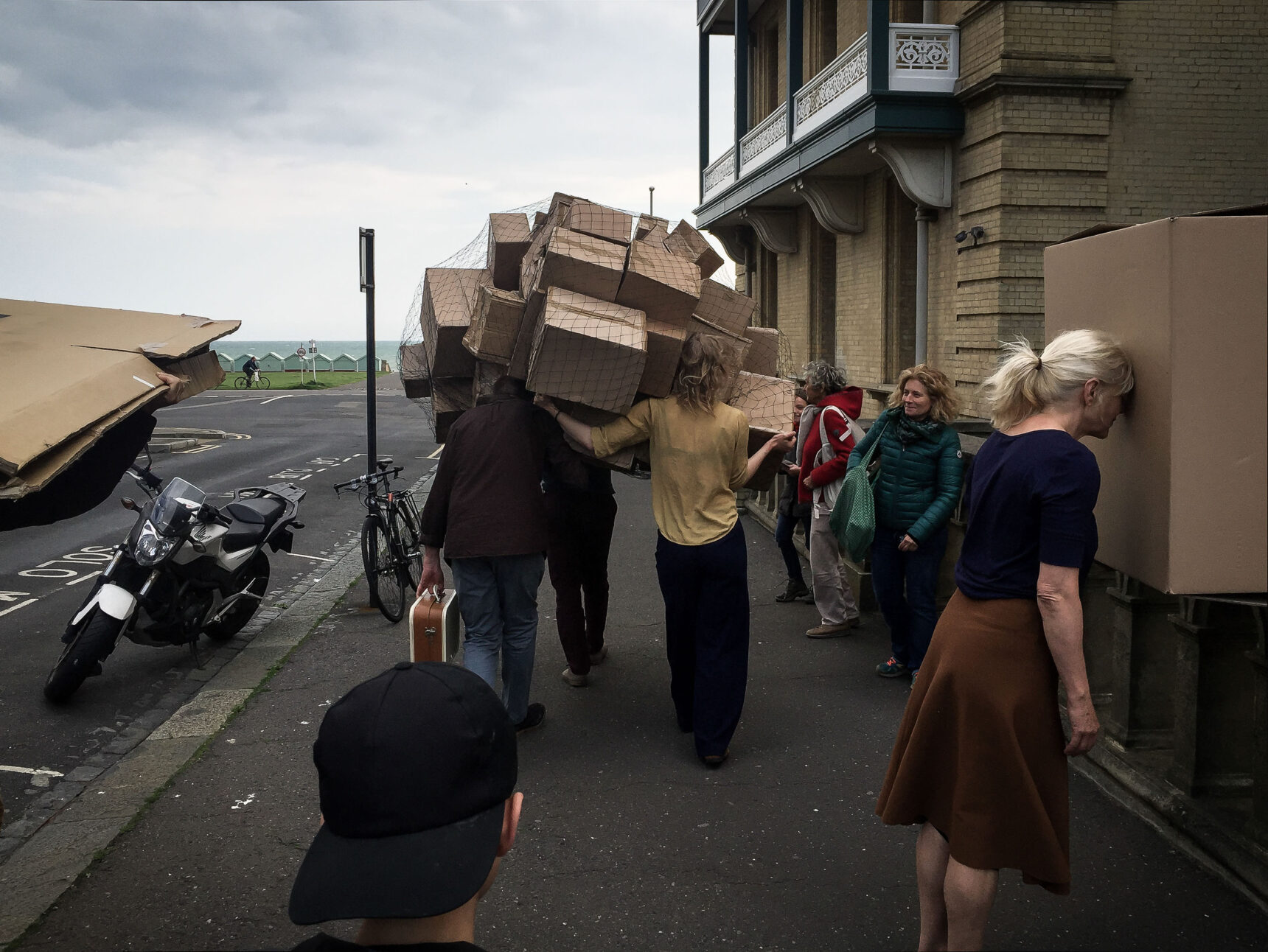 The curious gesture of the woman leaning against a box on the RHS is supported by another box that bookends the image on the left. The centre of the frame is a beautiful crowd of people that echoes the boxes being carried down the street. This shot took a second to grow on me but the man subtle realities add up to an excellent shot.
Honorable Mention (1st Round Judges Pick) – Angkul Sungthong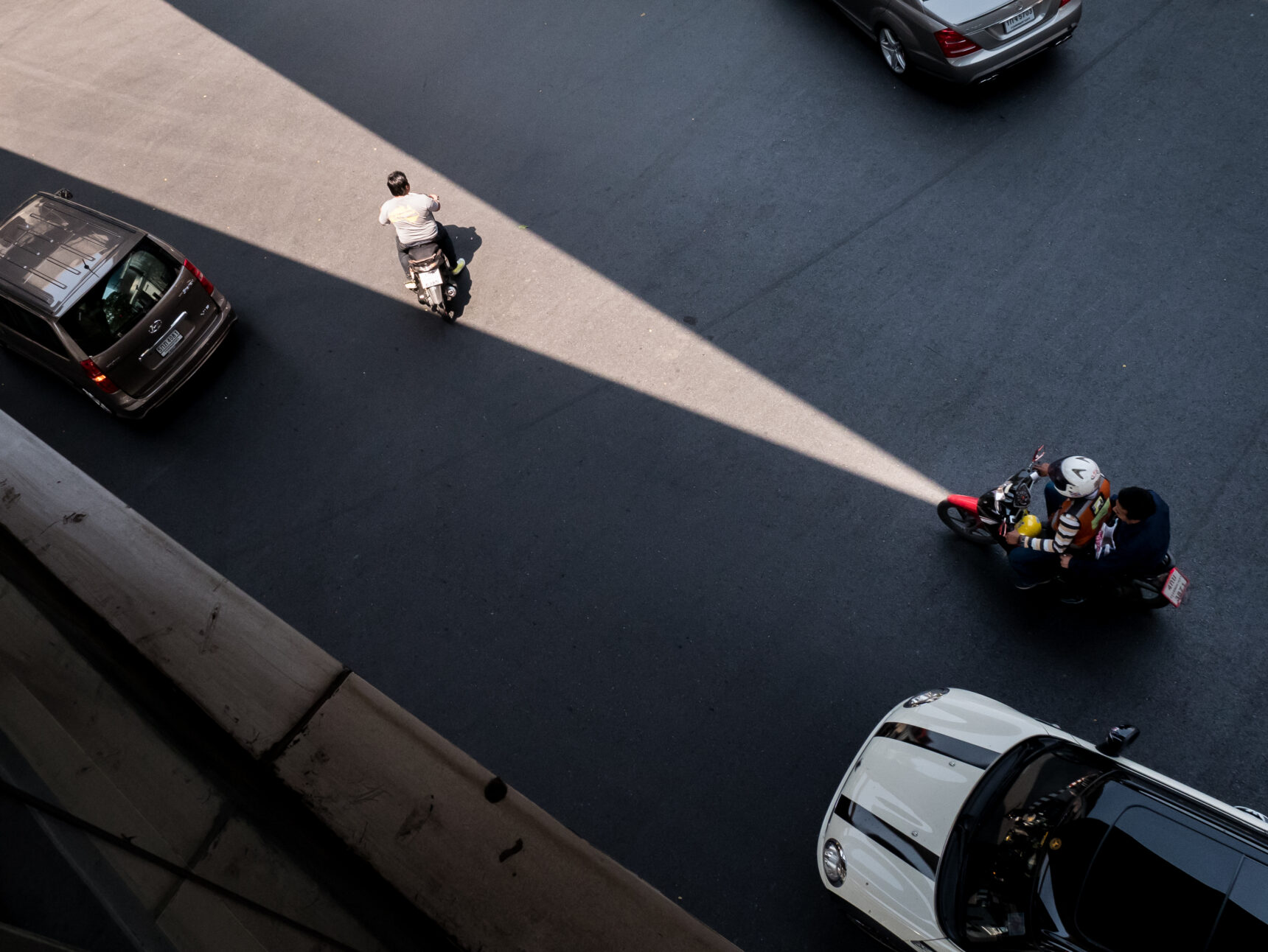 Serendipity transforms a shaft of light into a ray gun as two motor cycles swap parking spots. A simple and effective image that exemplifies the soul of modern street photography.
Best Street Photography Series
First-round judges: David Gibson, Maciej Dakowicz, Jesse Marlow, Aaron Berger, Graciela Magnoni.
Winners and runners up chosen by: Bruce Gilden, Nick Turpin, and Vineet Vohra.
1st Place – Hakan Simsek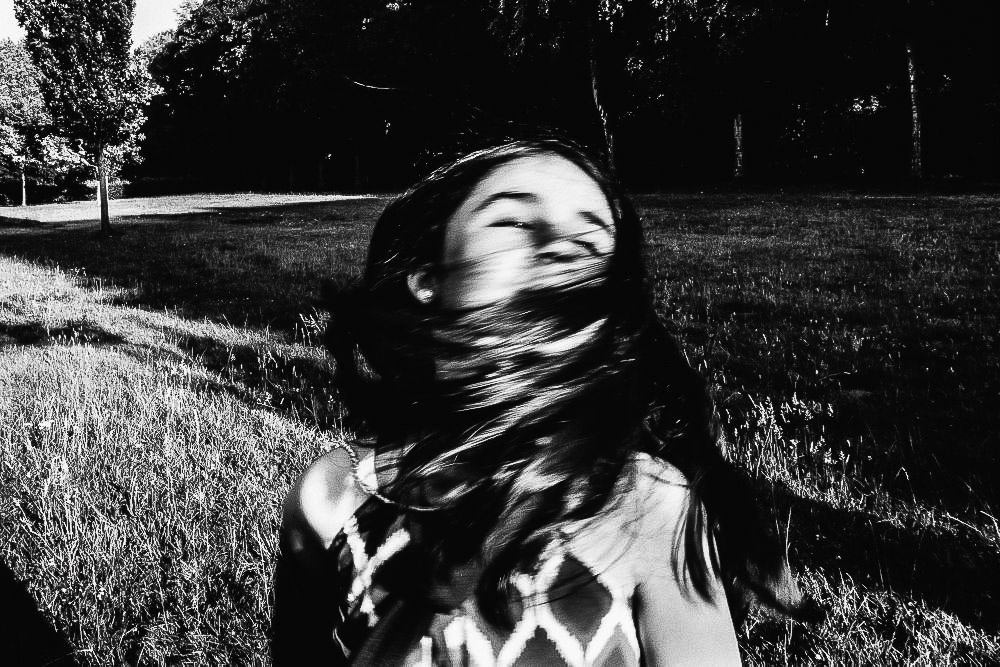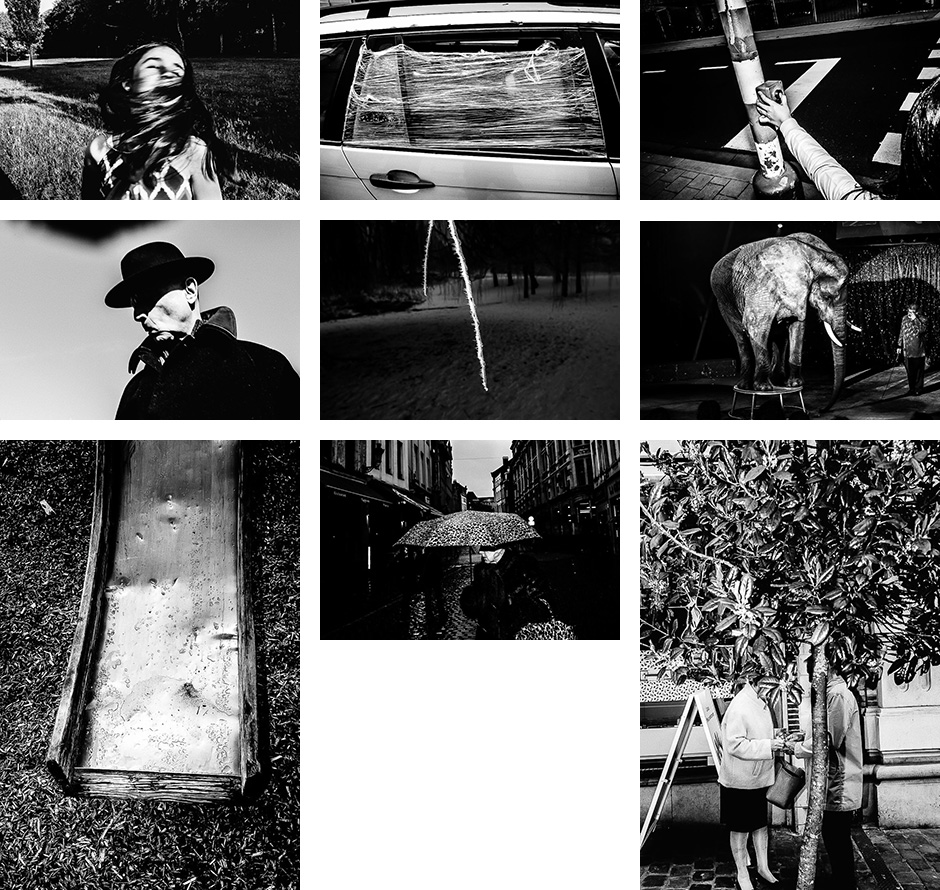 2nd Place – Argus Paul Estabrook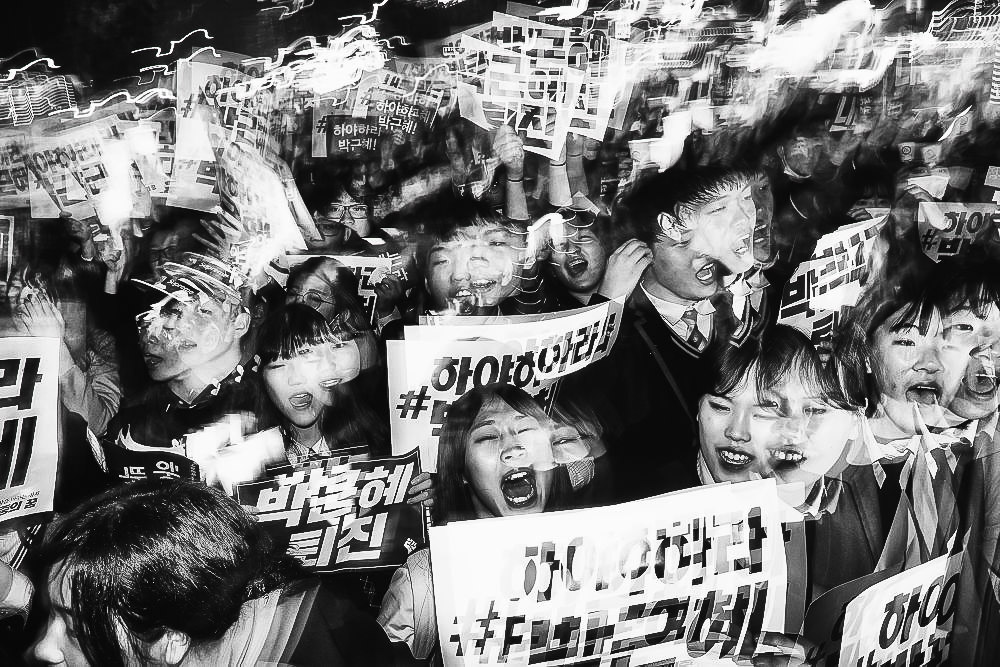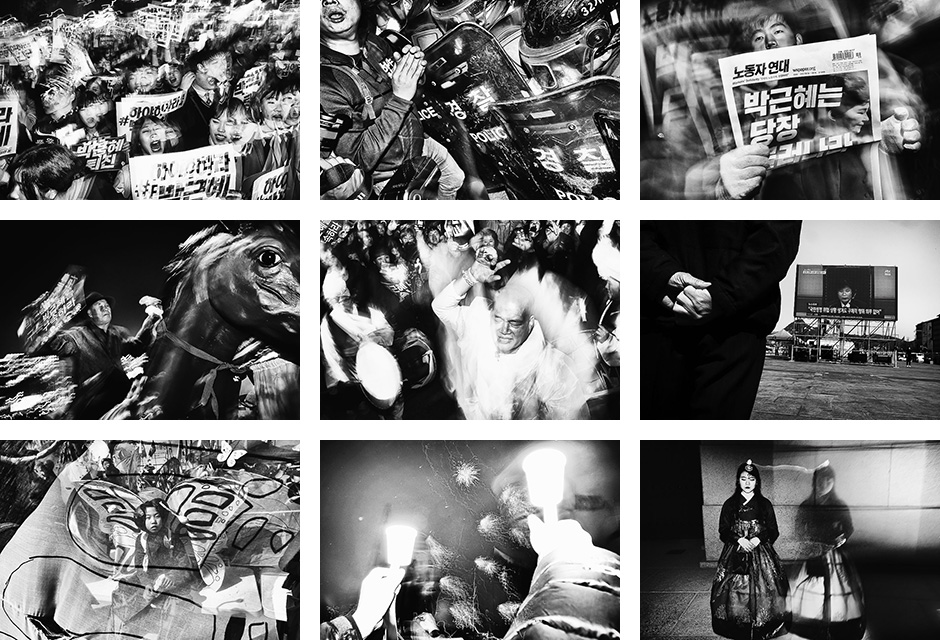 3rd Place – Sasikumar Ramachandran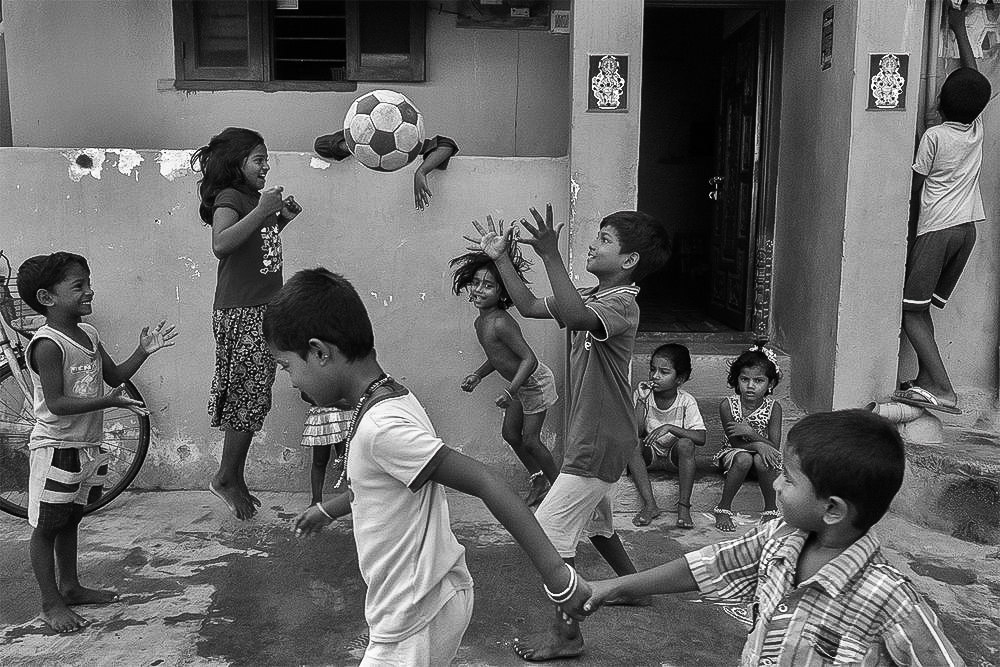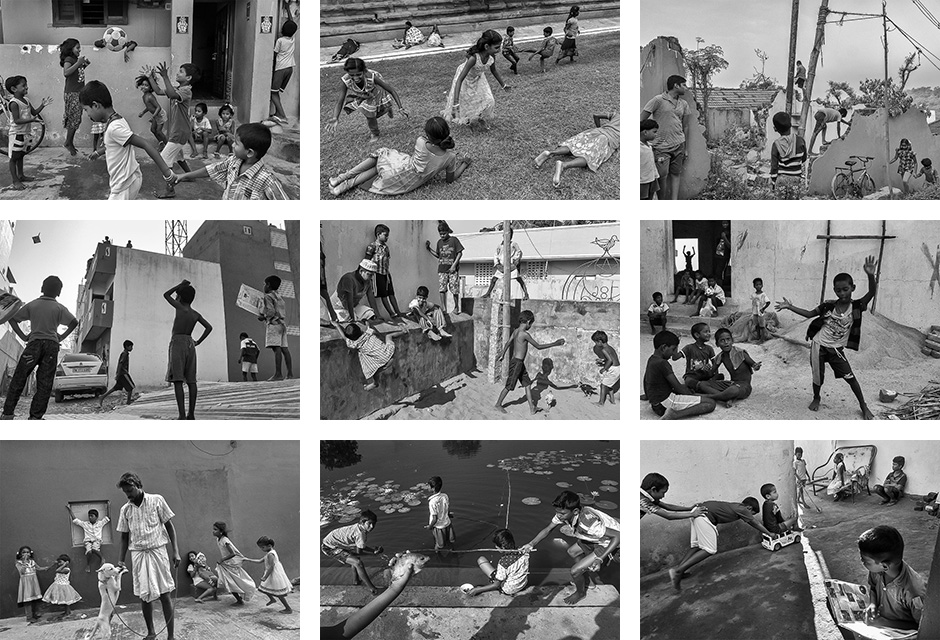 Mobile Street Photography
Judges: Siri Thompson, Alexander Petrosyan, Aaron Berger.
1st Place – Faruque Islam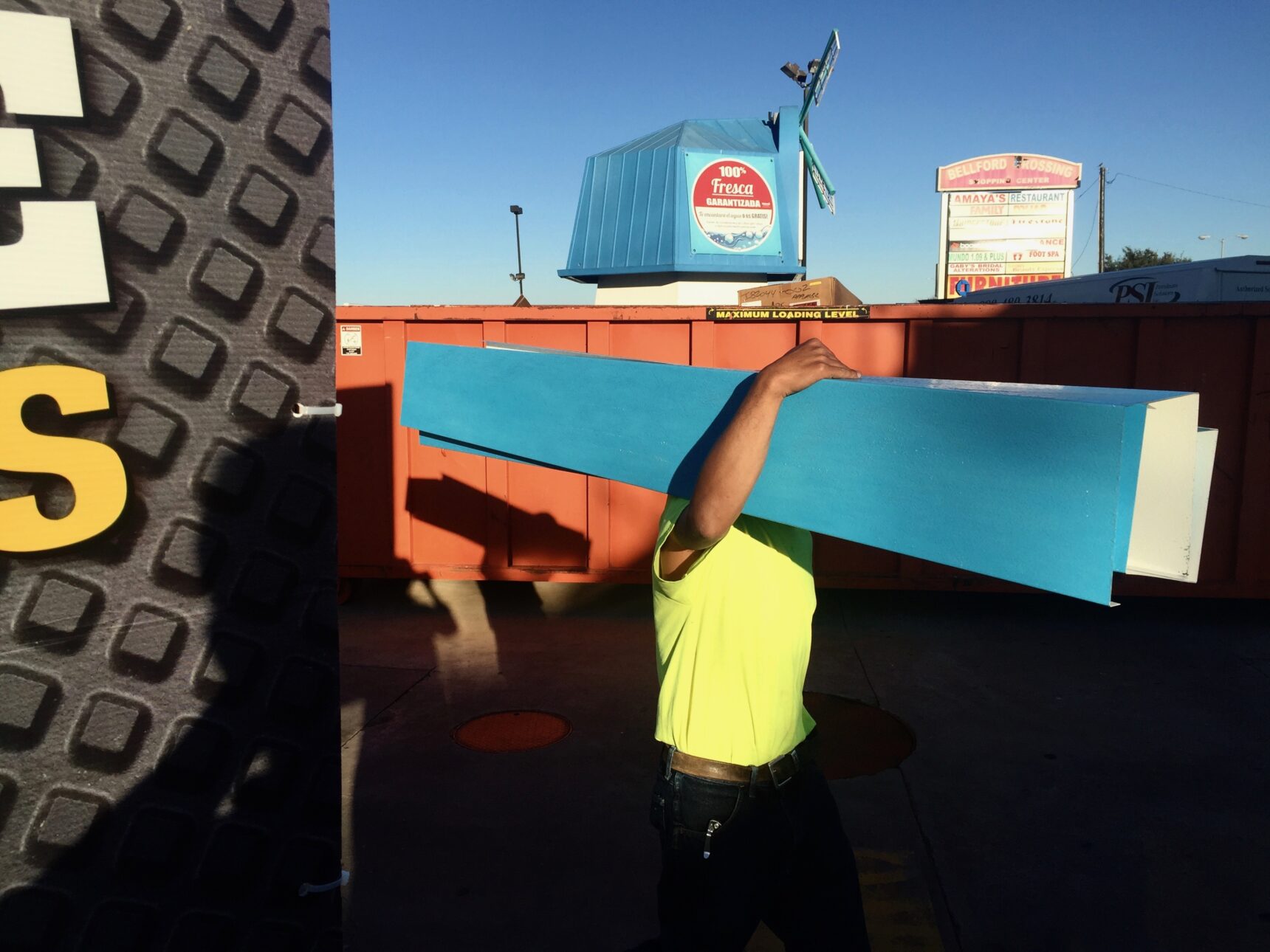 A man carries a large blue girder that perfectly matches the shipping container in the background. A simple and well balanced shot that's even more powerful considering it was taken with a smart phone. Nicely done.
2nd Place – Daniel Huete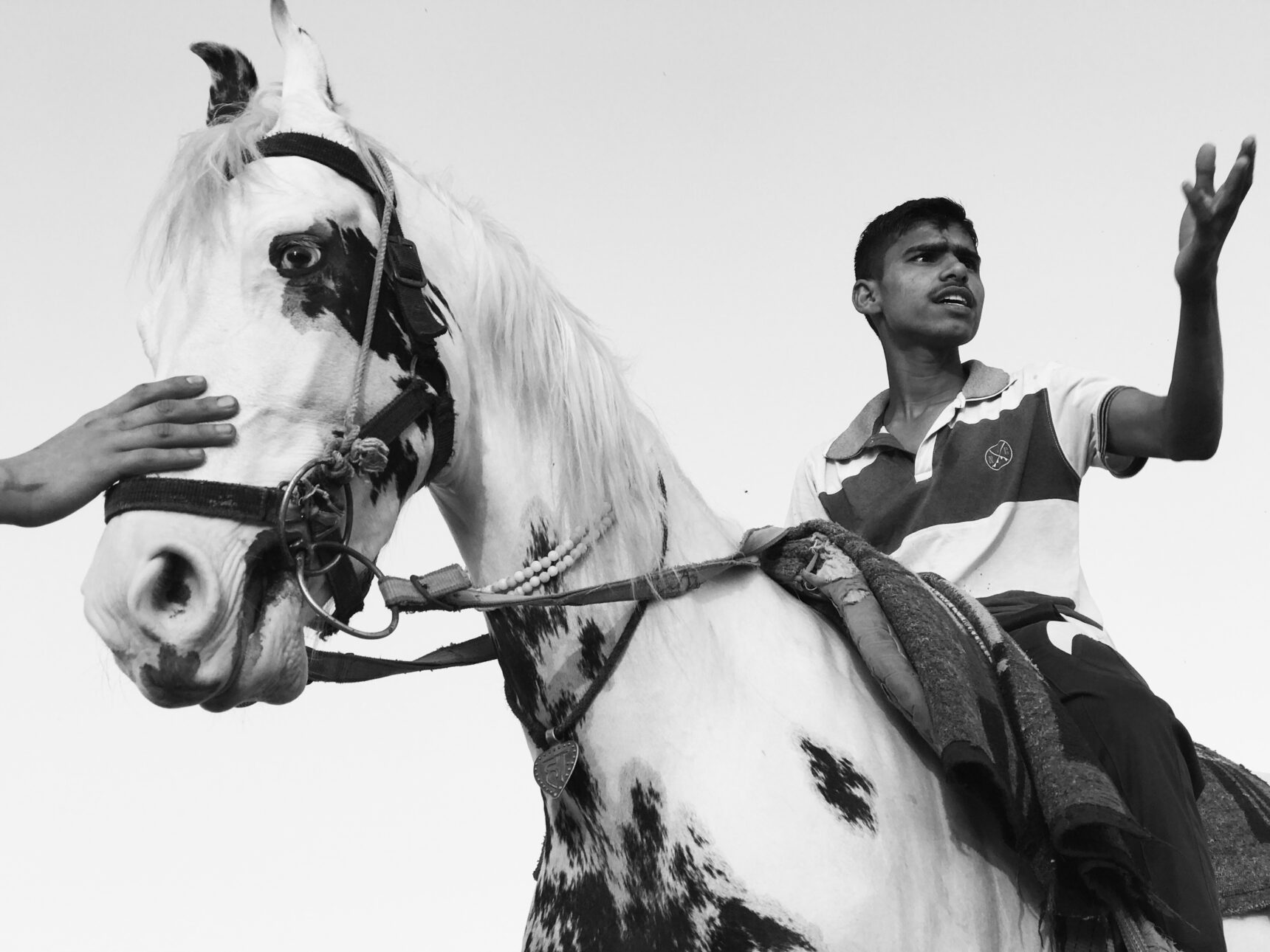 The hand on the left leads your eye to the horse's serious gaze as the rider's hand pointing up keeps your eye in the frame. An interesting shot that reveals itself slowly.
3rd Place – Tavepong Pratoomwong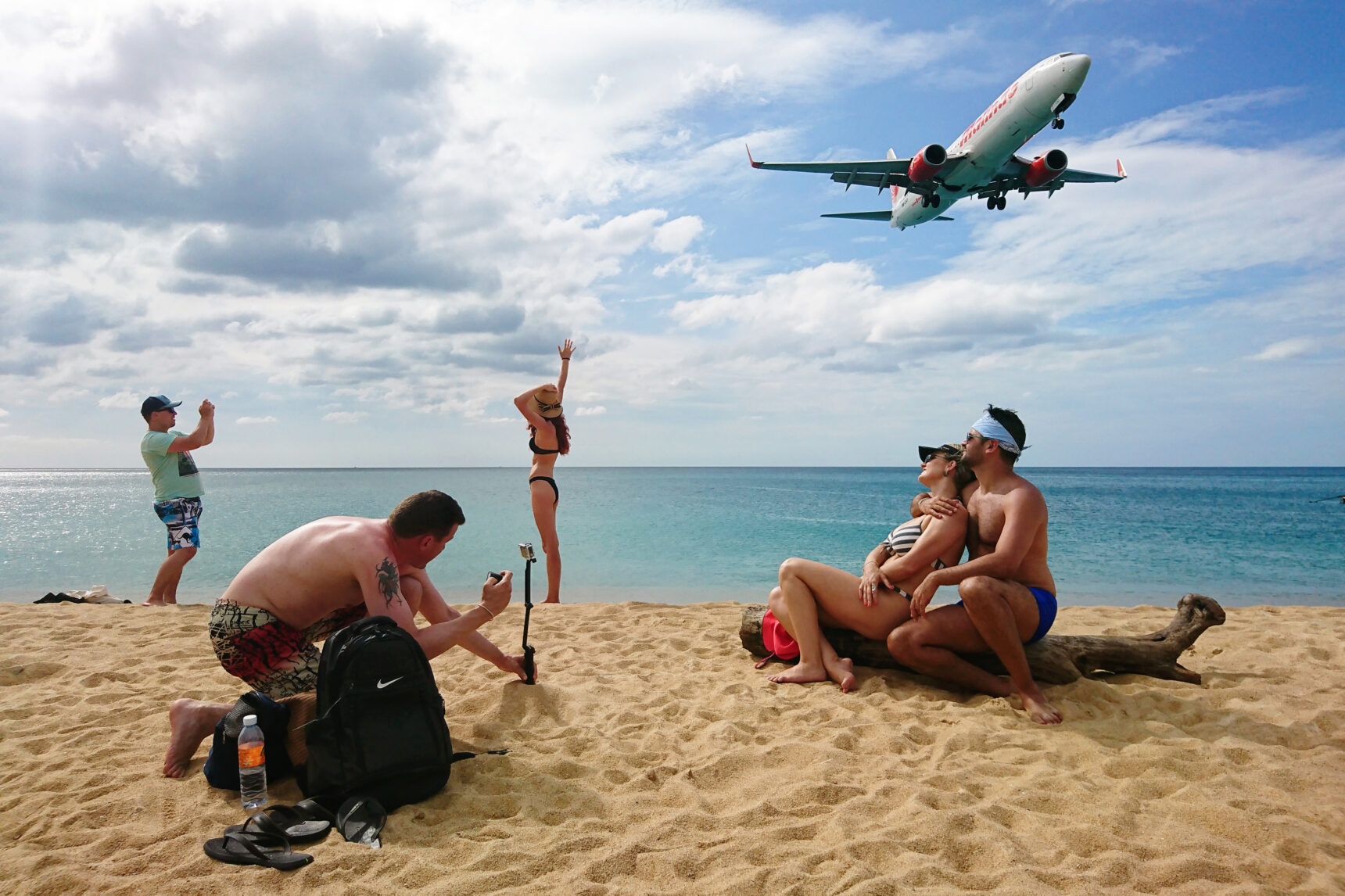 Oh, Tavepong! Another excellent mobile shot from one of the top street photographers shooting today!
Streets Of San Francisco
Judges: Judy Walgren, Joe Aguirre, Steven Bollman, Stephen McLaren.
1st Place – Kevin WeinStein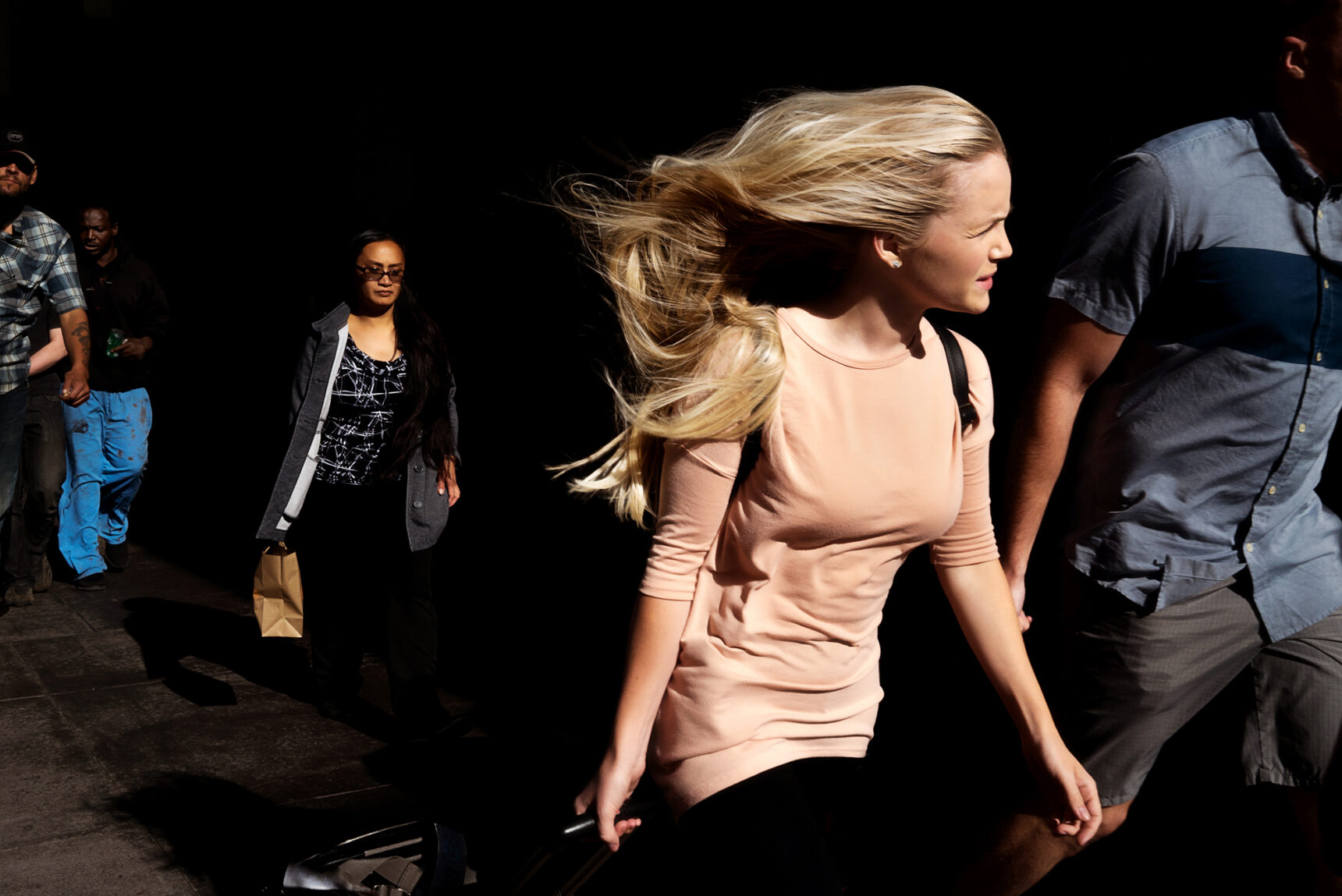 Light cascades through a canyon of darkness as the girl's hair mimicks the composition and creates a magical moment. Nicely done!
2nd Place – Eduardo Soler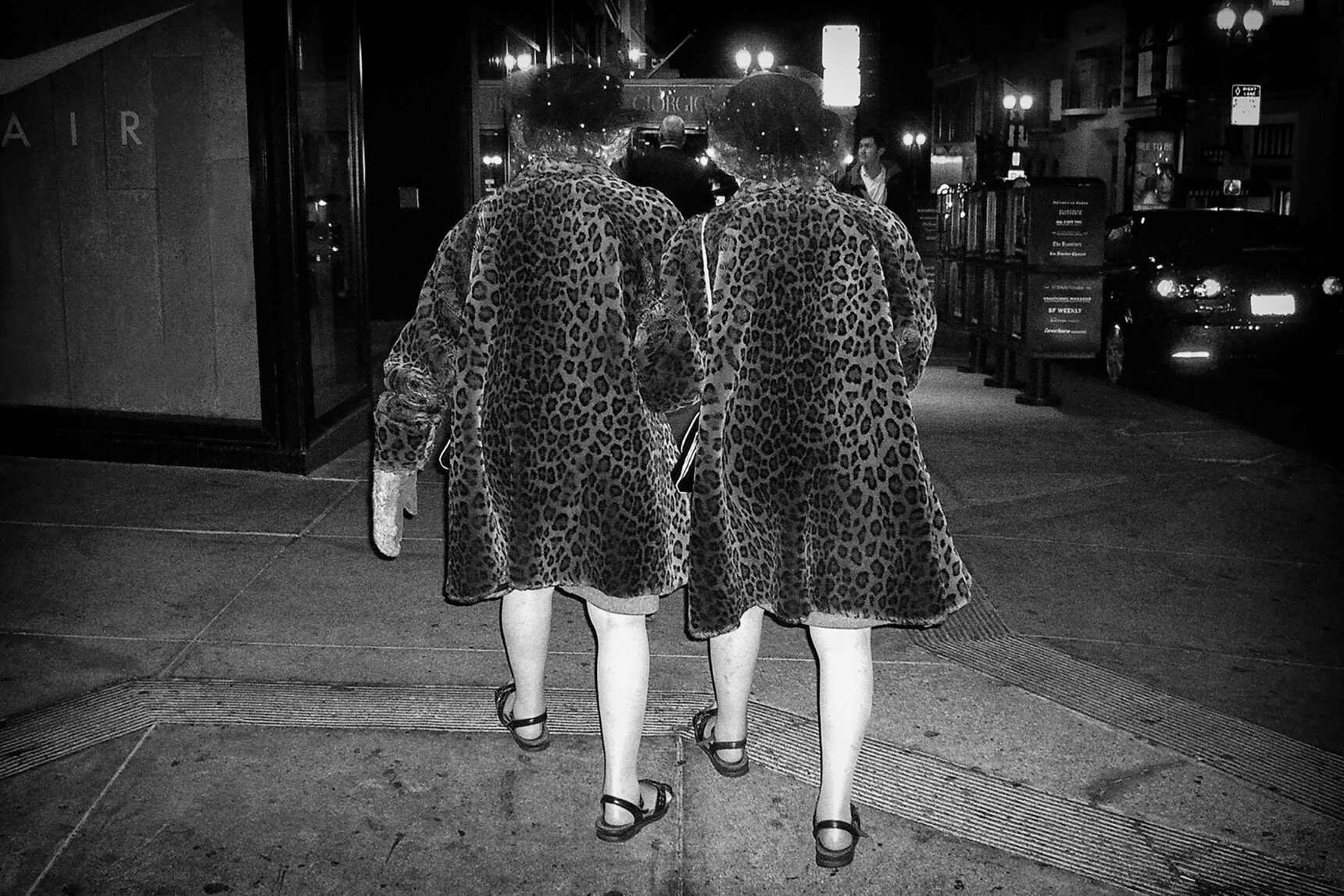 To be honest, this is my favorite image from the StreetFoto 2017 winners. On the surface, it brings to mind some of the society shots by Weegee but closer examination creates a whole series of questions. Where are they going? Why does everything about them match right down to their walking style? Are they real ladies? This shot really sticks with me!
3rd Place – Roy Dybuncio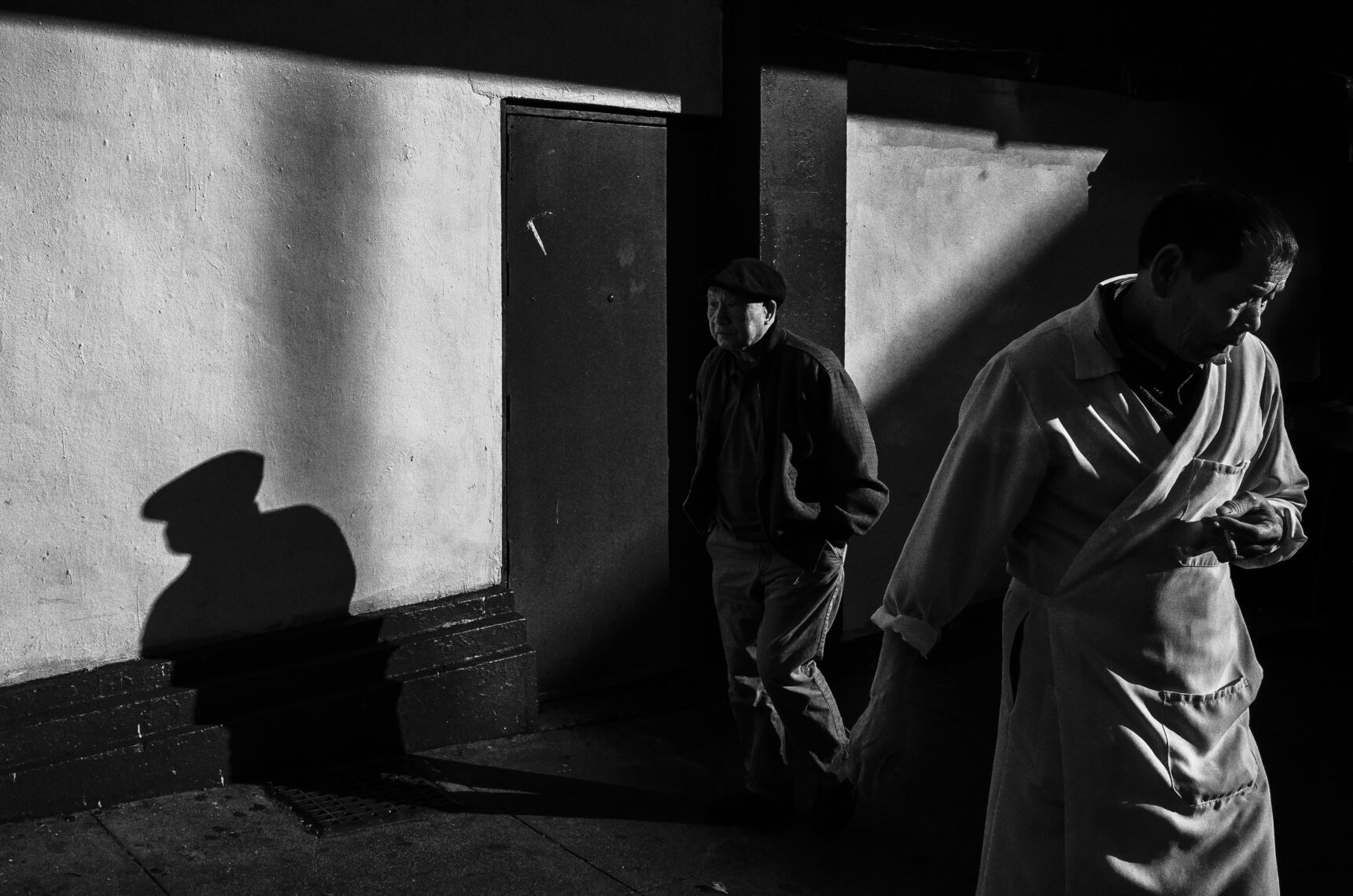 A dark junction creates a frozen ballet of graceful movement in Roy's lovely black and white shot. The long shadow fills the LHS and takes on an otherworldly quality. Delicate and lovely.
For more information and to see all the winners and finalists for this year's competition – visit StreetFoto.org.
StreetShootr's Take
This year's StreetFoto 2017 winners are an interesting mix but really come down to the preference of the judges. Not everyone is going to agree with the results of any contest but I think the judges did a great job choosing this year's StreetFoto winners.
The StreetFoto festival is only in its second year but it looks like it's already become a marquis destination for street photographers from around the world. Can't wait to see what next year has in store!
What's your take on the StreetFoto 2017 winners? A good cross-section of what's happening in the street photography world? Or do you think the judges missed the mark? Post your ideas in the comments below and keep the conversation going!