ThePhoblographer.com has partnered with Leica for the first ever Phoblographer Street Photography Contest and the first prize is a brand new Leica T! No cost to enter and anyone age 18+ from around the world is eligible. Hit the jump for more info!
The Phoblographer Street Photography Contest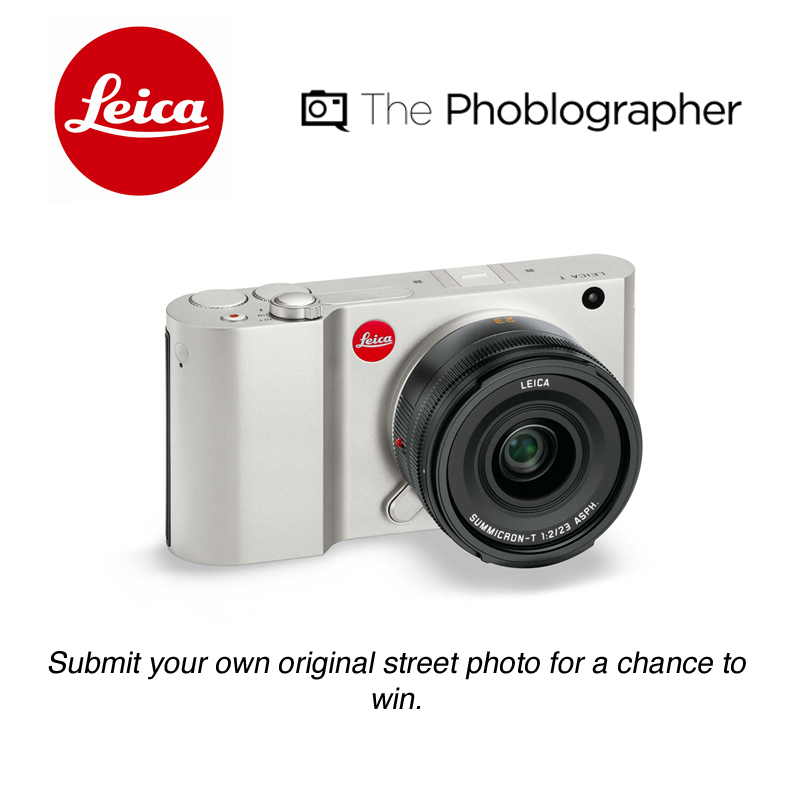 ThePhoblographer.com (I can't decide if that name is weird or brilliant!) has partnered with Leica for their first ever street photography contest and the grand prize is a Leica T camera with 18-56mm lens. The contest runs from November 18, 2014 to December 15, 2014 and there is no cost to enter. Anyone 18+ from around is eligible.
They've implemented a weird social media style hybrid voting system where people can vote images up and down but the most popular image won't necessarily win. The site is using the social component only to tell them what the popular imnages are and the final decision for the winning image is entirely up to the phoblographer.com.
You can only submit one image to the contest so make sure it's a good one!
Here's a breakdown of the street photography contest rules:
Contest takes place November 18th 12AM EST to December 15th 12AM EST.
Entrants are limited to one street photography image entry. Winners will be announced on December 18th.
Entrants from around the world can enter as long as their age is 18+.
Images will be used only for the promotion of the contest and to showcase the winner once the contest has ended.
Too enter submit your best shot and email address on The Phoblographer's Street Photography Contest page:
The Phoblographer Street Photography Contest Page
StreetShootr's Take
Many photo contests claim the rights to the photos that are submitted but this one clearly states that they're only using your image to promote the winner of the contest so it sounds pretty fair on the surface. There's no cost to enter but your email is automatically added to the newsletters for thephoblographer.com and for Leica but you should be able to opt out of those lists at any time.
The Leica T is no slouch of a camera but it's an odd choice as prize in a street photography contest. Especially with a zoom lens! I think most street photographers would prefer at least an M-E but that's really looking a gift horse in the mouth! The Leica T is a decent system and you can always give it to your mom if you don't like it!
What's your take on The Phoblographer Street Photography Contest? Is a Leica T enough of a prize to convince you to enter? Post your ideas in the comments below and keep the conversation going!