Billingham has been making high quality camera bags in Britain since 1973 and their products have a reputation for quality craftsmanship and excellent design. But they're damn expensive! I took the Billingham Hadley Small for a spin to see how it would hold up as an every day street photography companion. Is this little guy worth the premium price? Hit the jump to find out!
Billingham Hadley Small Review
I'm a one camera, one lens kind of shooter and I need a small and lightweight bag to carry my camera and anything else I need for a full day of shooting. The Billingham Hadley Small measures 290 x 120 x 220mm, and weighs only 700g. It's designed for small system cameras like Micro 4/3, Sony A7 and just about any rangefinder-style camera like the Leica M 240. Sounded like it was about the right size for my needs so I took the plunge.
I've been using the bag for just over a year and I'm happy to report that it's been a great purchase. There's lots of reasons to like this bag but here's a few things that really stand out for me:
A Tale Of Two Fabrics – Classic Canvas Or FiberNyte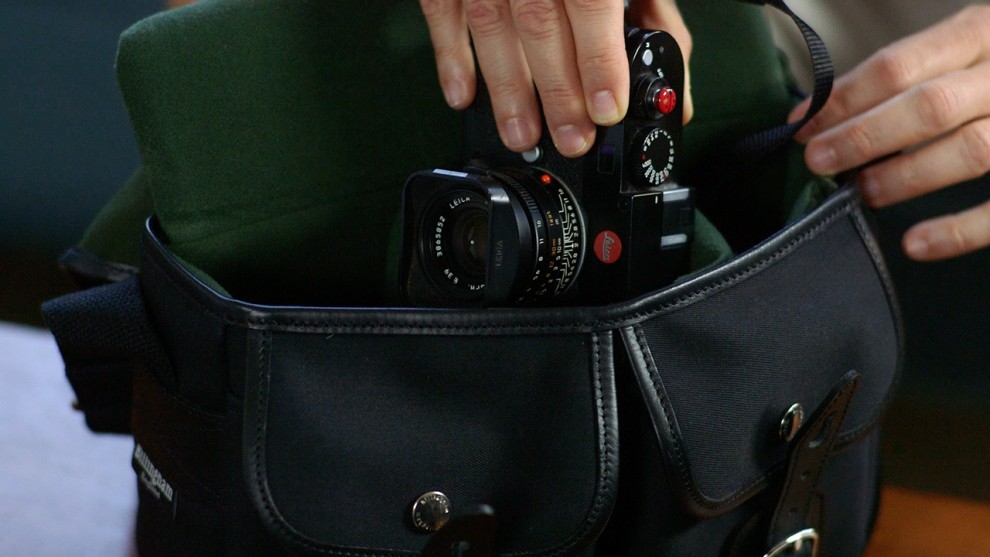 The Billingham Hadley Small is available in either Classic Canvas or FibreNyte fabrics. Classic Canvas is a composite of canvas and Billingham's own Stormblock material. Two layers are fused together to provide a nearly water proof finish. FibreNyte is a man-made fabric that's bonded to a polyester lining as a single layer so it's slightly lighter than its canvas counterpart. The new material feels a lot like canvas but provides excellent protection from scrapes and scuffs in addition to resisting fading.
I went with the FibreNyte because of its durability and after a year of solid use the material looks pretty much brand new to me. A lot of photographers love the way that Classic Canvas wears and it will look "broken in" a lot more quickly that FibreNyte. So in the end it's up to you. Both offer equal protection from the elements so get whichever one suits you best.
Keeping It Dry – I'm All About That Lid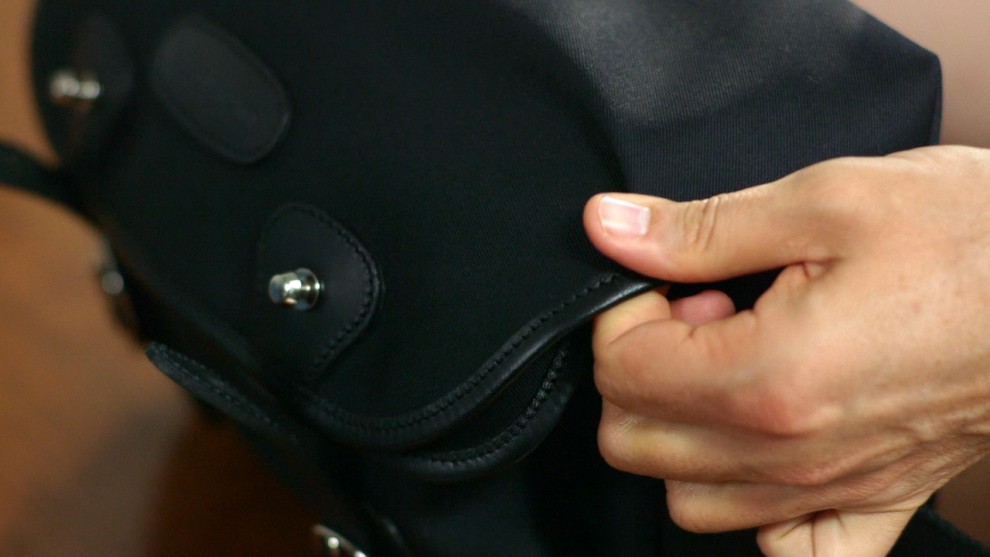 The top panel of the Billingham Hadley Small is shaped with two pleats on the front to create a form fitting lid that folds down around the outer edges of the bag. This means any water that gets on it is chanelled to the exterior of the bag and away from your gear on the inside. They even use cotton thread that swells when it gets wet to seal the holes the thread passes through.
I've been caught in major downpours and forced to walk for 20 minutes with the bag on my shoulder. The bag was dripping wet on the outside but my gear was dry and safe when I got to my destination. I have no hesitation using this bag in the rain.
It's What's Inside That Counts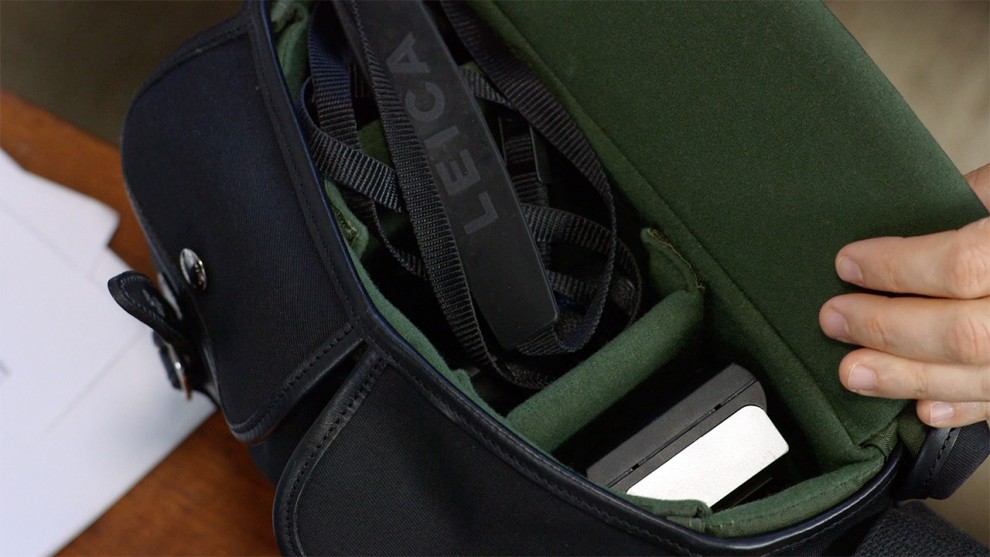 The heart of the Billingham Hadley Small is the foam insert that organizes and protects your gear. It's made of a nice thick foam and feels super secure compared to a lot of other small bags on the market. I never worry about little bumps or dings damaging my gear and I'm fully confident in the bag to protect my stuff.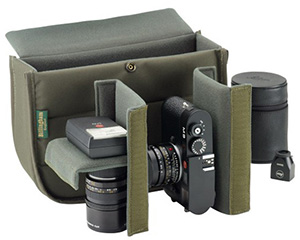 It took me a little while to realize that you're supposed to store your camera on its side in the bag. There's plenty of room to store my Leica M 240 with Summicron 35mm lens attached in the middle section with my light meter + flash on one side plus a pair of sunglasses and a few other odds and ends on the other. Of course, all of the dividers are adjustable so you can set the bag up any way you like.
The insert also includes a fold down lid to provide protection on all 4 sides of the bag in case of a fall or other mishap. Most camera bags give you protection on the sides and bottom only so this is a nice little extra. My camera bag has fallen off the table once or twice and I hate to think what might have happened to my gear if that fold down lid wasn't there!
Front Dump Pockets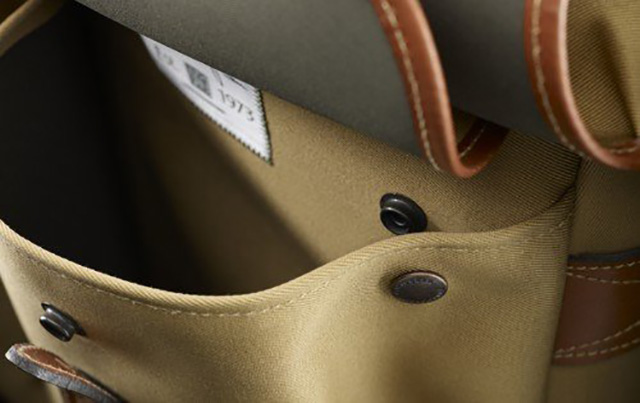 The Billingham Hadley Small has two expandable utility pockets on the front of the bag that can hold just about whatever you need. Billingham actually calls them "dump pockets" so that should give you an idea of their intended use! Both pockets expand with heavy duty snaps for those times when you need to carry a little bit more than normal. I keep business cards, spare pens, Vaseline and other miscelaneous items in one pocket and a tiny little umbrella in the other.
The Deal With Those Front Straps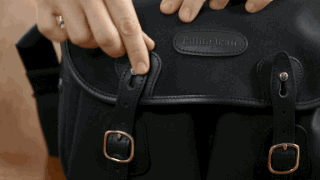 The Billingham Hadley Small locks with two leather quick release straps on the front of the bag. While these straps have the look of traditional buckles they're actually super quick to open and close with one hand. Push the hole in the leather strap against the lug then tug the strap down slightly to lock it. Reverse that process to unlock the strap and open the bag.
I'ts easy, quick and secure!
All The (Earthy) Colors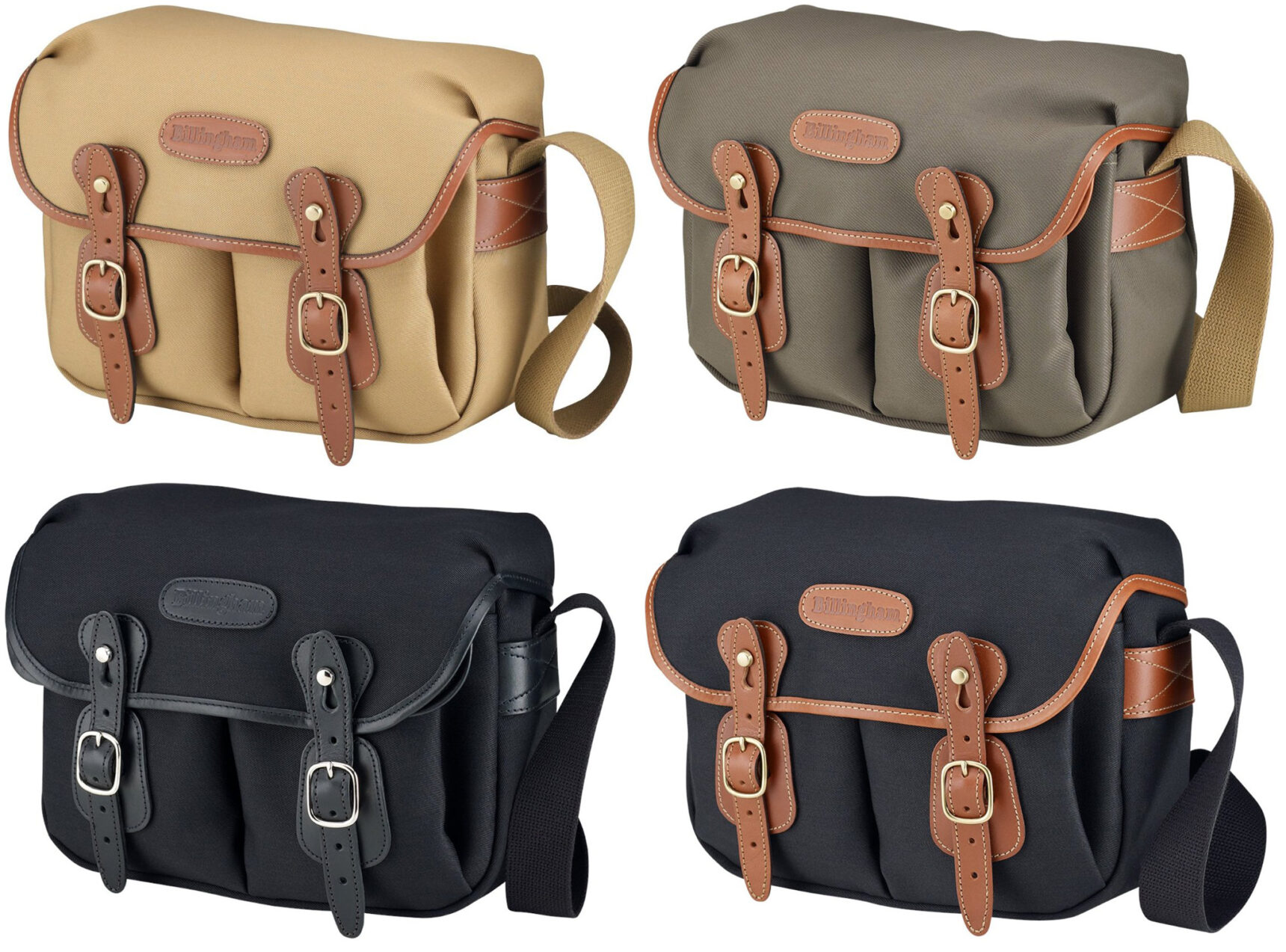 The Billingham Hadley Small comes in a number of earthy colors:
Khaki with tan leather trim (the classic Billingham look).
Sage green with tan leather.
Sage green with chocolate leather.
Black with tan leather.
Black with black leather.
Some colors are only available in FibreNyte so double check the you're getting the fabric that you like in the color that you want! I chose black with black leather trim to avoid drawing too much attention to myself on the street but there's something to be said for the classic khaki/tan combo. If it's good enough for Bruce Gilden…
Using The Bag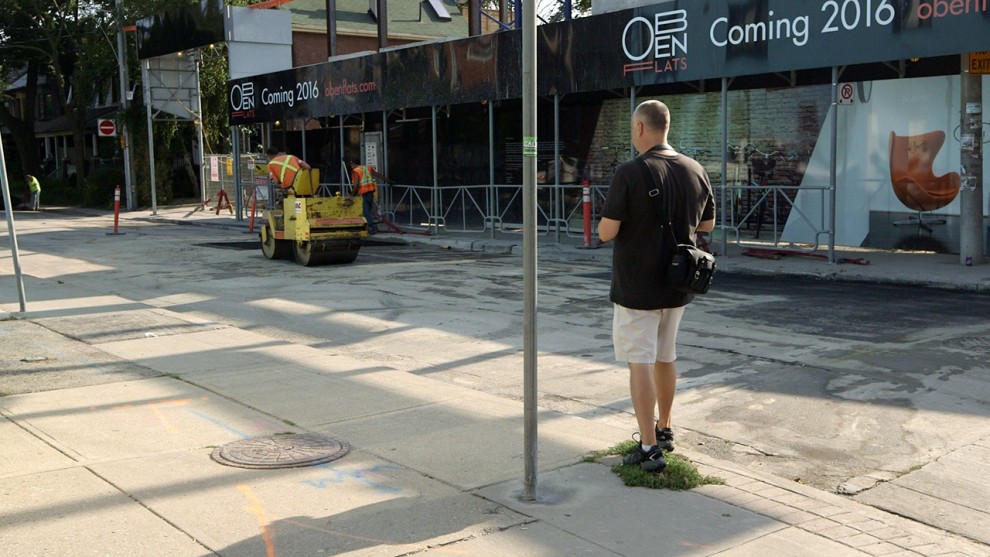 I'm super picky when it comes to camera accessories. Little things that most people wouldn't notice will drive me insane and I end up returning whatever product it is and trying something else. I honestly couldn't find anything wrong with the Billingham Hadley Small. It just sort of disappears and becomes a tool that I use without even thinking about it. That's high praise from someone like me!
There's no zippers on the inside and everything is smooth and soft so I never worry about scratching my gear putting it in or taking it out of the bag. The camera sits on its side in the bag which means I can pull it out and start shoot without having to juggle it in my hands. That sounds like a small thing but over the course of a year it adds up to a very satsifying user experience.
It took me about a week to figure out how I would store everything in my Billingham Hadley Small but once I sorted that out I find I really do have room to spare. As you can tell from the video there's a ton of little bits that I keep with me every day and having everything organized and easy to access is a real bonus.
Overall I'm super happy with the Billingham Hadley Small and I have no problem recommending it to any street photographer. It's a bit more pricey than the competition but this is one of those times where you really get what you pay for.
Where To Buy The Billingham Hadley Small
The Billingham Hadley Small sells for around $236 USD is available online from your favorite retailer:
Billingham Hadley Small at B&H.
B&H is one of the largest photo retailers in the world and offers free shipping on most orders.
Billingham Hadley Small at Adorama.
Adorama is another huge retailer from NYC with fast service and free shipping.
Billingham Hadley Small on Amazon.
Amazon has free shipping on most items and offers an amazing return policy for worry-free shopping.
If you prefer to shop local you can check Billingham's website for a brick and mortar retailer near you:
Billingham Bags – Find A Retailer
Huge shout out to my friend Ed O'Neil who helped me produce the video. Check out more of Ed's work on his website:
What's your take on StreetShootr's Billingham Hadley Small review? Is the quality of this camera bag is worth the premium price? Or does it look too much like a fishing bag out of a Hemmingway novel? Post your ideas in the comments below and keep the conversation going!