When I meet a famous photographer I like to hand them my camera and ask them to take my picture. Anyone can take a picture of someone famous but how many people have a picture of themselves shot by David Alan Harvey? At Magnum Days in Provincetown I managed to get 3 Magnum photographers and 3 workshop students to snap a pic of me and the results might surprise you! Hit the jump for all the pics.
I'm So Vain, I Probably Think This Photo's About Me
Getting photographers to snap my picture is a fun project but it's about more than looking at myself. It's interesting to see world class photographers at work first when they're put on the spot. They're not expecting to shoot anything so seeing them transition effortlessly into shooting mode and watching them handle a camera is captivating! Everyone takes a different approach – some just want to get it over with and others take the time to create something memorable.
The photos are truly "snapshots" but the differences between each photographer's style is always evident. What details they included, how they set up the shot, what direction they gave me as a subject all contribute to the uniqueness of each shot.
Here's 6 shots of me taken at Magnum Days in Provincetown in September. 3 are from celebrated Magnum photograpers and 3 are from fellow students.
Shot By Costa Manos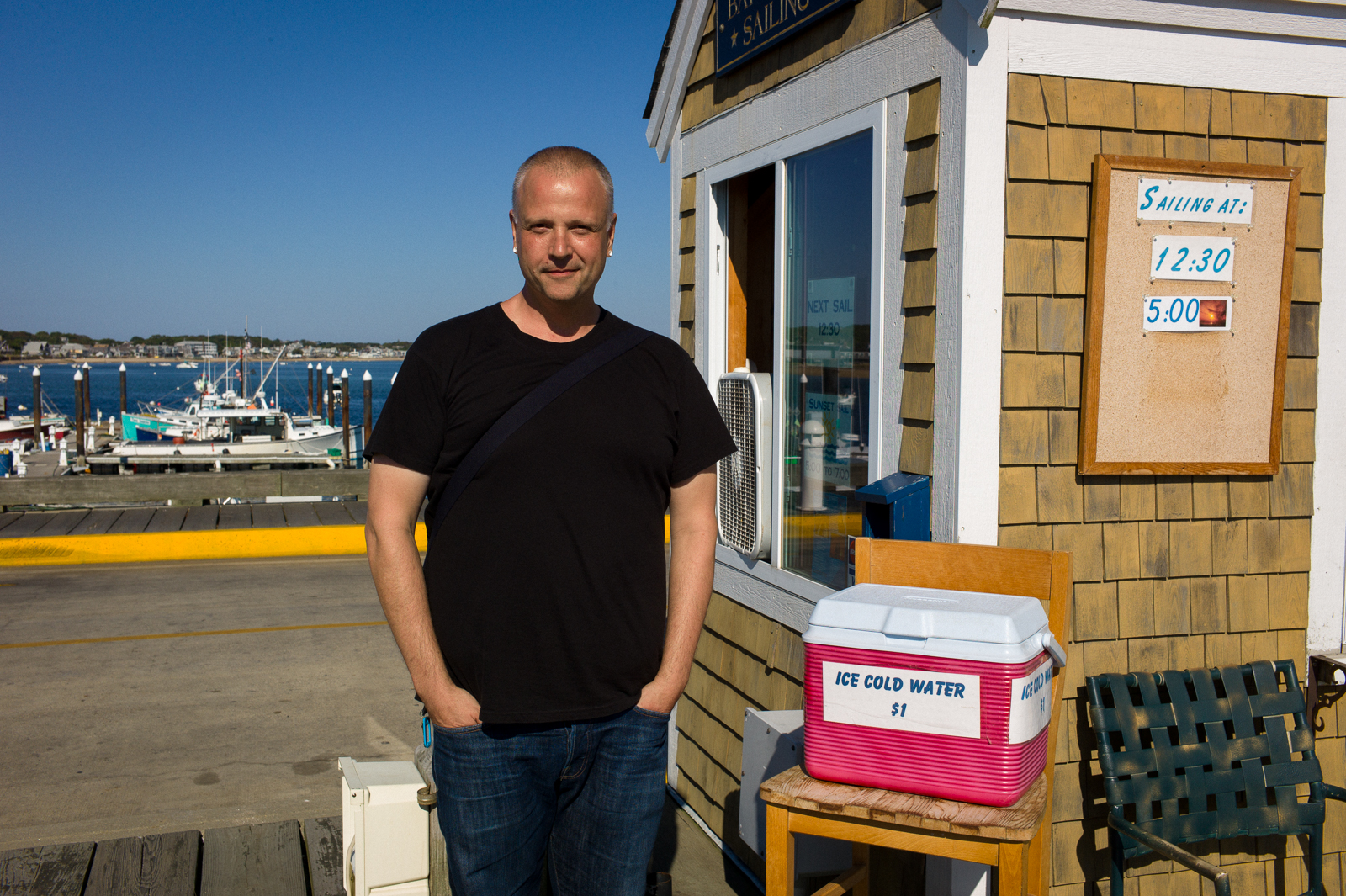 I kind of got the idea that Costa doesn't shoot that much anymore. I had asked him on day 1 to photograph me and he sort of agreed but I got the feeling he really wasn't that into it so I let the matter rest. Then on the last day of the workshop he came with us on a shooting assignment and I had my chance. I handed him my camera and got the above shot.
Look, it's a snapshot. You can't hand a man a camera out of left field and expect the shot to appear in American Color 3 but there are some elements in this shot that are classic Costa. The color blocking of the red cooler against the mostly monochromatic background, and the careful placement of rectangles around the right edge of the frame all relate to Costa's lessons during the workshop. It's a snapshot, for sure. But it's shot by Costa Manos!
Shot By Bruno Barbey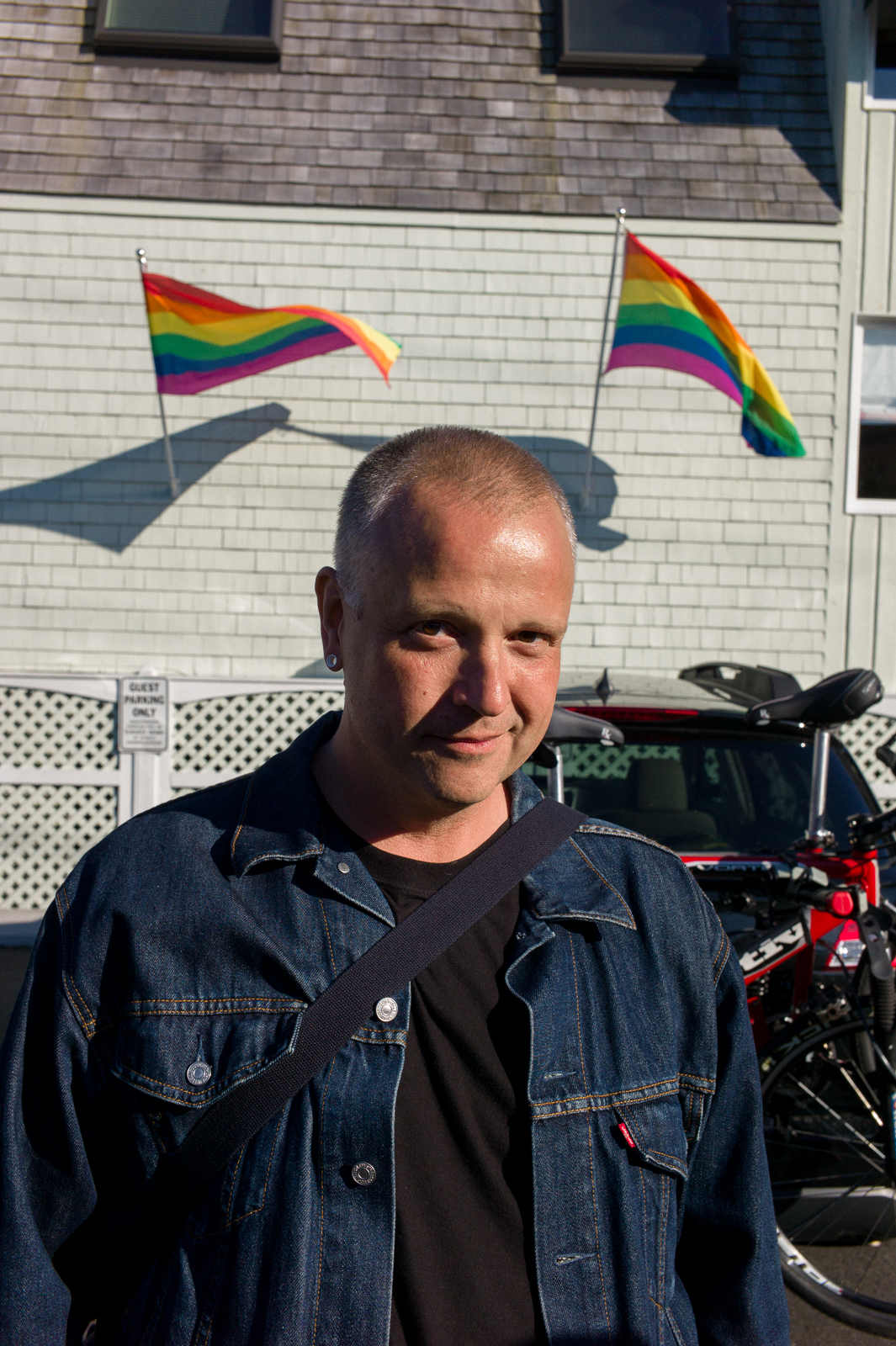 Bruno was shooting on the streets of Provincetown every day. It was clear that he is still in love with the act of photography and watching his face light up when he interacts with a subject was wonderful.
I ran into Bruno outside the of Boatslip on Commercial street and handed him my camera after exchanging some pleasant words about the weather. He handed his camera to his wife and zoned and took 3 quick shots. Unlike Costa's shot that has a lot of formal structure, Bruno's shot contains a lot of character and humor. The shadow from the gay pride flags gives me a sort a pompadour hairdo and the sly grin on my face reinforces the quirky humor of the image.
Again, it's an on-the-spot snapshot but it's interesting to see how Bruno assembled a few elements out of thin air to create a humorous and charming inmage.
Shot By David Alan Harvey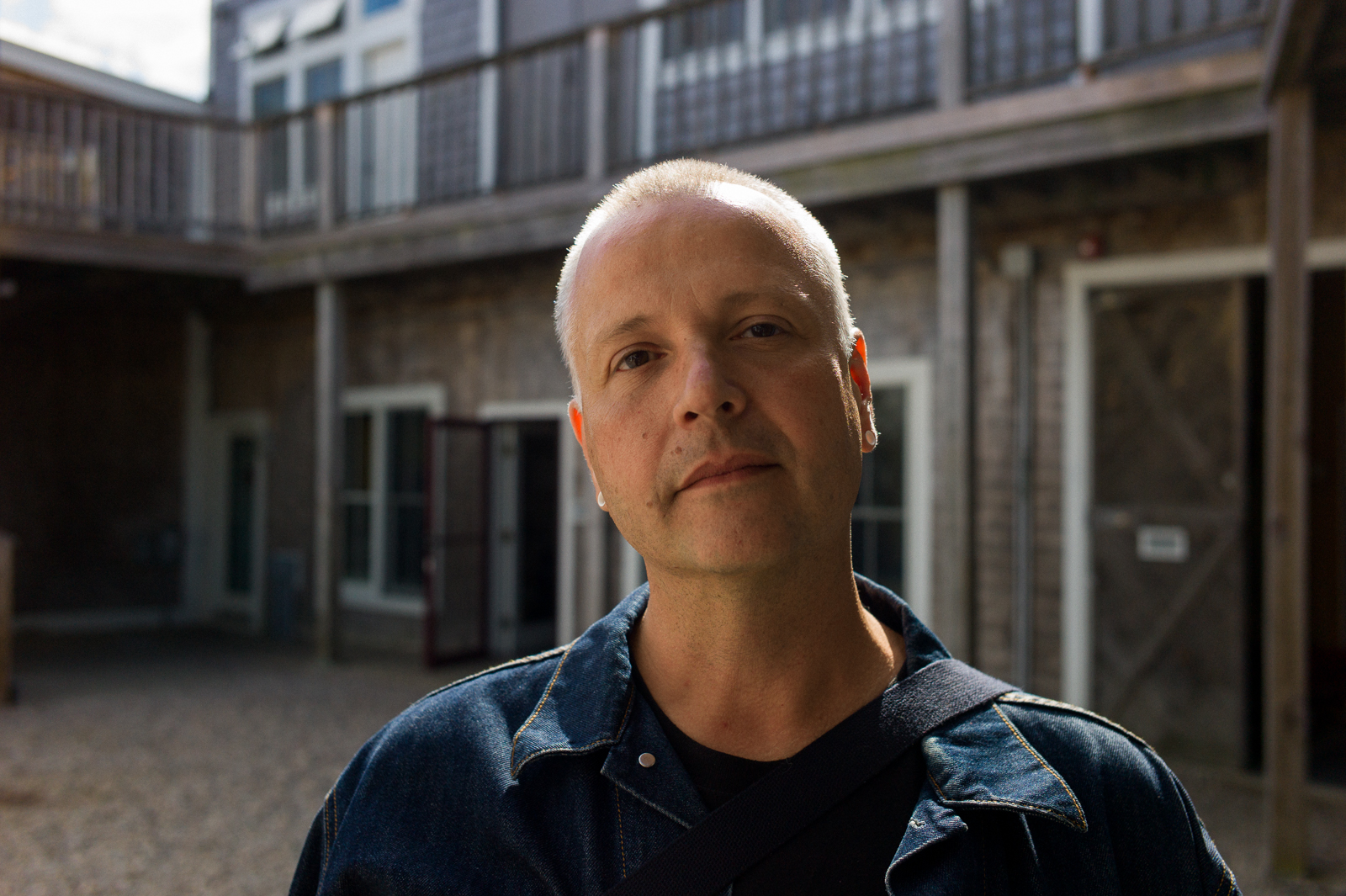 By the time this shot came around I was used to just sort of "standing there" while the photographer quickly snapped a shot or two. But David took one look at me and said, "No, that's not how you are. You're more defiant – chin up!" He ran me through several variations of the pose he was looking for and the shot stands out for being so different from the rest.
David really lives his work and he's well known for becoming a part of the scene he's shooting. But I saw the opposite thing happen. He quickly wrangled me into his world for a second to get this shot. He didn't infiltrate my space but made me a part of his world for a brief moment. He was quick and he moved with the determined actions of someone who already knows how to get where they're going.
I like this shot a lot.
Students Are People Too
In addition to three Magnum photographers I was lucky enough to get a few students to shoot me. The main difference with the student shots is that we all interacted with each other socially so there was an immediate degree of comfort that the Magnum guys didn't have.
As always, it's fascinating for me to see how other photographers work when put on the spot and equally fascinating to see their style shine through in the final shots.
Shot By Sophia Valiente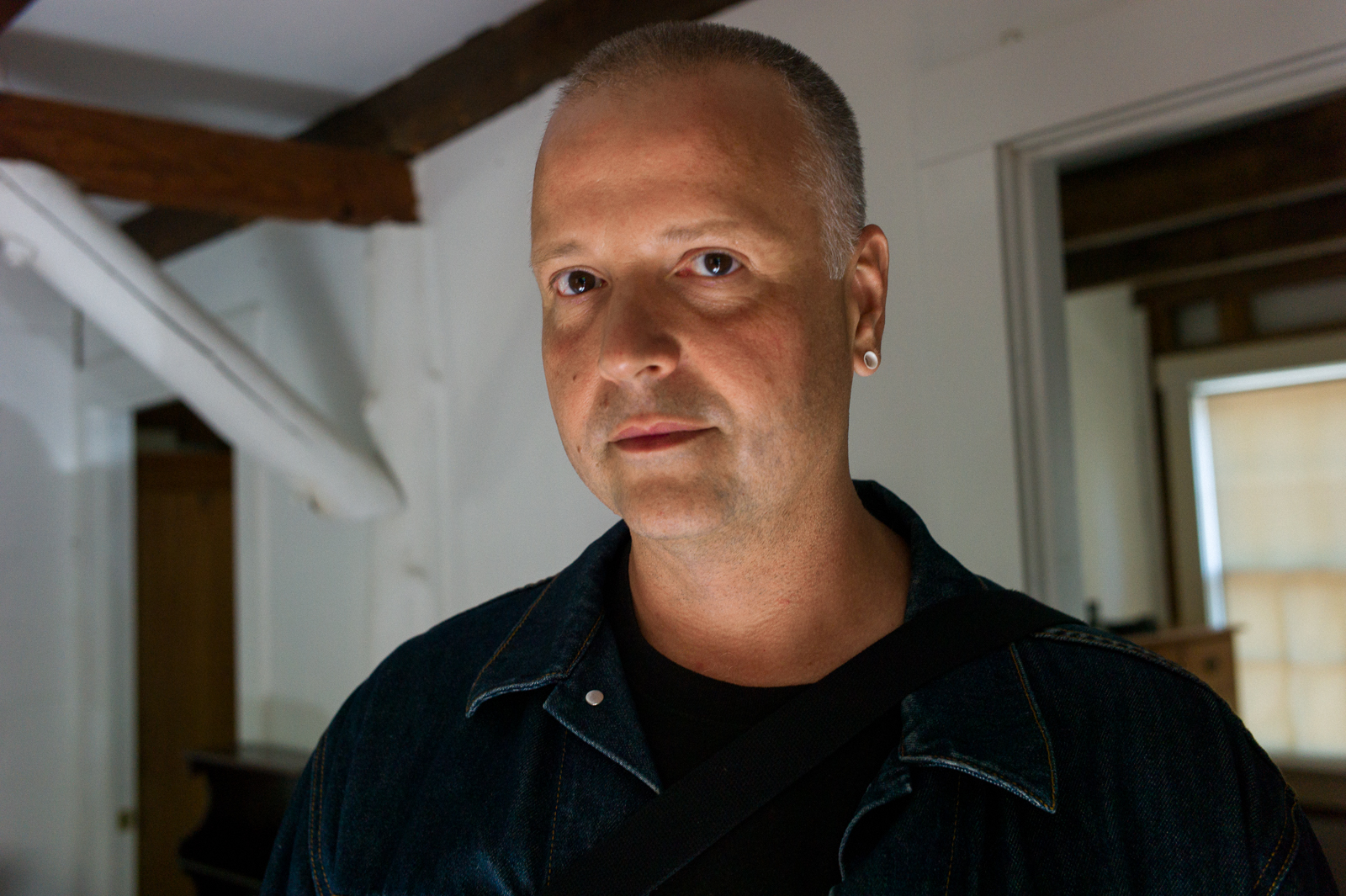 Sophia Valiente was attending the Olivia Arthur workshop under scholarship.
Sophia earned international acclaim with her recently published book documenting life inside a colony of sex offenders. She was quiet and singular and definitely would rather not have taken my picture but I cornered her one day and the resulting pic is one of my favorites. There's a dark brooding quality to the unflattering light and she hesitated just a second before shooting. Holding on to the very last instant and keeping me on the edge for the shot. There's a tension and a tenderness to the shot that I like a lot.
Sophia is a young documentary photographer to keep your eyes on!
Find out more about Sophia on her website.
Shot By Kile Brewer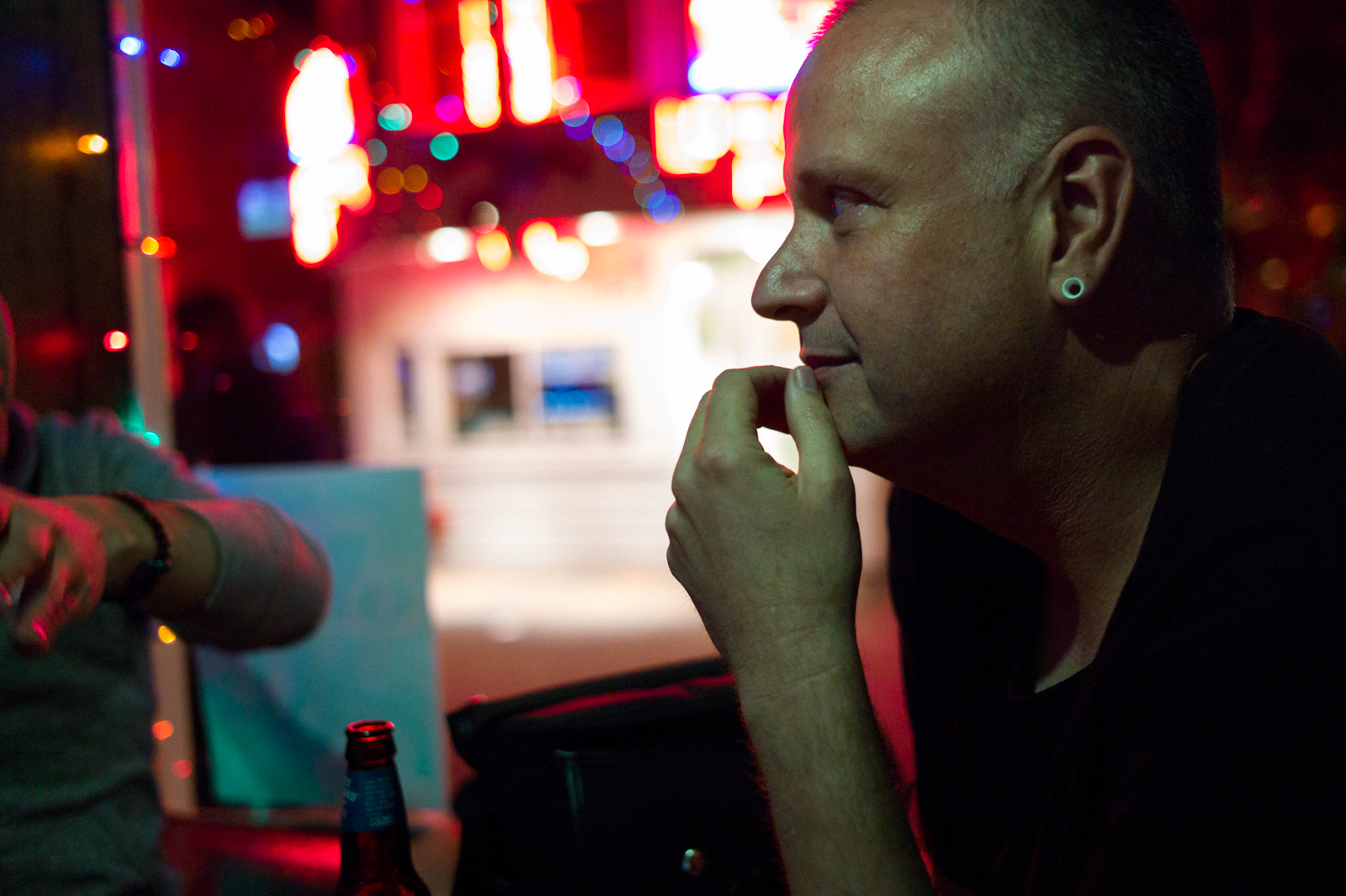 Kile asked to check out my camera while a small group of us were at drag queen karaoke on the first night. He hadn't shot with a Leica and wanted to check it out. I didn't think much of it and he quietly snapped this profile shot of me with Provincetown's famed Lobster Pot in the background.
Kile works as a newspaper photographer and has a stong interest in street and documentary photography. It was cool to see him recede into the background and figuratively disappear for a few minutes to get this shot.
Eric Kim interviewed Kile at my apartment in Provincetown:
More pics by Kile on his tumblr.
Shot By Eric Kim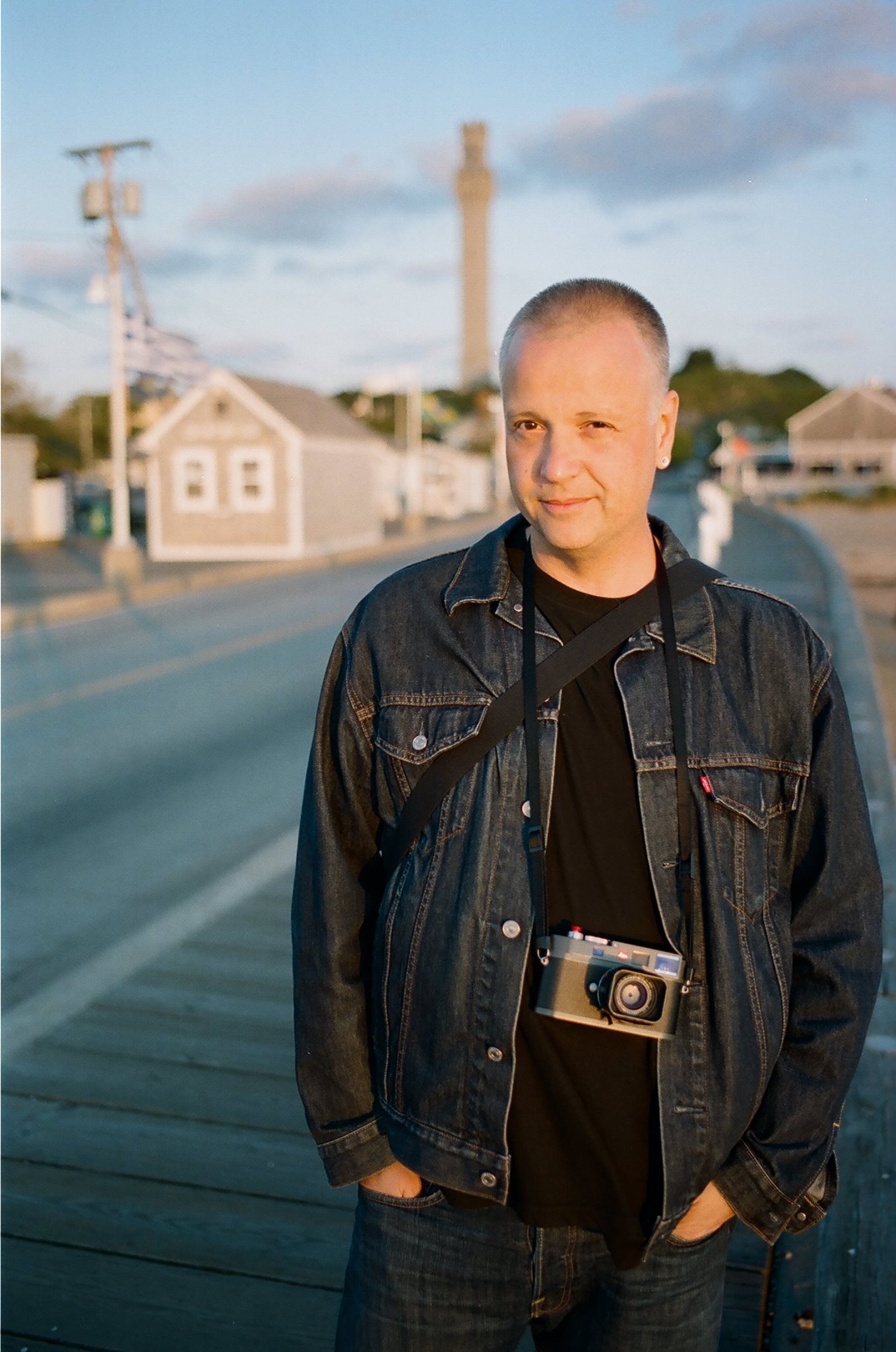 Anyone who's ever spent any time with Eric knows he's going to take a lot of pictures of you. I've never encountered anyone so genuinely fascinated by people! This shot was taken on an early morning walk on the pier in Provincetown. I was sleepy and a little cranky and when I turned around there was Eric firing away with his trusty Leica MP.
Eric shoots mostly Portra 400 and the film has an unique look that can't be reproduced digitally. The shot is gentle and my expression is tentative which pretty accurately describes how I was feeling that day. Eric takes a lot of pictures when he finds something interesting and I've seen him go through multiple rolls with one subject. He bobs and dips back and forth to get the angle he needs really throws himself into the process of shooting.
Eric runs a very popular street photography blog that can be found at:
Conclusion
On the one hand, it might seem a little vain to post a bunch of pictures of myself on the website but these photos reveal more about each photographer than they do about me. I really think it's interesting to see how different photographers (both established and emerging talent) deal with the same subject on short notice. No time to prepare, just go ahead and shoot!
My little game of asking photographers to take my picture is definitely undertaken with my tongue firmly in my cheek but there's lessons to be learned from each one of these images. Even the greatest photographers are not always going to produce top quality images every time they pick up a camera. But even when the shots are near-misses, each photographer brought an unique set of tools to the table to create something out of nothing.
What's your take on these pics? Near misses or interesting studies in the way photographers work when put on the spot? Post your ideas in the comments below and keep the conversation going!