The black and white I SHOT IT photo contest closes in 6 days and the prize is currently sitting at over $5,000 plus a Leica Monochrom! The cash amount will likely triple by the end of the contest but either way it's hard to ignore the chance to win one of the most alluring cameras in the recent history. Dig out your best black and white shots and hit the jump for more details.
I SHOT IT Photo Contest Judging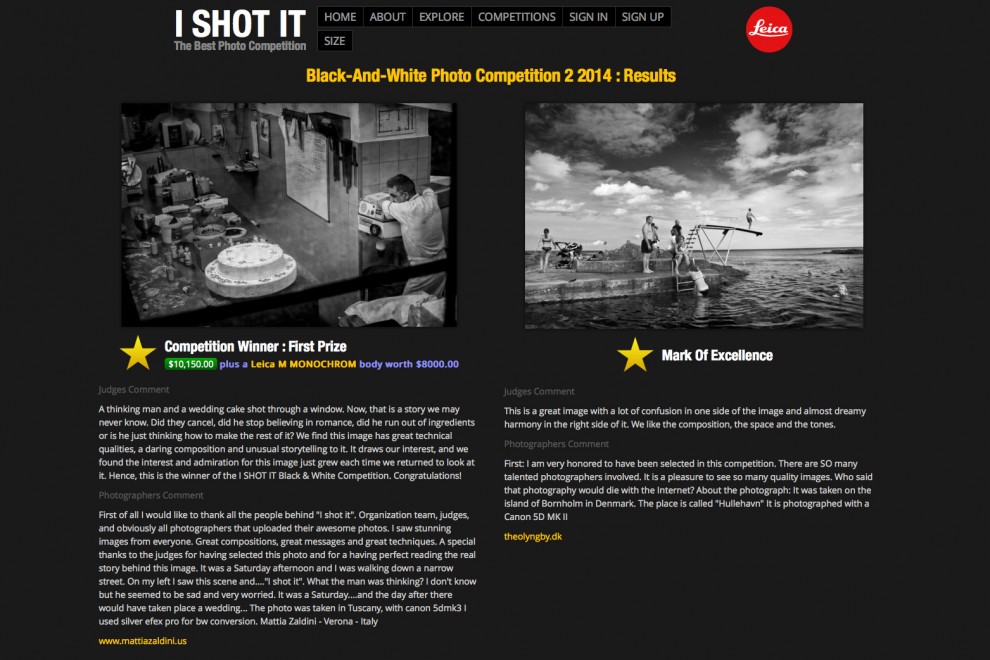 Anyone can enter an I SHOT IT photo contest and past winners have included New York Times photographers and advanced amateurs alike. Judging is based on the technical excellence and emotional appeal of the image, and is not based on the professional experience of the photographer. The judges for the current black and white I SHOT IT photo contest are Thorsten Overgaard and Birgit Krippner
About The I SHOT IT Photo Contest
For a small fee, i-shot-it.com lets photo enthusiasts of all levels – from amateurs to professional – to take part in photo competitions. Depending on the competition, the images are either judged by a jury of acclaimed photographers or by the I-Shot-It community through direct online voting.
Winners of the online photography competitions receive cash prizes –financed by the charges due for uploading image material—and a Leica camera. The current thirteen categories include genres such as wildlife, landscapes, black and white, cars, transport, flowers, street photography, sports, food and more.
Dr. Andreas Kaufmann, majority shareholder of Leica Camera AG, acquired a 25.1% stake in I Shot It in 2013.