Rinzi Ruiz discovered his passion for street photography on the cavernous streets of downtown Los Angeles. I met up with Rinzi on my recent trip to LA trip and had a great time exploring the city and getting some insight into what makes Rinzi tick as a photographer. Hit the jump for the video and some epic shots from one of LA's most dedicated street photographers!
Stret Zen – Rinzi Ruiz On Street Photography
I first met Rinzi Ruiz in 2014 when he was assisting at a workshop I was attending and over the years I've been lucky enough to get together with him from time to time when I was in LA. He's a prolific shooter who's mainly known for his epic black and white shots but lately he's been experimenting with color and producing some equally amazing work.
We spent a couple days shooting in downtown LA and I was able to capture a quick video of him talking about his process and the things that keep drawing him back to the downtown area. Downtown LA is an amazing street photography destination that hasn't yet been ruined by urban sprawl. Sure, the trendy little cafes are starting to pop up but the boarded up theaters and blue terracotta buildings built in the 1920s still keep things grounded.
This is Rinzi's stomping ground and chances are you'll run into him if you hit the streets of downtown LA with a camera in your hand.
Quotes And Shots By Rinzi Ruiz
The video (above) tells the whole story but here's a few memorable quotes along with a few epic shots by Rinzi Ruiz: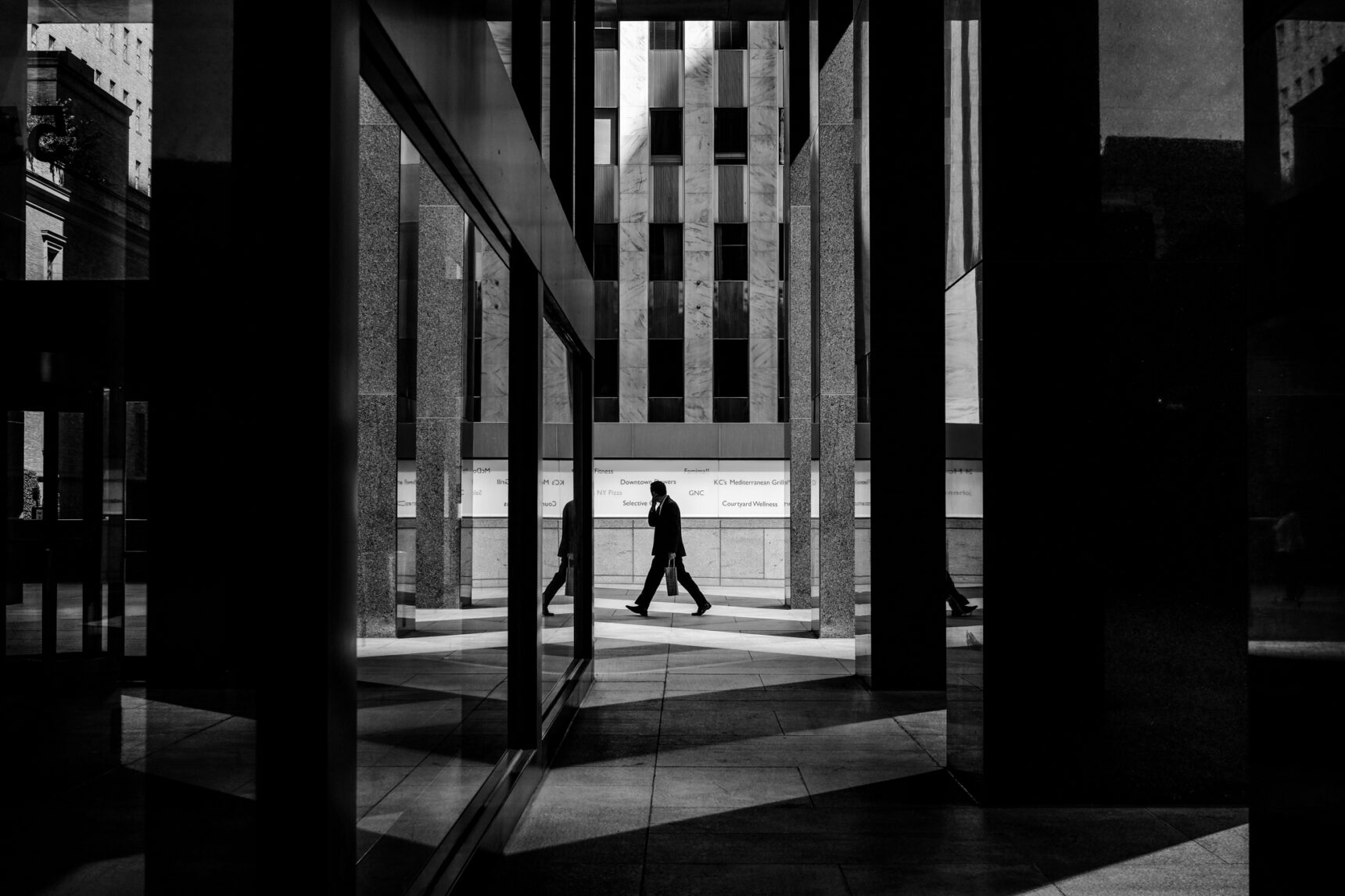 At the end of the day i'm a photographer first. I'm not trying to say that I don't want to be labelled as a street photographer. I don't mind that at all if that's the type of work people are seeing of mine. Which is basically it because that's all I put out for the most part! For sure, I identify with that genre.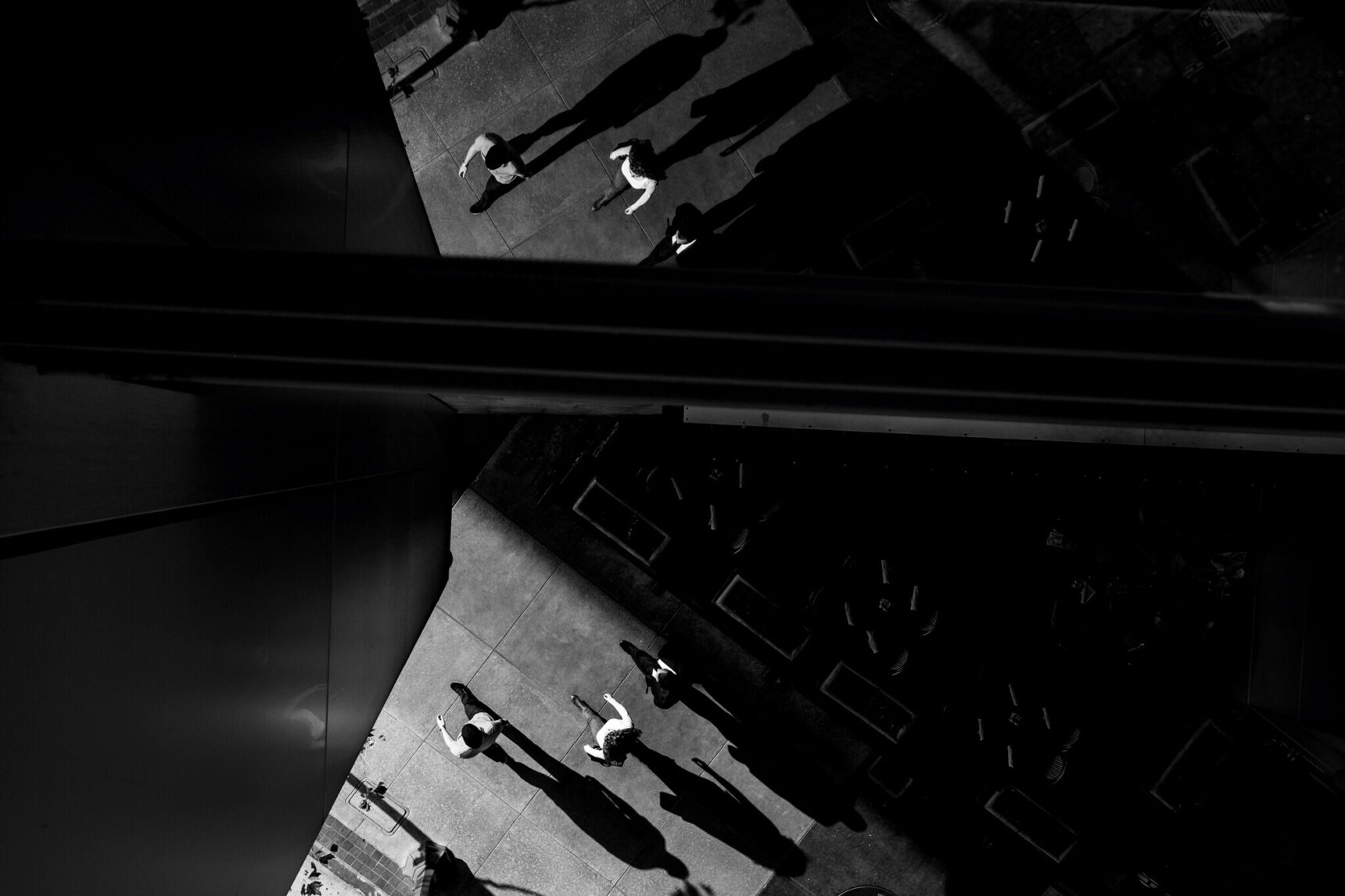 I see light. Basically what I've trained my eyes to focus on is the quality and the value of light. So a lot of it's just that. that's all I'm looking for. And then everything else is below that I guess. So ya. mostly I'm focusing on light.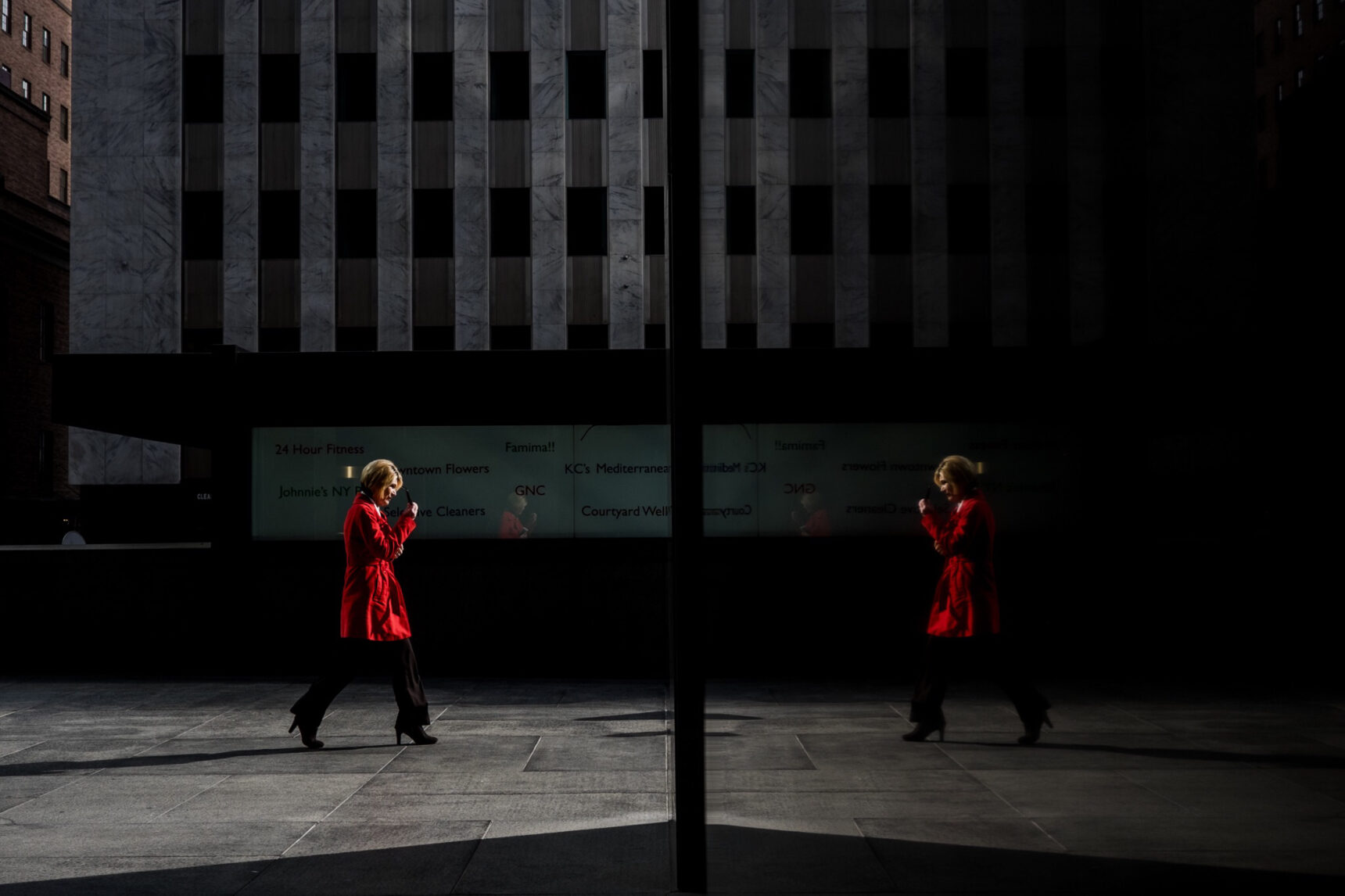 If I walk upon an area and the lighting is perfect and the scene isn't busy, and everything just works out… That's what surprises me. Because it's actually happening and as long as I'm ready with my camera to go take the picture, then all good right? But it's really those elements coming together in the perfect time and I happen to be there.

Sometimes I miss it. Like by a millisecond, by a few seconds. I'll either be looking another way and i'll turn around and be like, "Oh my god that's so perfect!" And then by the time I have the camera to my eye the situation changes.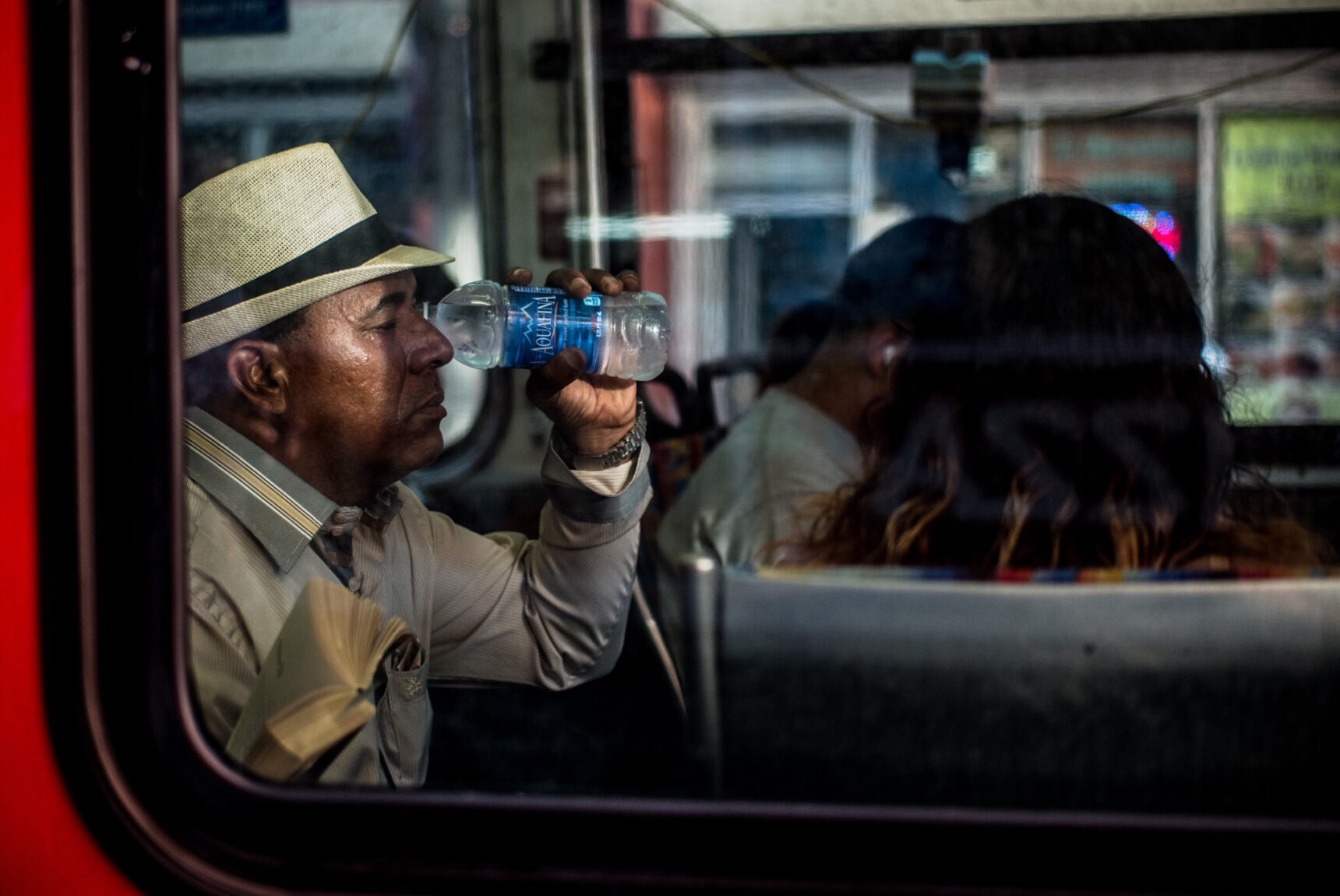 I think the reward is being able to capture it and be happy with the shot that you took. The opportunity is presented to you and you can do with it what you will. And you either take a bad shot of a good situation or you get a really awesome shot.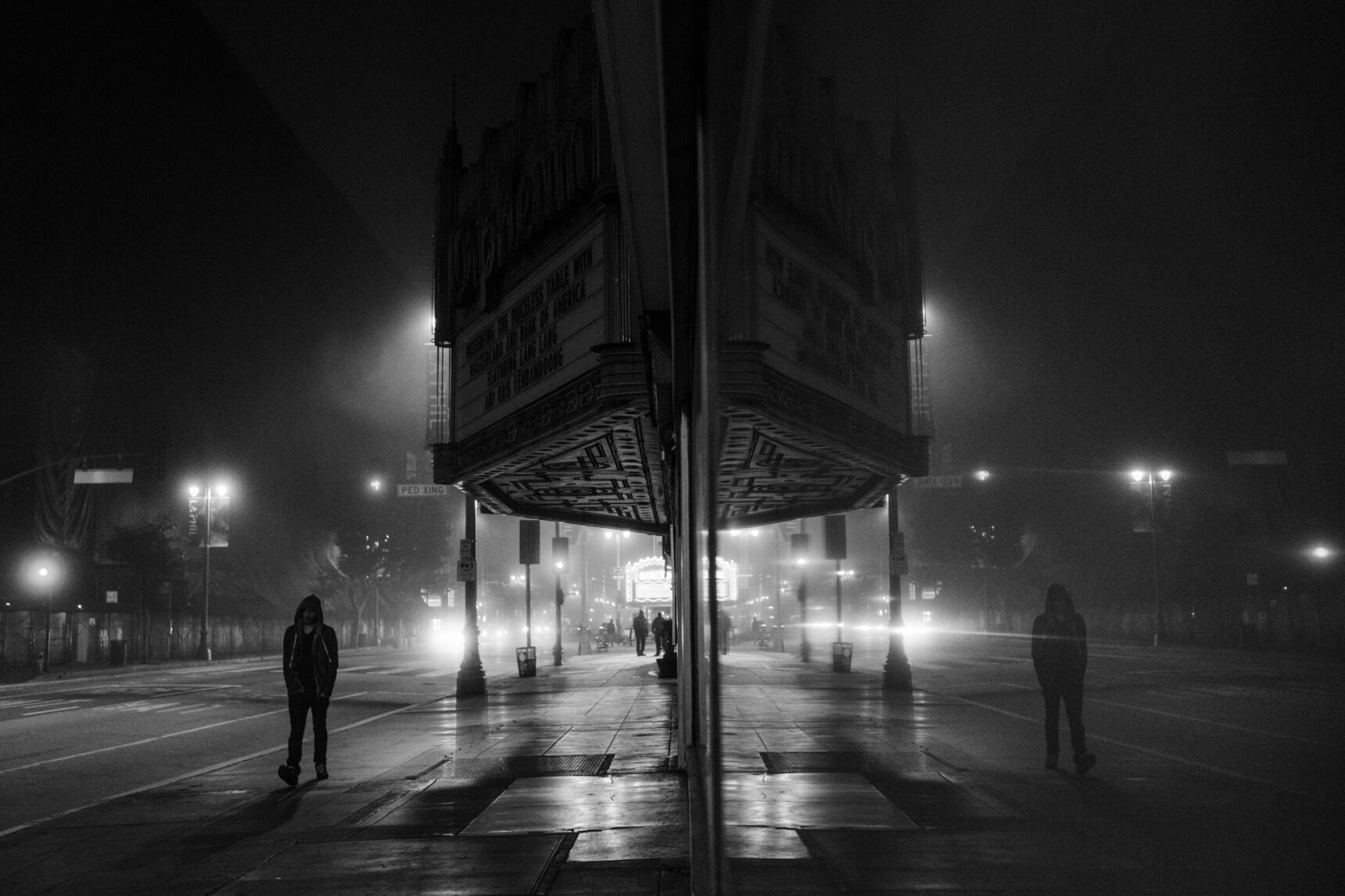 I'm there to practice, right? I want to be able to capture something significant. And really it becomes less about the place and more about just finding the right people to showcase. To find them doing something interesting, something meaningful.
---
Check out my Rinzi Ruiz interview from a couple years back. It's old now, but it's good old. :)
You can check out more of Rinzi's work on his website at:
Rinzi also runs personalized workshops in downtown L.A. Check it out if you're interested:
www.lastreetphotographyworkshop.com
StreetShootr's Take
I hope you enjoyed the last few posts as they represent the first steps in a new direction for StreetShootr. The site started out being a sort of "curated newsfeed" for street photographers but as time passed I started to see the value and need for original content produced by me.
You can expect a wide range of content from vlog style videos shot on location to short documentarty style featurettes like this Rinzi Ruiz video and everything in between. I've really got the bug for creating these kinds of video so I'm going to go with it and see where it leads!
What's your take on the Rinzi Ruiz video? Do you think this kind of video content is a step in the right direction for StreetShootr? Or would you rather sit back and read plain old text articles? Post your ideas in the comments below and keep the conversation going!