The Fuji X-E3 uses the same X-Trans 3 sensor and lenses as the company's flagship X-Pro2 or X-T2 so you're going to get the same picture quality. Wait, if that's the case then why would anyone buy a flagship camera? Let's have a quick look at the Fuji XE3 and see what makes this little guy shine. Hit the jump for the video and full breakdown!
Fuji X-E3 Video Quick Look
Like I said, this is going to be a hands-on quick look rather than a full review. The Fuji X-E3 uses the same X-Trans 3 sensor and the same lenses as every other Fuji camera released this year so there's no surprises with image quality. Check out my video quick look (above) for my take on the Fuji X-E3. Hint – I like it!
So let's talk about the things that make the Fuji X-E3 stand out.
The X-E3 Does It's Own Thing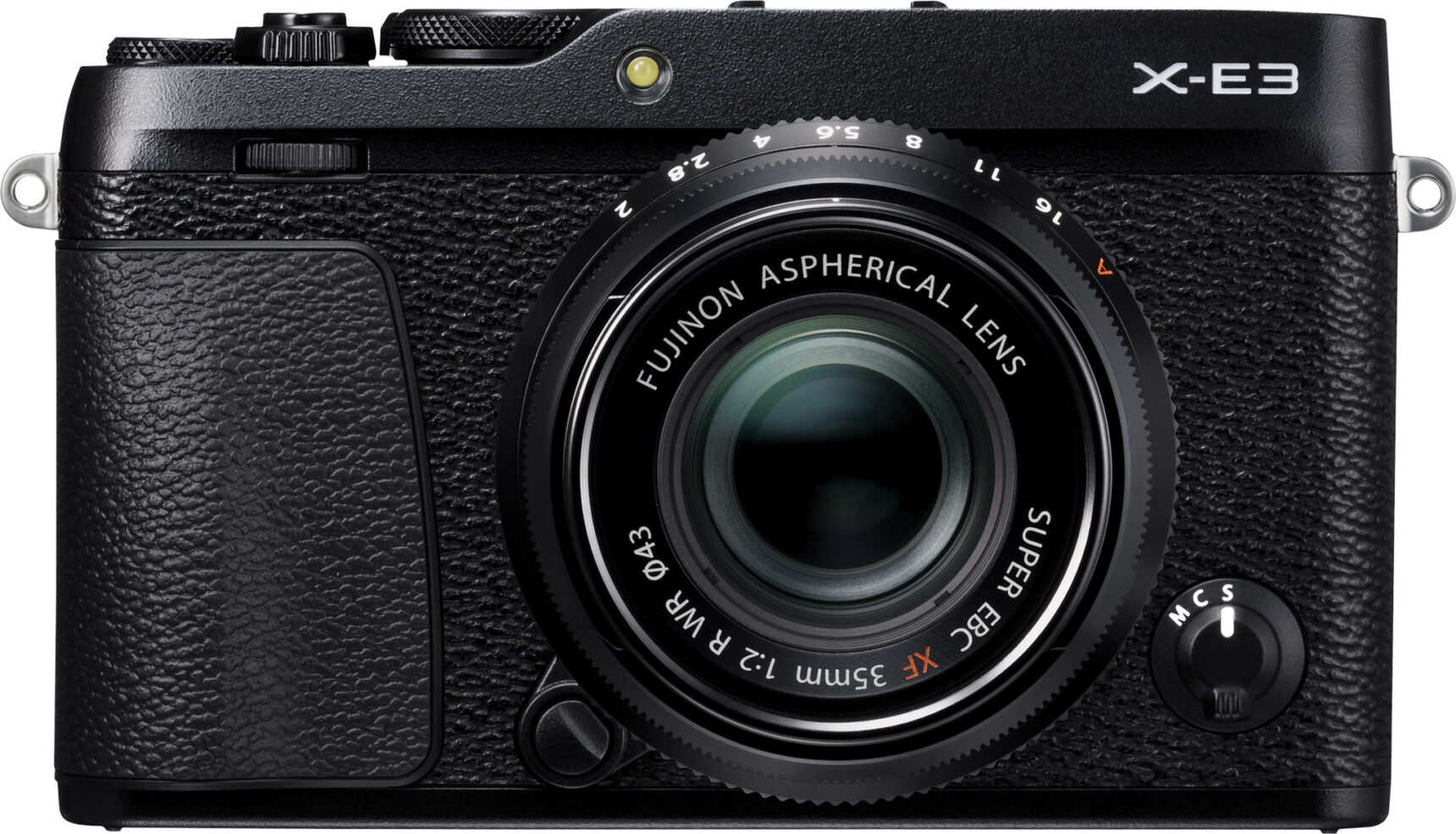 If the Fuji X-T20 is the little brother of the X-T2 then the Fuji X-E3 has to be the little brother to the X-Pro2, right? But isn't that the X100F's role? So maybe this is just an X100F with interchangeable lenses? Well, not really…
Fuji's lineup is filled with cameras that are just different enough from each other to defy categorization. But the quick answer is that the Fuji X-E3 is a "rangefinder style" camera with the evf on the far left of the back but no optical viewfinder. Some folks really prefer this kind of EVF placement and it definitely gives your nose a bit of breathing room (see what I did there?) when shooting. If you're a fan of the XE series of cameras then you're not going to be disappointed.
I'd say the build quality of the Fuji X-E3 is on par with the X-T20 and X100F. The camera feels solid and reliable in hand with no wiggly bits to drive you crazy.
Plus it's super tiny if you're into that kind of thing…
Fui X-E3 Interface / Controls

The EVF on the Fuji X-E3 features a .62X 2.36M dot OLED display that is accurate and bright with very little lag even in low light situations. If you've ever looked through the EVF on an X100F you're going to get very similar performance from the X-E3. In short, no problems there.
Like just about every Fuji camera, aperture and shutter speed are controlled with physical dials rather than having to press a series of buttons or dive down through menus. Fuji nailed their interface design a long time ago and the X-E3 carries the torch proudly. Due to the camera's smallish size, there's no physical ISO dial on the camera but you can set the front command dial to adjust ISO and this works quite nicely in the real world.
On the back of the camera you'll see that the X-E3 features the button right design first seen on the X-Pro2 review and X100F. All buttons are on the right hand side of the LCD which lets you operate most functions of the camera with a single hand. In practice this works great and it's great to see this show up on the X-E3.
No D-Pad? No Problem!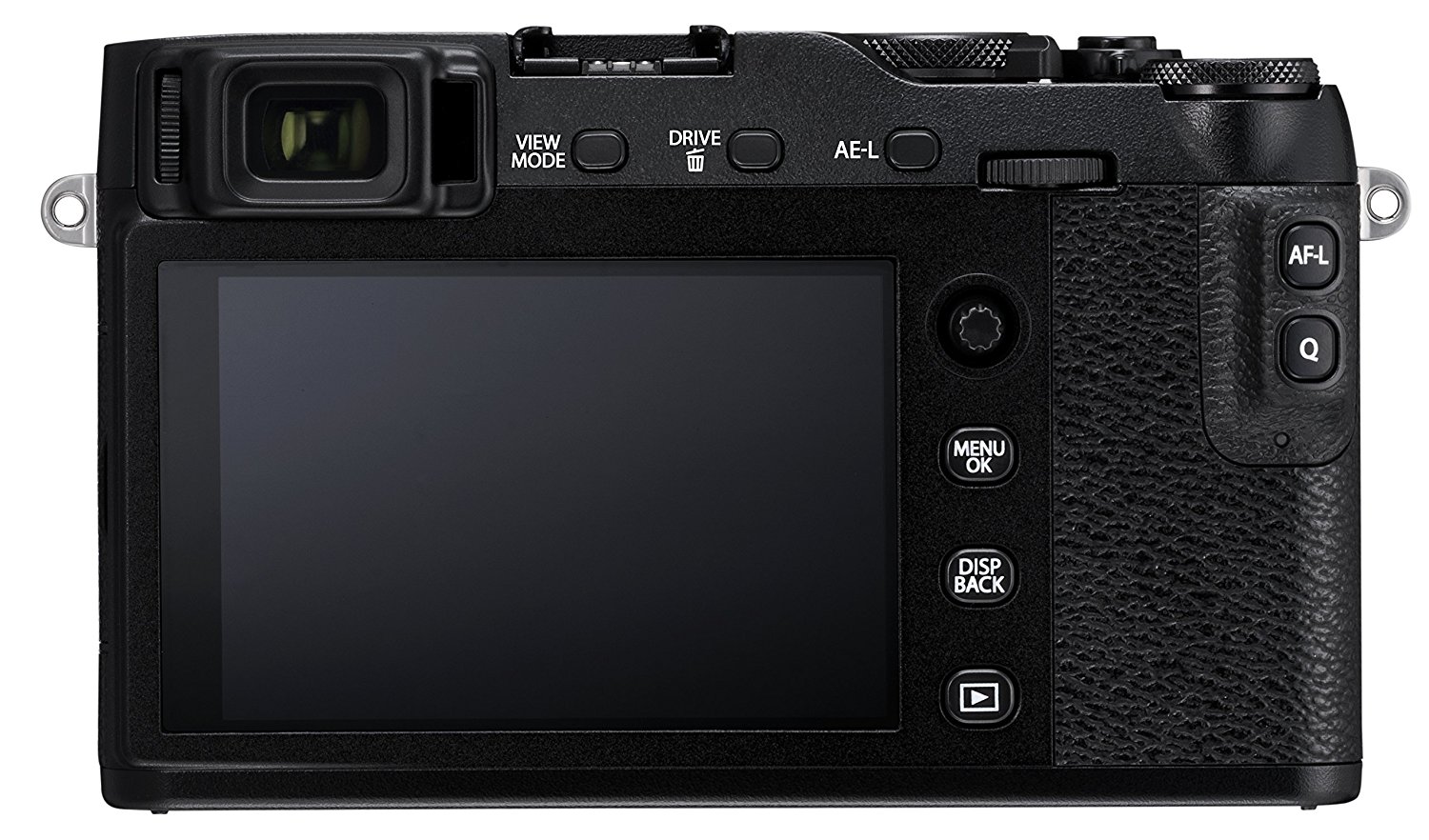 Fuji has introduced a more "minimalist" interface with the X-E3 and removed the traditional d-pad that's on just about every other digital camera. This creates a simplified back panel with plenty of room for your big ole' thumb to hang out back there.
Menu navigation is accomplished using the focus selector nubby. It's a little fiddly at first but after a few days of using the camera I barely noticed the difference. And the uncluttered back feels just right when using the camera on the street. No more fiddling with your thumb to avoid hitting buttons by accident!
You can use the touch screen to flick through your images in playback mode so at least there's that!
This whole minimalist back feels a bit like proof of concept to me. A baby step forward in the evolution of the Fuji X Series interface and it's likely that we'll see simliar changes on future X-Something-or-other cameras.
Latest And Greatest AF Algorithm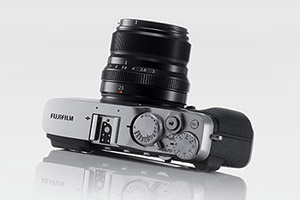 When the Fuji X-E3 was released it had the company's most advanced af algorithm and tracked moving subjects incredibly well. But this new algorithm has already found its way into the X-T2 and you can likely expect it to trickle down to other cameras in the line.
Fuji claims the new AF is 30% faster than previous generations and this camera is quite peppy in that department. Focusing is definitely faster than the X100F but not on par with the likes of an X-T2. Overall it worked great if that's your sort of thing.
But i'm a street guy and I'm honestly not going to use AF while shooting. But it's there. So that's something.
Yadda Yadda Yadda… Should You Get One?
Make no mistake, the Fuji X-E3 is a Fuji through and through. From its excellent build quality and interface to its oustanding image quality thanks to the X-Trans 3 sensor and outstanding Fuji optics. No surprises here.
It's small, responsive and discreet. And it's priced well below the flagship cameras from Fuji. You give up a few premium features like weather sealing or an optical viewfinder (like the X-Pro2) but this camera will hit the sweet spot for a lot of shooters and will likely find a permanent home around their necks.
The Fuji X-E3 is a great way to get into the Fuji ecosystem or if you're a fuji XE shooter and you like the form factor then this tiny little is a great upgrade. It's in the middle of Fuji's line, but it's going to produce the same quality images as the flagship X-Pro2 or X-T2. And that's a win in my books!
UPDATE: The Fuji X-E3 has been replaced by the X-E4 which is available from your favorite online retailer:
Fuji X-E4 (Black) at B&H.
Fuji X-E4 (Silver) at B&H.
Canadian viewers can find the Fuji X-E4 at Canada's greatest camera store:
Fuji X-E4 (Black) at CameraCanada.
Fuji X-E4 (Silver) at CameraCanada.
If you prefer to shop local you can check Fuji's website for a brick and mortar retailer near you:
Please support StreetShootr and use one of the links on this page if you decide to purchase the Fuji X-E4. I will receive a small commission that helps keep this site alive and growing. Thanks for your support!
StreetShootr's Take
There's no sample photos in this quick look review because the image quality is pretty much exactly the same as the X-Pro2 and X-T2. All three cameras use the same sensor and same optics so it really comes down to form factor and if you're a fan of the XE series of cameras then you're going to love this camera.
It's getting harder and harder to review Fuji cameras because they're just so consistently good. And there's really only so many ways I can say the same thing… But I stand behind my statement that if this form factor works for you then get one! It's a nice little shooter that will serve you well on the street.
No camera will make you a better photographer but that never stops me from trying!
What's your take on the Fuji X-E3? Are you a fan of the XE series and ready to grab one? Or would you rather hold out for an X-Pro2 or an X-T2? Post your ideas in the comments below and keep the conversation going!