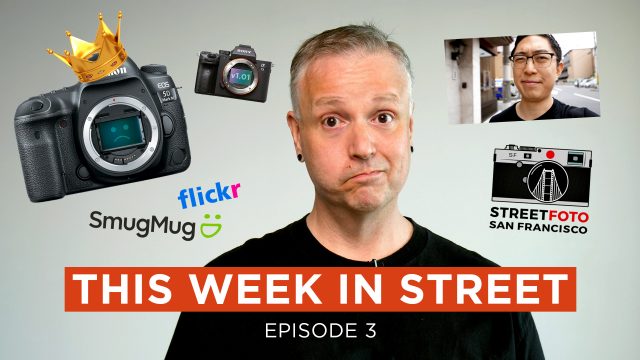 Episode 3 of This Week in Street (TWiS) is on the air! This week's show includes the SmugMug / Flickr sale, the end of the DSLR, StreetFoto SF, Erick Kim being mildly annoying and more! Hit the jump to watch this week's show!!
This Week In Street Episode 2 – Street Photography News Show
This Week in Street is a weekly news show that breaks down the top street photography (and related) stories from across the net. From street photography news to book reviews – if it's even remotely related to street photography we'll cover it! Enjoy the show, and don't forget to subscribe to StreetShootr on YouTube!
Here's all the links for this week's stories:
FLICKR BOUGHT BY SMUGMUG
https://blog.flickr.net/en/2018/04/20/together-smugmug-flickr-faq/
SONY A7 III FIRMWARE 1.01
https://www.sony.co.uk/electronics/support/e-mount-body-ilce7-series/ilce-7m3
BUY THE SONY A7 III ON AMAZON
http://geni.us/vYGi
BUY THE SONY A7 III AT B&H
https://bhpho.to/2Iux8L4
THE REIGN OF THE DSLR IS ALMOST OVER
https://www.dpreview.com/interviews/5014039475/cp-2018-interviews-the-reign-of-the-dslr-is-almost-over
STREETFOTO SF STREET PHOTOGRAPHY FESTIVAL
http://streetfoto.org
ERIC KIM IS ONLY MINORLY ANNOYING
https://www.youtube.com/watch?v=yNEtKMmAj4c
---
That's it for this week's episode – check back next week for more street photography news and other interesting stories. And don't forget to subscribe to our YouTube channel so you never miss an episode:
Click here for last week's episode.
Got a tip or interesting street photography story? Shoot me an email and let me know!
What's your take on TWiS E03? Are you going to miss DSLRs once they're gone? Or did Eric Kim's message strike a chord with you? Post your ideas in the comments below and keep the conversation going!