One tuition free scholarship position is available for the Alex Webb Finding Your Vision workshop at the Miami Street Photography Festival. All photographers 18 and older can apply by submitting a portfolio and a brief statement about their work. Hit the jump for all the details.
Alex Webb Finding Your Vision
The full description of the Alex Webb Finding Your Vision Workshop sums it up:
Do you know where you're going next with your photography—or where it's taking you? This intensive 5-day workshop will help photographers begin to understand their own distinct way of seeing the world.
​
This workshop will be about finding your own unique vision by using the camera to explore the city in a direct, spontaneous way. Open to both serious amateurs and professionals alike, it is a workshop that will emphasize the development of your own personal way of seeing photographically. This workshop will also be about learning how to edit your work intuitively, and also include discussions about how to take your photography to the next level.

The workshop will begin with Alex and Rebecca, a creative team who often edit projects together (including their joint book, Violet Isle: A Duet of Photographs from Cuba), who will critique each participant's past work as a starting off point for a larger discussion about various photographic issues. By that first afternoon, participants will be working on their first assignment, which they will choose themselves. It may be a specific street, neighborhood, subculture, ethnic group, profession, family or individual; it could be about night life in the city, the senior citizens of Miami, or some aspect of the tourism/leisure industry; it may be continuing work on an ongoing project in Miami; but it must be something that you're passionate enough to return to every day to photograph.
Alex Webb and his wife, Rebecca Norris Webb regularly collaborate on book projects. Their latest book, Memory City was released on June 30, 2014 and documents the decline of Rochester, NY after the collapse of Kodak.
The two work well together and seem to be a perfect match for workshops. Alex is almost a wizard with his ability to conjur complex yet perfectly coherent moments out of the chaos of daily life. Rebecca is more of a poet and her delicate images sing with emotional connections. Together they offer both sides of the photographic coin and offer students approachable and easy to understand guidance.
DATES: Monday December 1, 2014 – Friday December 5, 2014
TUITION: $1500 USD
More information can be found on the Miami Street Photography Website:
Finding Your Vision With Alex Webb And Rebecca Norris Webb
Tuition-Free Scholarship
As part of the Miami Street Photography Festival, Alex and Rebecca are offerring a single tuition free scholarship to the Finding Your Vision Workshop. The scholarship covers tuition only and the recipient will be responsible for their own travel and accomodations.
Applicants must provide 10 images in .jpg format along with a 100 word essay describing their current relationship to photography and where they'd like to go next.
DEADLINE: MONDAY, OCTOBER 27TH, 2014
For more information visit the scholarship page on Alex and Rebecca's website:
Alex Webb Workshop Scholarship
StreetShootr's Take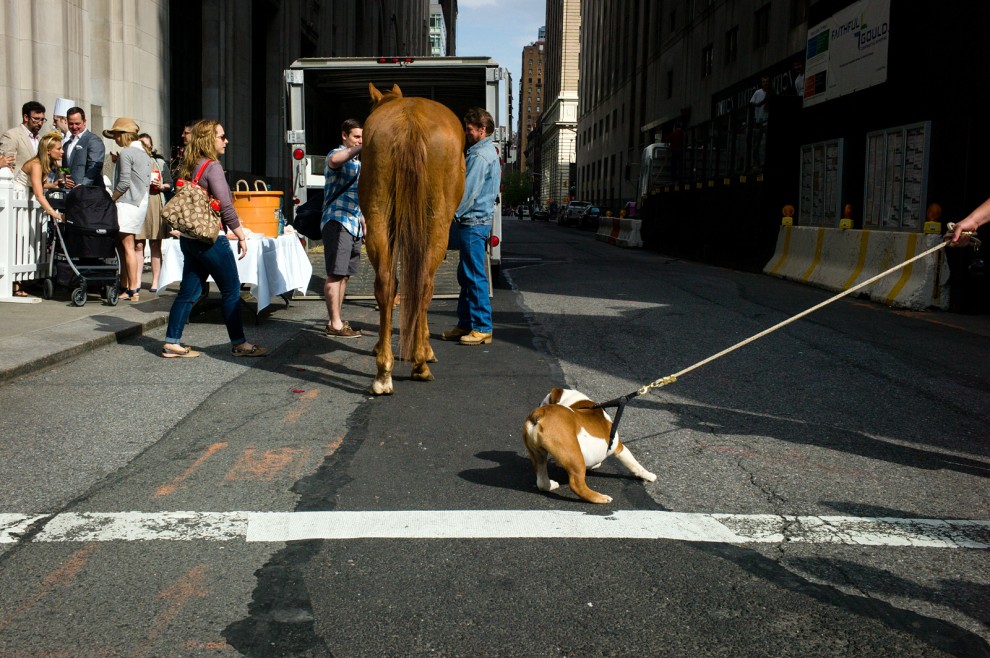 I was lucky enough to participate in the Alex Webb Finding Your Vision workshop in New York City in May, 2014. The workshop is taught by both Alex and his wife Rebecca Norris Webb and I can personally attest to the value of working with such a talented duo. This is not just another street photography workshop! In fact, the two don't seem to acknowledge street photography as being anything other than photography that happens to be shot on the street. The idea to forget about street and concentrate instead on good photography is an important lesson that I carry with me every time I shoot.
Their message was clear, "Just take interesting pictures."
The workshop centers on stresses the concept of discovering your voice as a photographer and students were asked to pick a project for the week then guided toward this goal through daily critiques. As we met each morning students were excited to not only show their own work but to see the work of other talented photographers in the room. Every student learns from their own work along with the successes near misses of other photographers in the workshop.
It's an immersive experience and being around Alex and Rebecca was never less than inspiring. Alex brought years of technically perfect execution to the table and Rebecca rounded out this knowledge with a softer, more emotional slant on what makes a good image.
What do you guys think of free scholarship to an Alex Webb workshop? Are you going to apply? Post your comments below and keep the conversation going!
Miami Street Photography Festival