Zeiss introduced two new "Loxia" lenses for Sony full frame E-Mount (A7/R/S) cameras. The lenses are available in 35mm and 50mm and feature manual focus and aperture with external distance scales that will come in handy for zone focussing and street photography. Hit the jump for more info!
High Quality Zeiss Optics
The new lenses are built on the tradition of high quality Zeiss optics with with full manual focus and aperture control and brilliant color rendition. But the new Loxia lenses are designed specifically for the Sony A7 system. Full metal casing with grippy focus and aperture rings are complemented by weather sealing to protect the sensitive electronic interface between the camera and lens. The lenses feature an electronic interface to send lens data to the camera as well as recognize focus movements to activate the camera's magnifier function.
Great For Street Photography
Sony launched the A7 with an FE 35mm f2.8 ZA Carl Zeiss lens that is a fine piece of glass in its own right. But the focus-by-wire Sony lens didn't feature any external distance scales and left a lot to be desired for street photographers.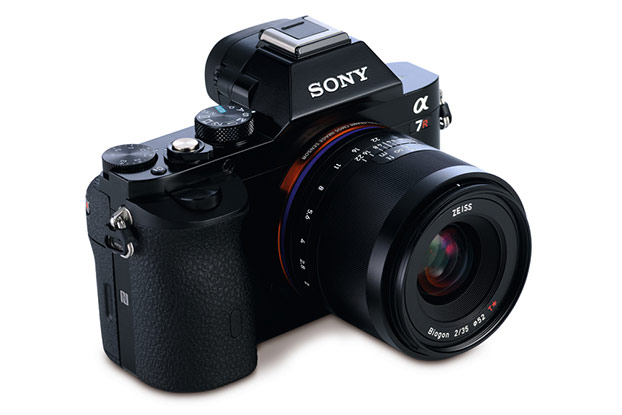 The Zeiss Loxia 35mm f2 is an amazing step forward for street photographers that zone focus their lenses. Set your aperture then move the focus to the correct hyperfocal distance and start shooting. Glance down and see your lens setting in an instant without fumbling with buttons or squinting into a tiny viewfinder.
Many of street photographers have struggled with ill-fitting lens adapaters to get some decent manual focussing glass on their Sony A7/R/S cameras. Zeiss has come to their rescue with a top quality manual lens spefically designed for the camera. Sony A7 street photography just got a lot more interesting!
Great For The Sony A7/R/S
The new lenses solidify the Sony A7 as a serious tool. With more and more companies developing for the system street photographers can invest in a camera system that won't end up in the remainder bin any time soon.
The lenses are scheduled to make an appearance at Photokina which takes place in Cologne on September 16-21. The 50mm f2 is shipping now for $949 and Zeiss promises the 35mm f2 for $1,299 by the end of the year.
For more detailed info on the lenses, or if you'd like to see sample images taken with both options, head over to the ZEISS blog.
UPDATE: Both lenses are now available at B&H!