Mobile photography is one of the fastest growing trends in street photography and smart phones are replacing cameras for a lot of photographers. But with thousands of apps that all seem to do about the same thing, many new mobile shooters are wondering where to start. Doctor Popular has you covered with the essential apps you'll need to get the most out shooting with your smart phone. Hit the jump for the videos.
Doctor Popular's Mobile Photography Playlist
Doctor Popular (Doc Pop to his friends…) is San Francisco's own nerdcore rapper, yo-yo champion and purveryor of fine memes. But in his free time he's an avid mobile photographer. He's put together a series of videos that act as an excellent introduction for anyone getting into mobile photography and features a lot of tips and tricks to get the most out of your mobile photography!
Doc Pop's Guide To Hipstamatic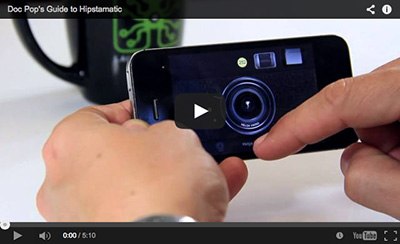 Hipstamatic is one of the original iPhone photography apps and can be credited with sparking a lot of the interest in mobile photography through the years. Basically the app lets you create images using various lens and film combos for a decidedly "hipster" look. Unlike some other apps in the guide, Hipstamatic makes you choose your lens and film combo before you take your shot so you're locked into that specific look.
Doc has a few few essential tips for using the app including how to turn off the annoying "shakey viewfinder" and "shake to randomize" modes that tend to get in the way of creating images. He covers a lot of the app's options including making the viewfinder larger and how to select and save different film / lens combos.
Hipstamatic is a fun litte app that's definitely worth checking out but I can't help but think it's a bit gimmicky at the end of the day. This being said there's thousands of users that swear by it so it's definitely worth checking out!
Doc Pop's Mobile Photo Tips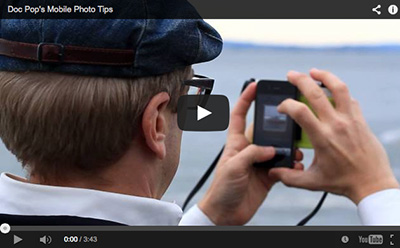 Doc doesn't review any apps in this video but offers a few more tips and a couple of real world hacks to get the most out of your mobile photography.
He goes into detail about TTV (through the viewfinder) shooting where you shoot through another camera's viewfinder to create cool and original analog looks for your images. The iPhone's smaller lens means you can shoot through a wide variety of viewfinders for even more creative possibilities.
He also talks about using a simple drop of water to create a macro lens for your mobile camera. Simple dab a tiny drop of water onto your smart phone's lens and physics and stuff will create a real world macro lens for wicked cool close up photos of sponges. It works but putting water on my lens would freak me out just a little!
Doc Pop's Guide To Instagram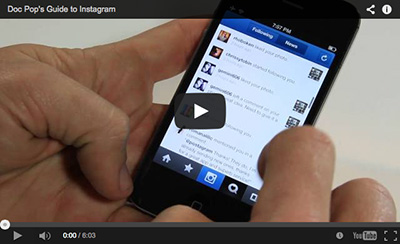 If you only watch one video on this page it should be this one.
Instagram is one of the giants of mobile photography and is really an essential app for many photographers. In a nutshell it's a social network that lets you share your photos with friends. Instagram uses a square aspect ratio for all its pics and offers a suite of filters for sprucing up your images before you share them with the world.
You can shoot from within the app and see live versions of the filters you might apply but most mobile shooters are creating their images in a more full featured camera app and moving them to instagram to share.
Doc covers many of the features of the app including the (+) button to enhance the quality of your pictures, adding tilt shift perspective control for images the look like they were shot in the mid 2000's, and geo tagging so Instagrammers can see other pics taken in the same location.
A very thorough look at the mobile photography giant!
Take Stunning Photos With Your iPhone Camera Apps!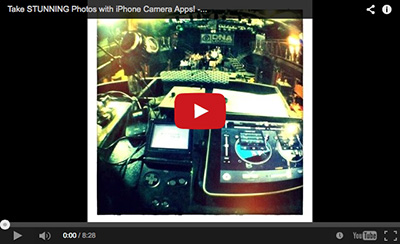 Doc Popular talks about getting the most from mobile photography on the Tekzilla show. He covers a wide variety of topics including why you should never use the flash (use another phone as a constant light source for a much better look) and using your body as a tripod for steadier shots.
He lists his favorite apps (Hipstamatic, Instagram, and Camera+) and talks about his own app, postagram that allows you to send physical postcards using your own instagram images.
The video is a few years old but he has a few tips that are worth the price of admission!
Doc Pop's Guide To Instawalks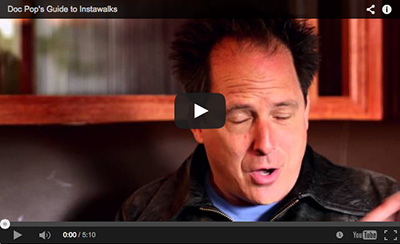 Instawalks are organized photo-walks that use Instagram to document the event in real time. It's a great way to explore and area and meet other photographers in your area. At the end everyone can check out the pics from other photographers on the walk and have a grand ole' time!
Doc gives a few tips for organizing an Instawalk including setting a start AND ending location so everyone knows when the walk is over, using hashtags to organize all the pics from every photographer on the walk, and using name tags to identify everyone on the walk. But the biggest tip is for the organizer to bring a ton of charging cables to replenish all those thirsty iPhones at the end of the day. Everyone on the walk will love you unti the end of time!
Doc Pop Chats With Jenn Bianco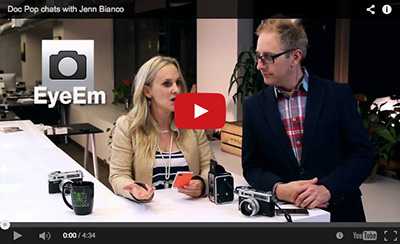 Jenn Bianco from mylifesatrip.com shares her favorite mobile photography apps. I'm sure she's a great lady but most of her app choices are all gimmicky filter apps that apparenlty try to make your images look as horrible as possible. She does touch briefly on EyeEm App which is an up and coming Instagram competitor that is definitely worth checking out!
Apart from a brief mention of EyeEm there's not a lot going on in this video. Save yourself a couple minutes and skip it.
Doc Pop's Guide To ACDSee Camera Flash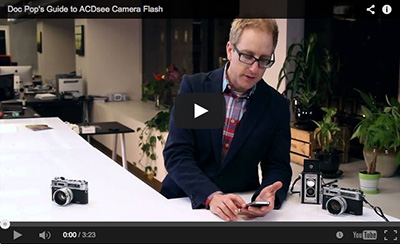 ACDSee Camera Flash is a photo enhancer that does a pretty good job at salvaging images that are too dark. It uses dynamic brightness and contrast controls to boost dark images without washing them out. Also works great for backlit subjects!
It looks like the ACDSee Camera Flash app has been replaced by Instaflash which comes in a standard and a pro version.
Instaflash on iTunes.
Instaflash Pro on iTunes.
Doc Pop's Guide To Noir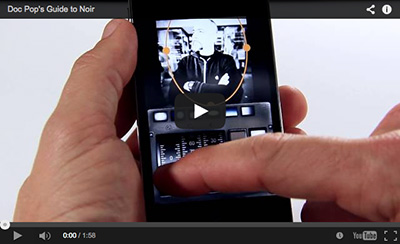 Noir transforms any image to dramatic black and white with a ton of style. It's made by the same people that produce the Magic Bullet line of color grading software for pro cinematographers so you know it's a quality product from the start.
The app give you options for creating some fairly interesting looks and allows you to control contrast and vignette. But it's a bit of a one-trick pony.
Doc Pop's Guide To Scanning Postagram Stamps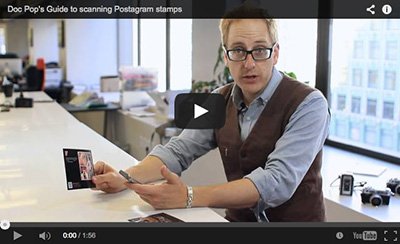 Postagram allows you to send physical postcards using your own Instagram pics. Doc covers the Postagram Stamp (essentially a QR code) that lets you reply to the Postagram by sending another Postagram back to the original Postagrammer.
Doc Pop's Guide To Shock My Pic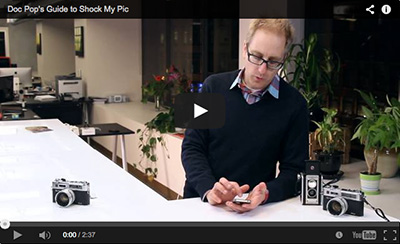 Shock My Pic lets you ruin your photographs by applying a heavy handed filter that attempts to mimick the look of a Van Gogh painting.
WHYYYYYYY??????????
Doc Pop's Guide To Clarity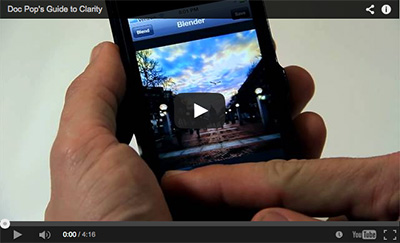 The Camera+ app features a clarity function that brings near HDR quality to your high dynamic range shots. Unfortunately this feature does not have any adjustements and can be a bit heavy handed at times. Doc goes over his workflow to tame this beast and it makes good sense.
Basically he creates a clarity and a non-clarity version of the same image and uses the ImageBlender app to combine them. ImageBlender lets you control the level of each image and in effect control the level of the effect. A handy technique that can be used for more than clarity!
Camera+ on iTunes.
Image Blender on iTunes.
StreetShootr's Take
Mobile photography is a rapidly growing trend street photography and many photographers are attracted to it becuase it levels the playing field. Literally everyone has the same limitations and the same restrictions so the psychology of the frame is more important than which camera you used to take the shot.
Unfortunately some of these apps are a bit dated and seem frivilous as a result. But if you can look past this he has some decent tips for getting the most out of some apps that are essential for mobile photography. Overall it's a decent collection of videos for anyone new to mobile photography and a couple of the videos have tips that even a seasoned veteran can use.
What's your take on mobile photography for street shooters? Are smart phones too limited for serious street photography? Post your ideas in the comments below and keep the coversation going!