When Francis Fan registered for the Eric Kim workshop in Toronto, Canada he was looking forward to a weekend of shooting and critiques to help him improve his photography. But he had no idea how this workshop would change his life. Hit the jump to see the video!
Francis Gets A Big Surprise
The third day of any Eric Kim workshop is normally reserved for a little shooting in the morning followed by critique and final image selection in the afternoon. But for one student the morning took a different path! Eric asked Francis Fan to go out and to shoot a stranger on the street but that stranger was actually Francis' boyfriend, Brian!
Brian had planned to propose to Francis and asked us to help him pull the whole thing off. We staged a fake video and kept Francis distracted until the last minute so he'd be surprised. And he was surprised!
Of course, Francis said yes!
Francis At The Eric Kim Street Photography Workshop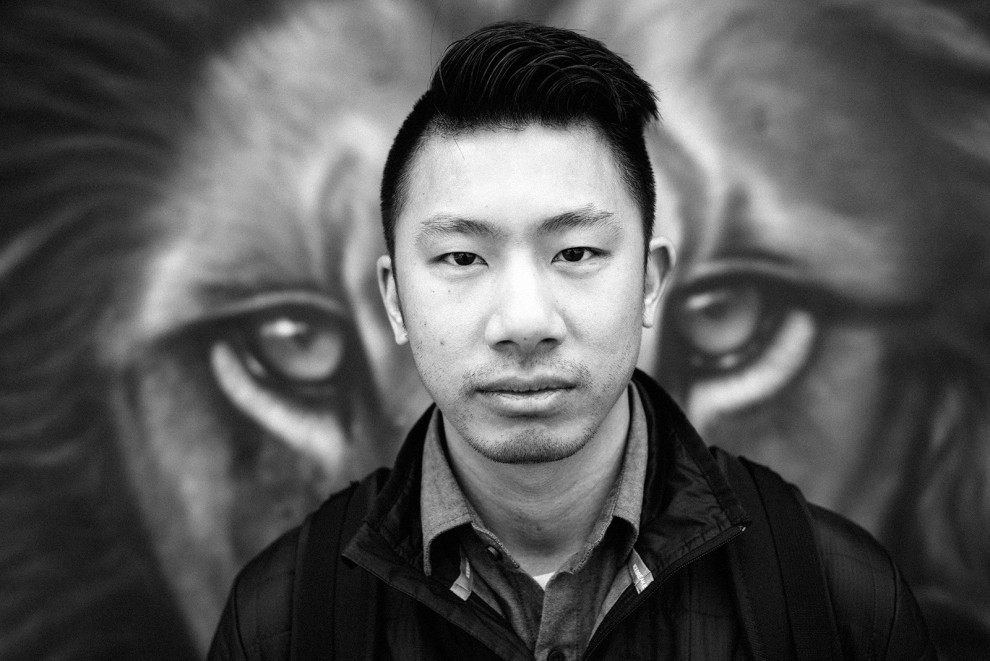 Francis managed to complete the weekend workshop before heading out for more surprises with his new fiancee, Brian. I got together with Francis the next day and asked him about his experience at the workshop and of course the big proposal.
StreetShootr: Tell me about your decision to take the Eric Kim street photography workshop. What's your relationship with photography and how long have you been shooting?
Francis Fan: I've been shooting, oh I don't have a particular date. I started liking shooting when I was in high school. When I did a photography course thinking it would be really easy and then it wasn't. But it was a lot of fun developing my own film; Actually processing it, printing pictures and stuff like that.
SS: What sparked your interest in photography so many years later?
FF: I got my DSLR a few years ago and I just used the kit lens and played around with the settings and enjoyed learning about it. And then after that I've been kind of upgrading. Now I have a Fuji X100. It's an upgrade even though it's smaller with no zoom it's better in so many ways. I feel great using it.
SS: What made you think of street photography?
FF: I've been more of a travel snapshot kind of photographer. And I found that a lot of the pictures I really liked were of people but they were all kind of side profiles, or shots from the back. Sneaky pictures. So I wanted to get more comfortable doing those kinds of shots. You know, there were definitely times in the past where I saw cool shots with people but was sort of intimidated to approach them.
I forget how it happened but I was looking up street photography and I found Eric's website through that and that got me interested in doing the workshop. I got the workshop as a gift so that was nice but I was definitely interested in it anyway.
SS: Do you think you have more confidence now that the workshop is over?
FF: Ya, absolutely. I think that's what Eric mentioned kind of earlier on when he was doing my initial critique. He just wants to use the workshop to give me tools to use so that I can go out there and do those things. It was just kind of like building my toolbox and building techniques and interactions and stuff.

SS: So the workshop takes place over 3 days and the first day was the group critique. Your before photos were a little distant and Eric pointed that out and suggested you work on that aspect of your photography over the weekend. But how did you feel after seeing everyone else's work as well as your own critique?
FF: Oh, I think after the first day I felt like, "Wow! These people are really good." I liked everyone's photos but they were all good in different ways. So that made me want to find my own style. I think my photos were kind of all over the place. There was no particular style to any of them. So that's what I got out of the first day. I really enjoyed having the critique. I was kind of nervous about going into the second day because the first day felt like – oh well, my photos aren't really that great now that I've actually gotten feedback on them from a group of people.
SS: I was your shooting partner on day 2 and I really saw you open up and start approaching people throughout the day.
FF: I definitely felt more comfort further along the second day. Compared to those first few shots of the kids and the mom. I saw them walking to the cafe where we all met. I almost forgot about them and another student said, "They're perfect for your project." They were already on their way out of the door and it would have been so easy to just let them go. But to actually approach them and photograph them was big for me.
I'm a paramedic in my day job so I have a lot practice dealing with strangers. So it was interesting to bring out that side of my personality for photography.
SS: We shot for a few hours and then you had some 1 on 1 time with Eric. How did that affect your shooting for the rest of the day? Because he'll challenge you to do things, to step outside of your comfort zone.
FF: I think that's what I liked the most about it. To just push me out there and say, "Okay these people walking towards you, go take their picture right now." There wasn't time to feel anxious. It was just go!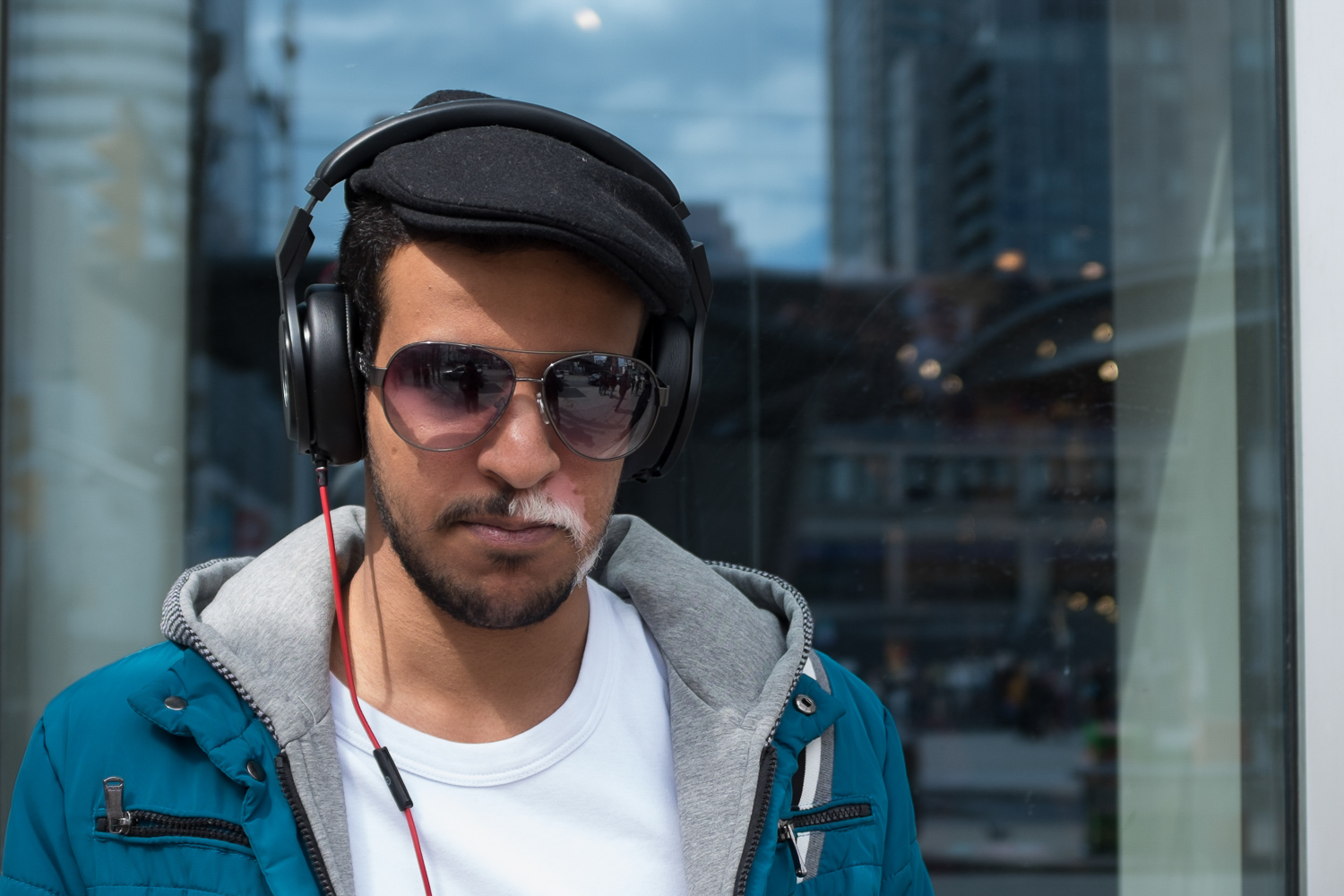 SS: Well that matches the way a lot of street photographers work. An interesting subject can disappear before you know it so you have to be ready to shoot in an instant.
FF: Right! The second you hesitate it's over. And I think that's the biggest tip that Eric gave. Just looking much further in advance and getting yourself in the position to anticipate rather than to just react.
SS: How did you feel at the end of the second day when you saw the pictures for the first time. Were you happy with your shots?
FF: I definitely thought that the picture of the tattoo guy and girl in the window really stood out to me. Because it was definitely a shot that I took because Eric was taking a shot. Not because I thought he was particularly interesting. I saw the tattoo and I got him to turn his head a little so I could it better but I was mainly taking a picture of that and not thinking about the girl in the window. So that was a surprise too! It maybe isn't the best picture in the world but I felt that was cool "cherry on top" moment.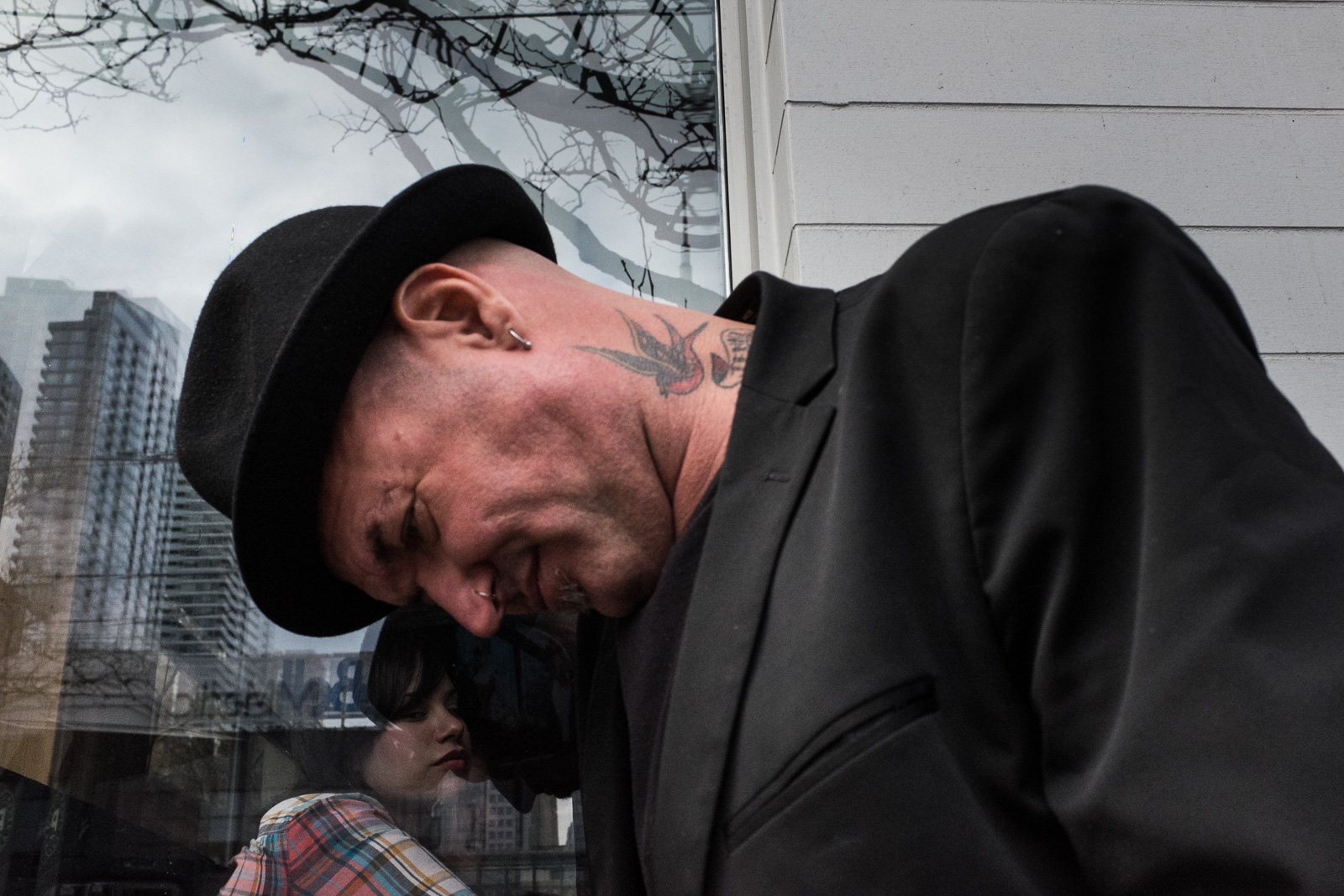 SS: So you didn't see the girl when you took the shot?
FF: No, not that I remember.
SS: Something to watch out for though. Little details like that can sneak up on you and make or break your shots. With time you'll get more comfortable and learn to pick these things up. Just keep shooting.
FF: Ya.
SS: So then we get to day three…
FF: Day three..
SS: Well, you know what we're going to talk about now. There was a bit of shooting in the morning and then all of us were basically running around and making sure everything was set up properly.
FF: Oh my god, thank you guys!
SS: But we have to talk about it. It might be one of the coolest thing that's happened in a workshop in a long time.
FF: It was super cool for me too. I don't even know where to start with that. Even still today I'm feeling some shock and awe about the whole thing.
SS: You're still fidgeting with the ring a little bit.
FF: Yesterday I had a few moments of worrying if it's still on my finger and panicking that I lost it already!
SS: Ha! Well, just to fill people in your long term boyfriend proposed to you.
FF: Yup.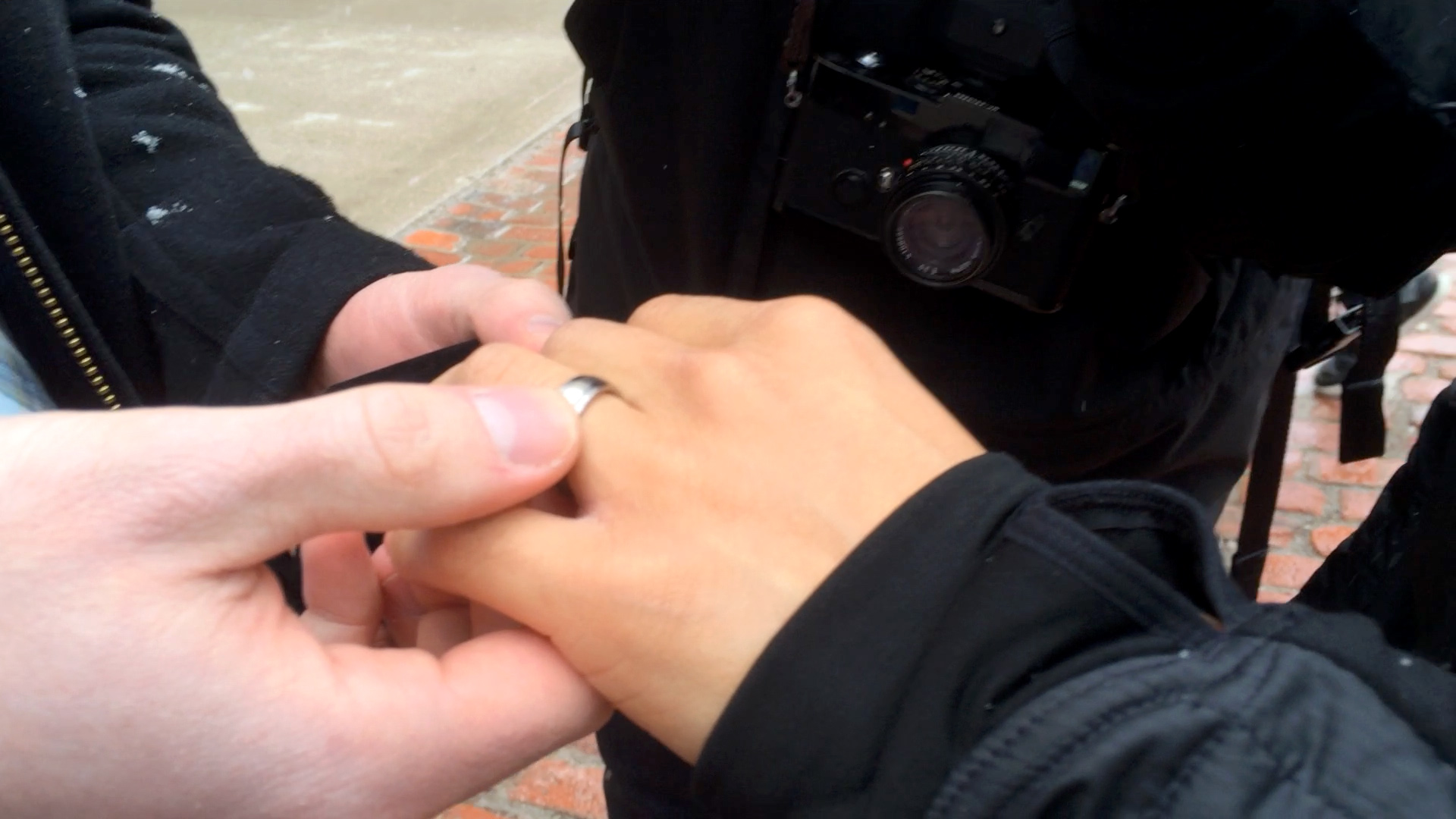 SS: How much do you remember about everything that happened?
FF: We left the cafe and I know you were going to do a video and Eric mentioned that it was going to be very staged and whatever. And then we started filming by that old truck that Neil hated. And I remember thinking during that interview that you were a terrible videographer because you kept moving all over the place. Definitely no steady cam in this one.
SS: Meanwhile I was doing a big dance just to distract you from what was happening.
FF: Right! So I remember not even knowing what I was saying and I brought my head up and I saw the back of Brian's head and his sister was there too. And I thought, "Oh that's weird." And I kind of knew at that point what was happening but I still said "What are you doing here?" Which makes me cringe because I made fun of every single person that ever said that!
SS: Have you guys talk about getting married in the past?
FF: In the last couple of weeks I've been joking just to bug him. We both felt that this should never be a question if the other person was going to say yes or no. He was less nervous about me saying yes or no but it was the anticipation of the plan working out.
SS: So how did you manage to get your mind back into the workshop after all of that?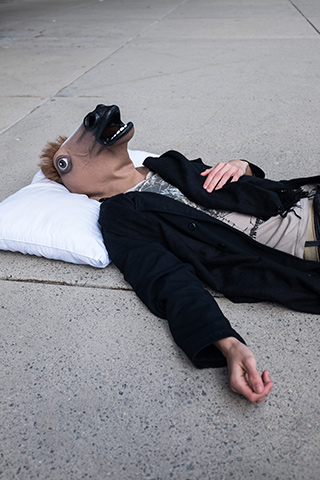 FF: I'd be crazy to say I totally forgot about the proposal. I mean we have been seeing each other for years and we live together and this is a huge step. It was a big deal but we're both mature enough to know that a couple of hours apart won't hurt at this point. So I could get back and finish the workshop and then get together right after.
SS: So okay, you're back at the workshop. Enough of this love stuff! So you're back at workshop and you submitted your 10 favorite shots and Eric worked with the other students to narrow it down to your final three images. Did you feel there were feel some pics that you would have liked to see in the final three that weren't inlcuded?
FF: Some of my favorite pics like the sleeping horse or the guy with the tattoo, those shots didn't get picked but it was because they didn't fit in the series. So I understand why we ended up with the pics we did. These were photos that meant something to me but may didn't really fit in the final three for the project.
I think what I'd like to do is actually start a project that I could start at home but still be able to work on it when we go to other places. Just like Eric's Suits for example. He can go anywhere and shoot for his project all around the world. A really portable project like that is something I'd really like to start. But I'll probably still do travel snapshots.
SS: They're just going to be better now.
FF: I sure hope so!
SS: So what would you say to anyone else who might be considering an Eric Kim street photography workshop?
FF: I think the best thing was being around a group of creative people that you can share your their images and ideas and work together. That in itself is a good reason to do the workshop.
I enjoyed Eric's teaching style a lot too. His critique sessions were enjoyable and I appreciate that he didn't pull any punches. It was good to hear which photos sucked and which were good but also why they were good. It's so cool to hear actual feedback rather than a little pat on the back. That doesn't really help anyone.
But on personal level, the conversations I had with Neil and Eric and even you. You guys are great people apart from photography. Your outlook on life, your stories and why you do what you do is cool. The purpose seems genuine and I really appreciated that. I'd recommend this workshop for that kind of interaction alone.
All in all I had a great time and learned a lot. And I got engaged, so I'm not complaining!
StreetShootr's Take
When Eric and Neil found out that Francis' boyfriend had planned to propose at the end of the workshop they asked me to sit in on the workshop and write about his journey. It was amazing to see Francis grow as a street photographer and I consider myself lucky to be the camera man for his big surprise.
This interview should give you a bit of an idea what it's like to be a part of an Eric Kim street photography workshop and the fact that Eric and Neil went so far out of their way to surprise Francis speaks volumes about the care and attention they bring to every student. These guys are truly passionate about teaching and helping students grow as photographers.
If you're interested in attended a future workshop you can see the list of upcoming dates on Eric's website:
Eric Kim Street Photography Workshops.
You can also check out some of Neil's work at his website: