The first ever Magnum Contact Sheets Print Sale to benefit the Red Cross features work from 13 of the agency's most iconic photographers. 16×20″ giclée prints of each contact sheet are stamped with artist copyright the back and for a limited time are being sold for half off. Hit the jump for more info!
Magnum Contact Sheets Print Sale – Half Off Until December 1, 2015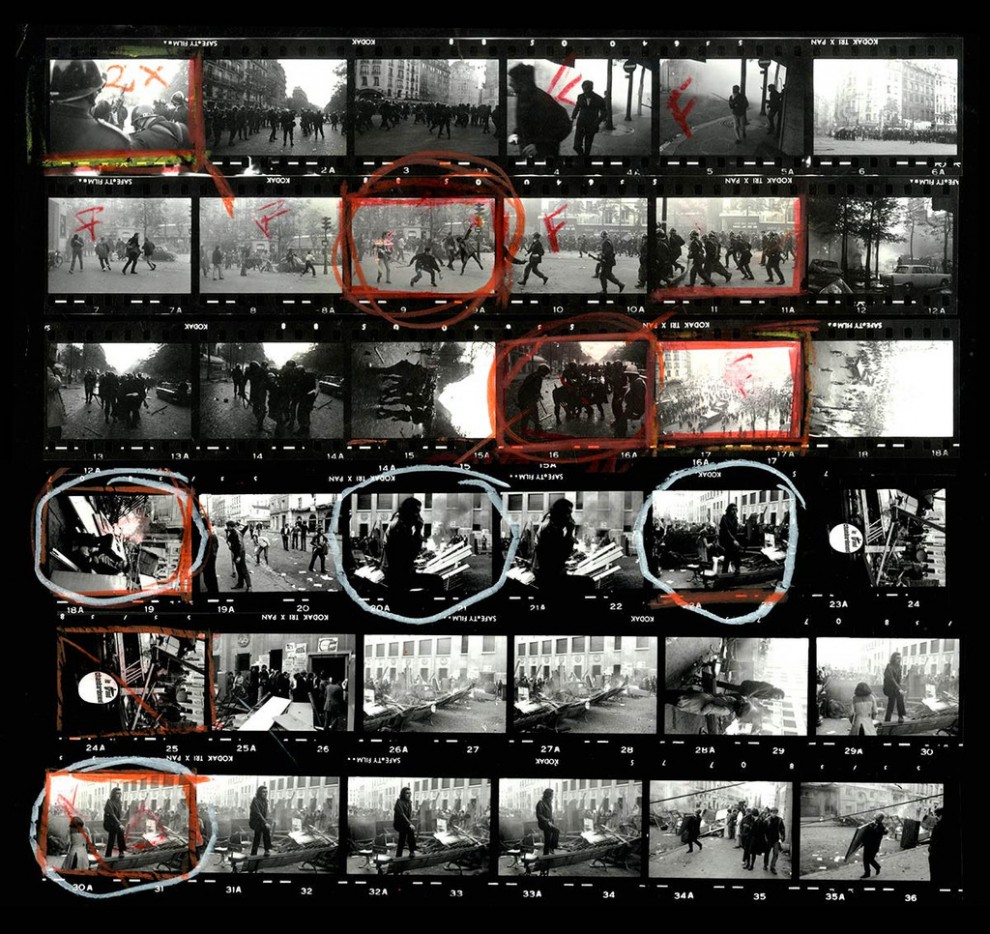 Long before there was Lightroom and digital cameras, photographers relied on contact prints to quickly see their work. Entire rolls of film could be previewed at once by printing the negatives in "contact" with photographic paper to create 1:1 images. In retrospect these contact prints are a fascinating look into the minds of magnum photographers as they produced some of their best known images. You can see their photographic vision develop over a sequence of frames as they work the scene and search for the one shot.
Magnum has been selling prints of contacts for a while but they're offering a few for half off as part of their first ever Seasonal Benefit for the Red Cross. Each contact is enlarged and giclée printed on 16×20″ paper. Giclée is basically a fancy word for inkjet but don't let that put you off. These prints are as color fast and stable as any archival photographic process.
Up for grabs are contact sheets from 13 iconic Magnum photographers but here are some that really stuck out for me:
Martin Parr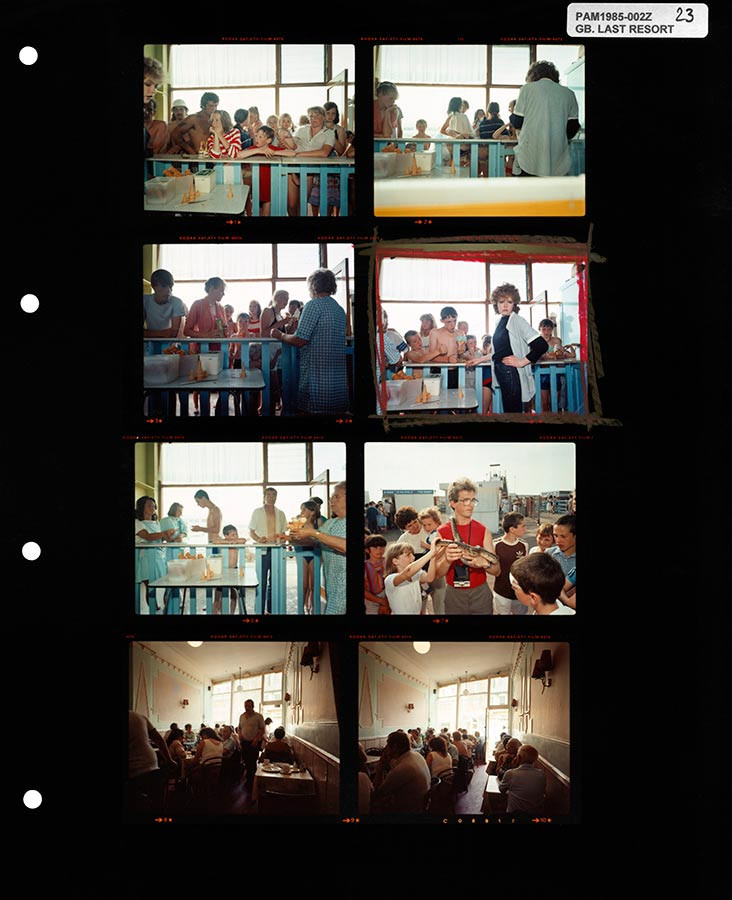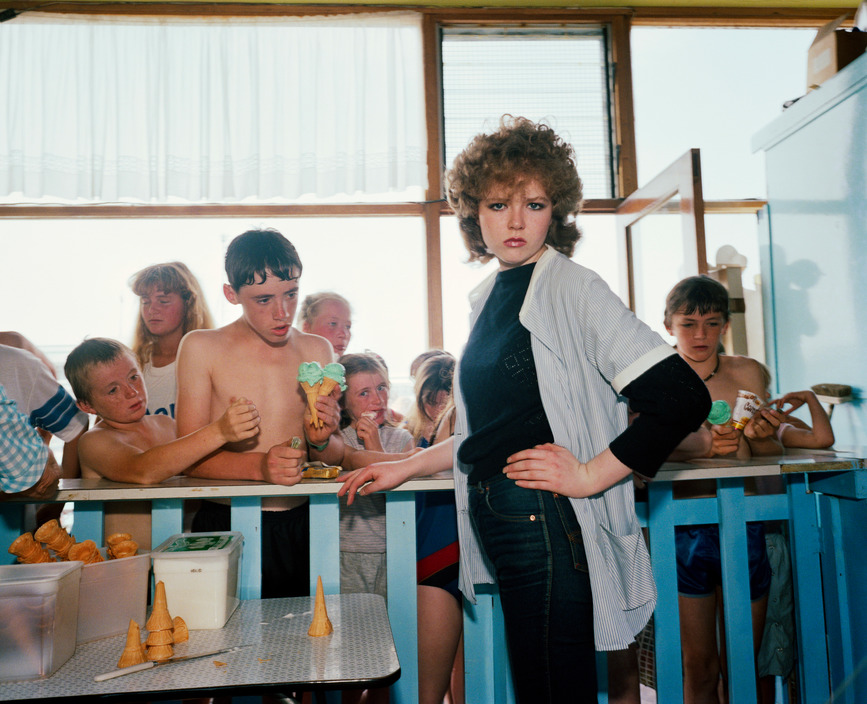 Martin Parr's contribution is from The Last Resort and it's fascinating to see him work the scene over 5 frames until he got the one shot he needed. But it's more interesting to see the banality that was in every other frame. You can actually imagine being by his side as boring things kept marching in front of his lens until the iconic shot presented itself. Brilliant shot and my personal favorite from the sale!
Elliott Erwitt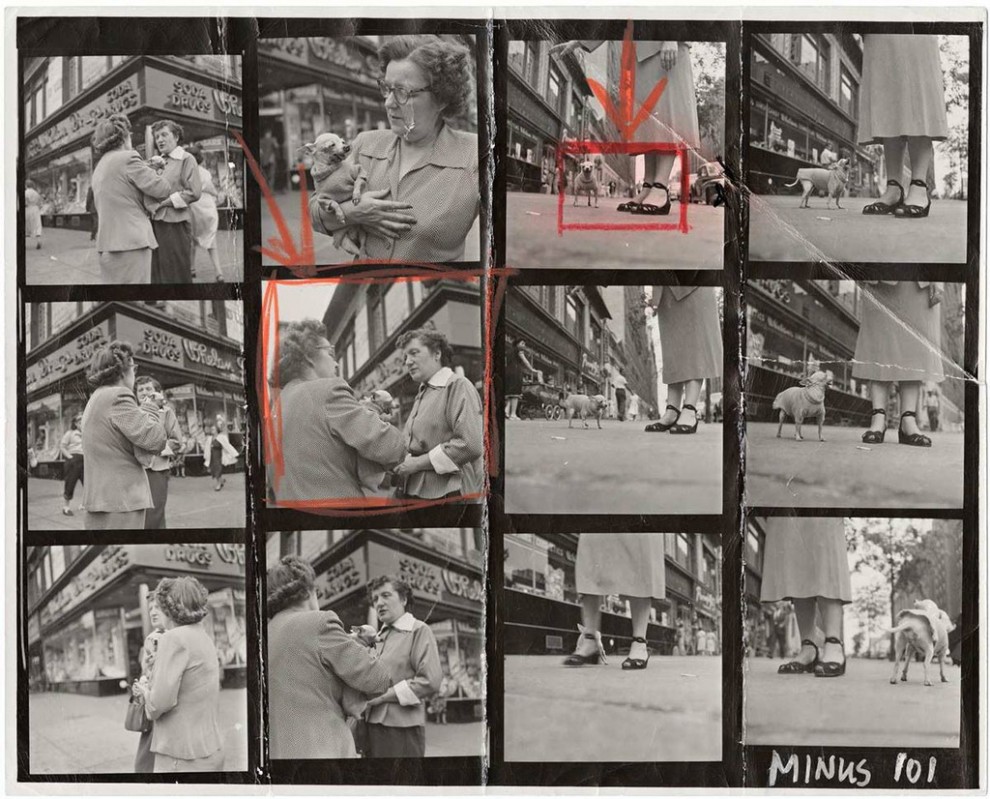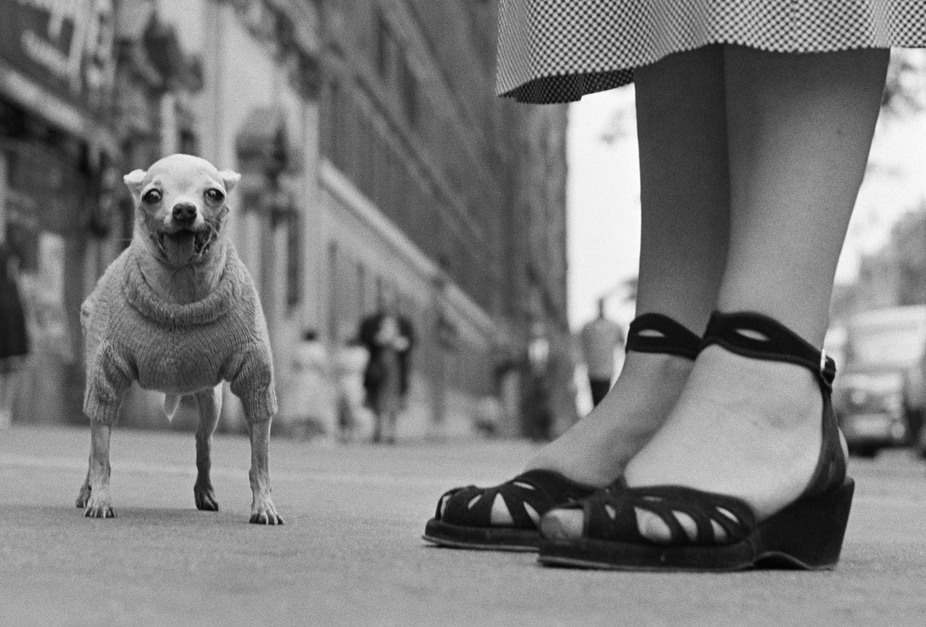 You can almost sense Elliott Erwitt moving and dodging with his subjects as the frames unfold in the contact sheet for his iconic chihuahua shot. First engaging the two women holding the little critter then getting down low to dog's eye level to get the shot that everyone remembers. Note the unaplogetic cropping in this shot – his camera probably couldn't focus close enough so he got what he waited for the moment he was looking for and cropped the shit out of that thing. All that matters is the final result and in this case, it's amazing!
Bruno Barbey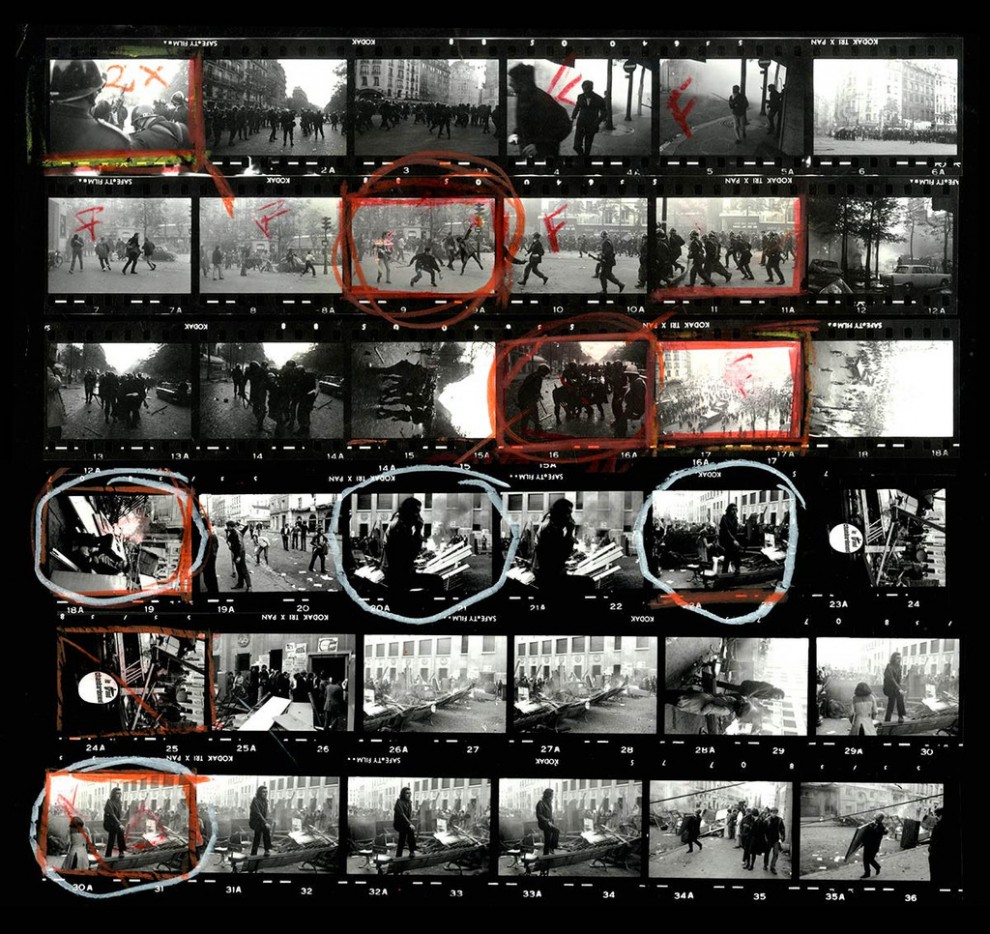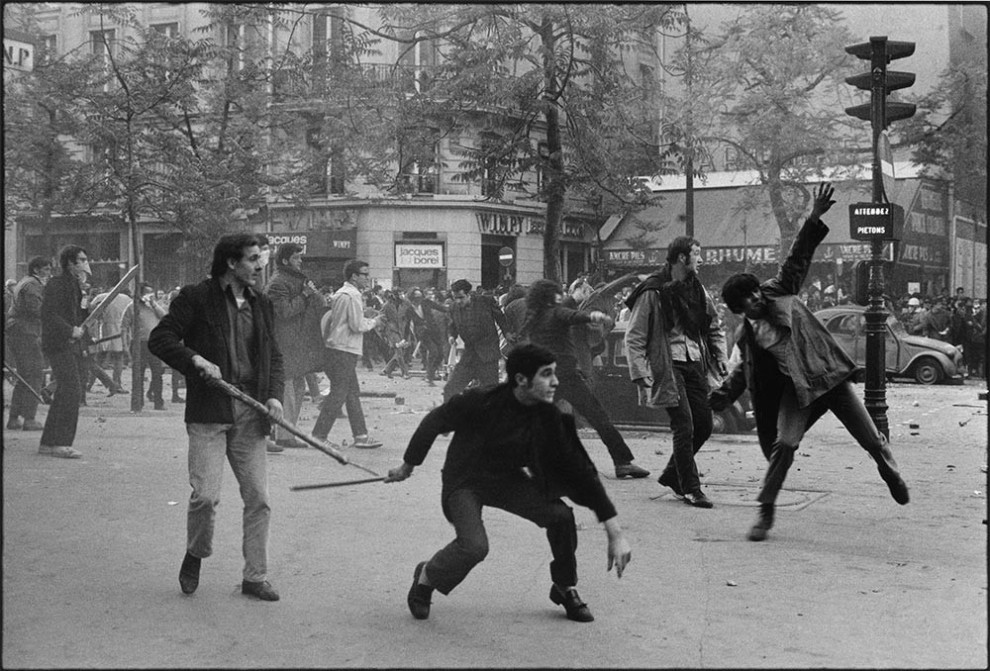 You can almost hear the conflict in the street as you scan the frames in Bruno Barbey's contact sheet. Following along as he mills through the crowds and documents the protest as it unfolds in real time. The images unfold as a document of his travels through the protest as much as a search for an image. Stepping close to danger as he keeps his cool and instintively gets the shot after shot.
The Magnum Contact Sheets Print Sale features work from Elliot Erwitt, Martin Parr, Werner Bischof, Dennis Stock, Bruno Barbey, Eve Arnold, David Seymour, Herbert List, Burt Glinn, Hiroji Kubota, Guy Le Querrec, Thomas Hoepker and David Hurn.
Giclée prints are priced at $175 USD each and 50% of the proceeds goes to the Red Cross. Sale closes on December 1, 2015 at 6:30 p.m. EST.
Magnum Contact Sheets Print Sale.
StreetShootr's Take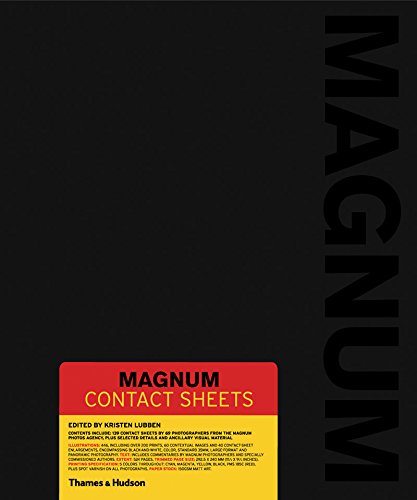 Of course, you can't talk about the Magnum Contact Sheets Print Sale without talking about Magnum Contact Sheets, the one book that every street photographer should own. As fascinating as it is to look at the thought processes leading up to iconic images from the few photographers in the sale, the Magnum Contact Sheets book contains over 500 pages featuring 139 contact sheets from 69 legendary Magnum photographers.
The book was recently re-released as a compact edition and the layout on a few pages was changed to accomodate the new smaller size. If you don't already have this book then you need to get it:
Magnum Contact Sheets on Amazon.
You won't regret owning this book for one second.
What's your take on the Magnum Contact Sheets Print Sale? Are you happy hanging a behind the scenes look at the making of a great image? Or would you rather just have a full size print and be done with it? Post your ideas in the comments below and keep the conversation going!