121Clicks.com recently published their list of the top 35 color street photographs of the season and it's a beautiful cross section of the street photography community. But one image stands out for not being a street photograph at all. Oguz Ozkan's fantastical pool shot was created in Photoshop to lampoon the idea of staged images in street photography and appears to be included in the list by mistake. If nobody can tell if an image is staged or candid does it really matter? Hit the jump for more info.
Nobody Said This Was A Street Photograph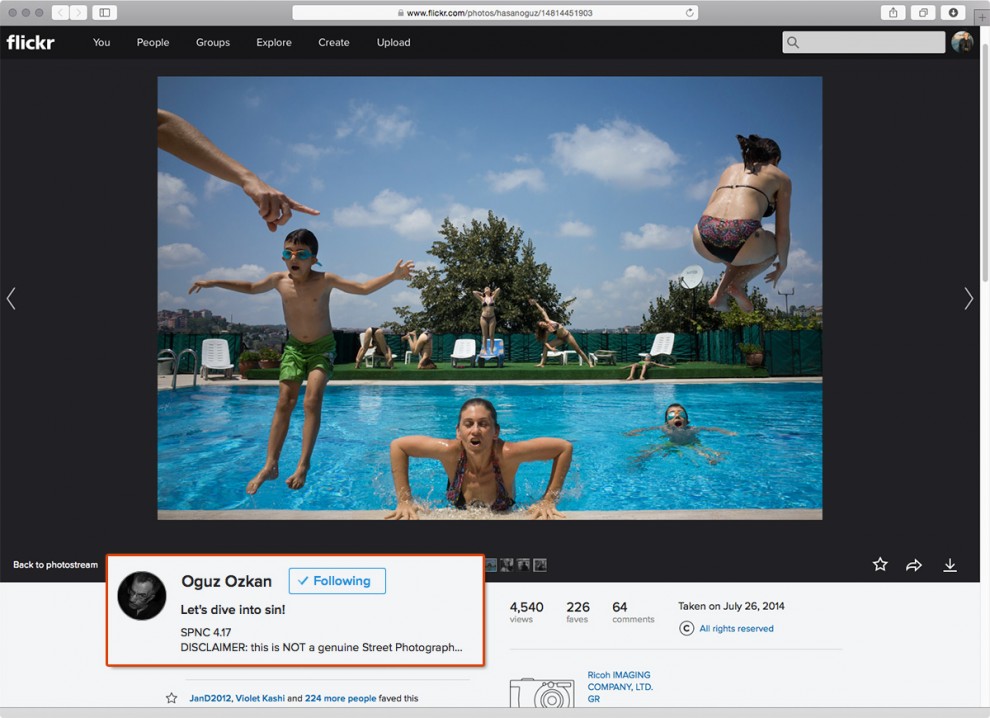 This hilarious and sarcastic image by Oguz Ozkan appears to depict sextuplet women and triplet boys frolicking in a pool while one unknown person agnostically points at something in the frame. It was created in Photoshop for an SPNC (Street Photography Now Community) Year 4 #17 instruction that asked street photographers for an image that was staged but didn't look staged. The ultimate sin in street photography!
In an ironic twist Oguz's image was criticized by other SPNC members because he used photoshop to manufacture the composite shot and it was believed to be a shortcut that undermined the credibility of other shots that were staged in the real world. Apparently Even staged images have standards!
When the image appeared on 121Clicks.com as one of the top 35 color street photographs of the season, Oguz posted his frustration on FaceBook:
NOOOOO! That's unbelievable…. One of my pictures is featured on on 121clicks.com website as "stunning inspiration color street photograph"..

The only picture that is NOT a street photograph on my Flickr stream, and that is published with a very clear caption.

Okay I can understand maybe people (not editors of a photography website) doesn't really look at pictures or they do really believe that I framed sextuplets woman and triplets boys in a pool but even can't you read simple plain English disclaimer?

Once again here! This picture is NOT a Street Photograph. I COMPOSED it! It is full of sarcasm about "staging" advocacy in Street Photography.
In fairness, Oguz never tried to pass this image off as anything other than being creative for the SPNC staged instruction. This is clearly stated on his Flickr page:

121Clicks.com mistakenly included the shot in their list without realizing it was created in Photoshop. But why does any of this even matter?
An Argument For Candid Street Photography
At some point you have to consider the aspects of street photography that make it unique among all other forms of photography. Most street photographers would agree that the work has to be candid and unposed as a kind of validation that the thing they saw actually existed in the random chaos of the world. I consider a photograph to be candid when all elements in the frame happened naturally without intervention or direction by the photographer.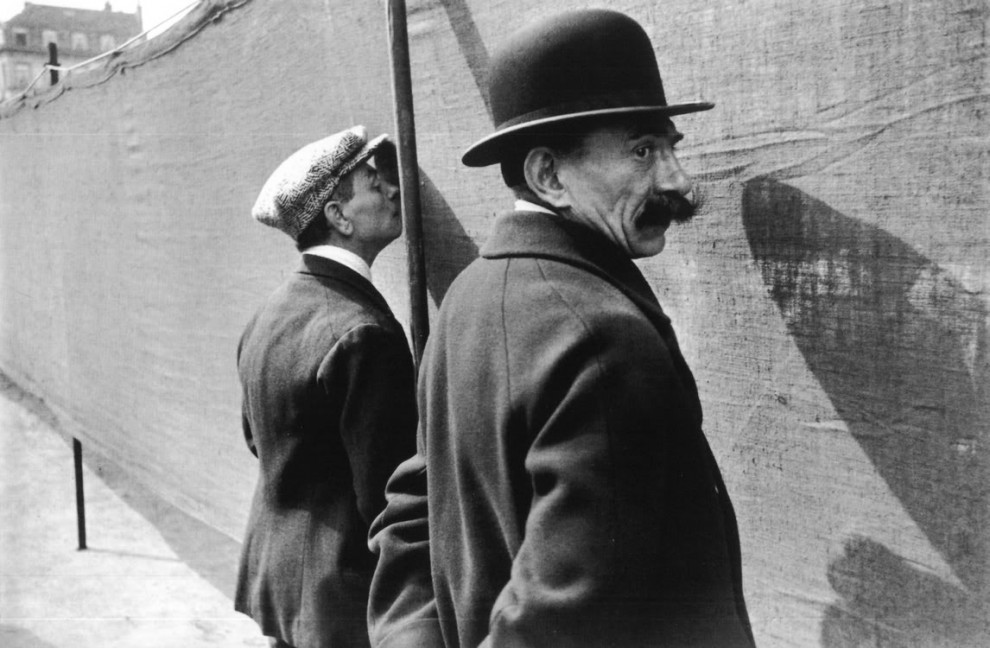 The father of street photography, Henri Cartier-Bresson once said, "I prowled the streets all day, feeling very strung up and ready to pounce, determined to 'trap' life – to preserve life in the act of living. Above all, I craved to seize the whole essence, in the confines of one single photograph, of some situation that was in the process of unrolling itself before my eyes."
A candid photograph preserves life in the act of living. A staged photograph preserves a moment that was created specifically for the purpose of being photographed.
In a way, street photographers are like modern day prospectors. Tirelessly panning for gold and occasionally finding a gleaming object in the silt. When someone passes fool's gold as real, it devalues the actual gold in our pan and ridicules the process by which it was found. But what if nobody could tell the difference between the two?
Candidness is a code, a badge of honor. A certification that this photograph, this simple moment actually existed in the real world for a split second. And like a prospector we unearthed it. But the inclusion of Oguz's image in a list of excellent street photography points out how tenuous our perception of candidness can be.
StreetShootr's Take
I believe street photography must be candid. But Oguz's image proves that people can respond to an image without knowing how it was created. The fact that an image is candid, that it depicts life in the act of living, may not always be evident to the viewer. But it inspires me as a street photographer.
And that's enough.
UPDATE: 121Clicks has since removed Oguz's image from their list.
Oguz Ozkan Flickr Stream.
121Clicks Top 35 Color Street Photographs Of The Season.
What's your take on Oguz Ozkan's pool shot? Does candid matter in street photography or are we free to make our images any way we see fit? Post your ideas in the comments below and keep the conversation going!