The latest Magnum Square Print sale is now live and you can grab a signed archival print from your favorite Magnum photographer for only $100. The theme for this sale is "Up Close And Personal: The Most Intimate Photographs From Magnum" and each photographer has chosen an image that illustrates this theme. There's a ton of great images that you can get for a song! Hit the jump for more info.
Magnum Square Print Sale – Their Most Intimate Photographs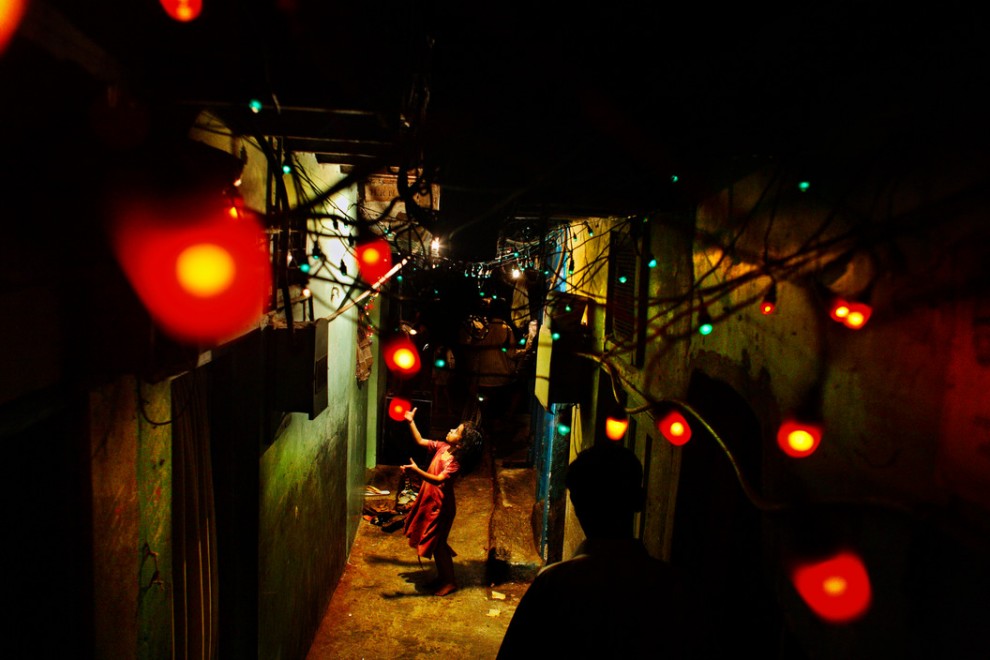 The Magnum square print sale is held several times a year and gives everyone a chance to grab a singed print from their favorite magnum photographer for $100. Images are printed from digital negatives on 6×6″ Fuji Crystal Archive Matte Paper. These aren't simple inkjet prints but rather actual chromogenic prints printed on archival paper that is designed to last!
I've purchased a few Magnum square prints in the past and I can confirm these are SMALL prints – especially if the image was not shot with a square aspect ratio. But they are still beautiful little prints that look great framed and at $100 a piece you can't help but think these would make excellent Christmas StarbucksCupDay presents. Are you listening, Mom?
Here's a few of my favorites from this Magnum Square Print Sale:
Alex Webb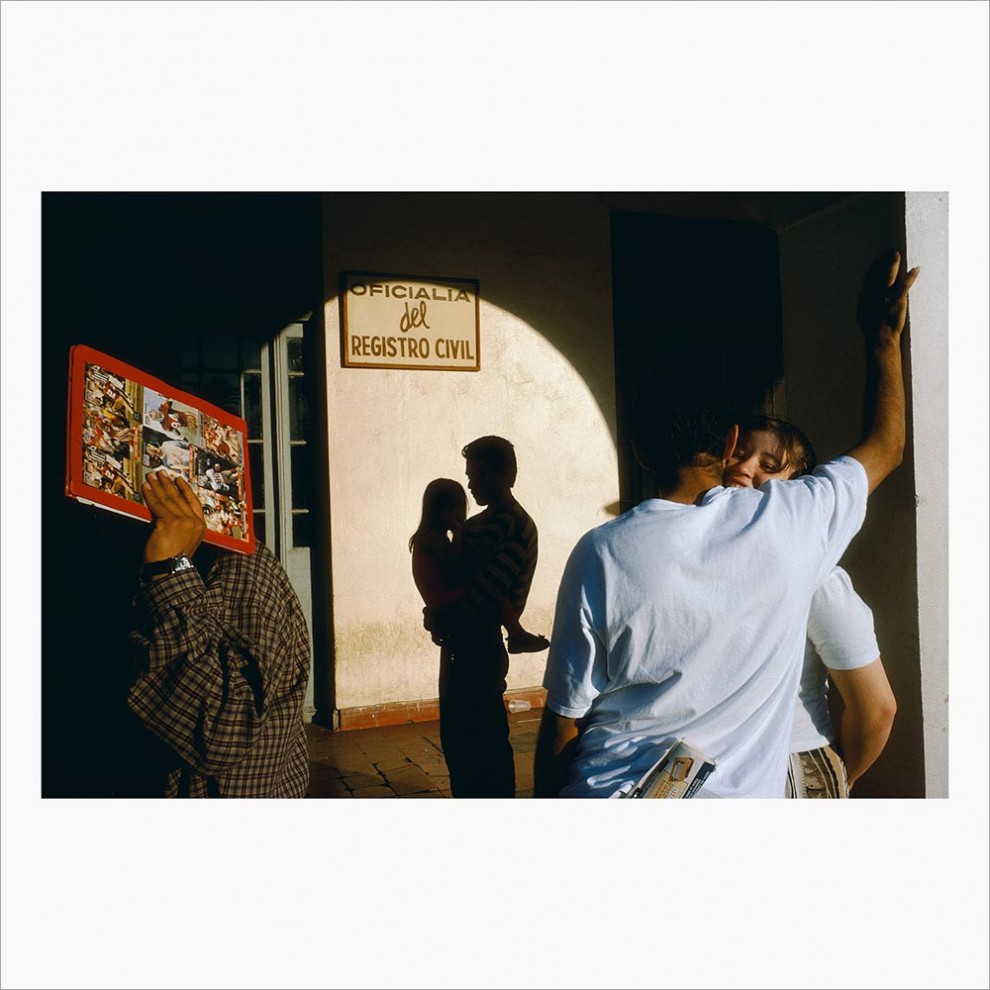 In 1996 after returning from the US-Mexico border, I showed my new work to Rebecca Norris, who I'd been seeing for some six months. When we came to this photograph from Nuevo Laredo, Rebecca smiled bemusedly and said, 'muy romantico.' Looking again, I began to see that it does indeed strike a different note. Although inhabited by those deep shadows that characterize much of my border work, this particular photograph is quieter, more lyrical. It's as if it's human moments—the couple embracing, the father holding his child—somehow manage to keep the darkness at bay, at least briefly.

Photographers don't just find photographs; sometimes photographs find photographers. In retrospect, it hardly seems surprising that this photograph found me when it did—as I was falling for the remarkable woman and lyrical photographer who's the love of my life.

Three years later, we printed this photograph on our wedding invitations.
Magnum Square Print by Alex Webb – $100.00
Jean Gaumy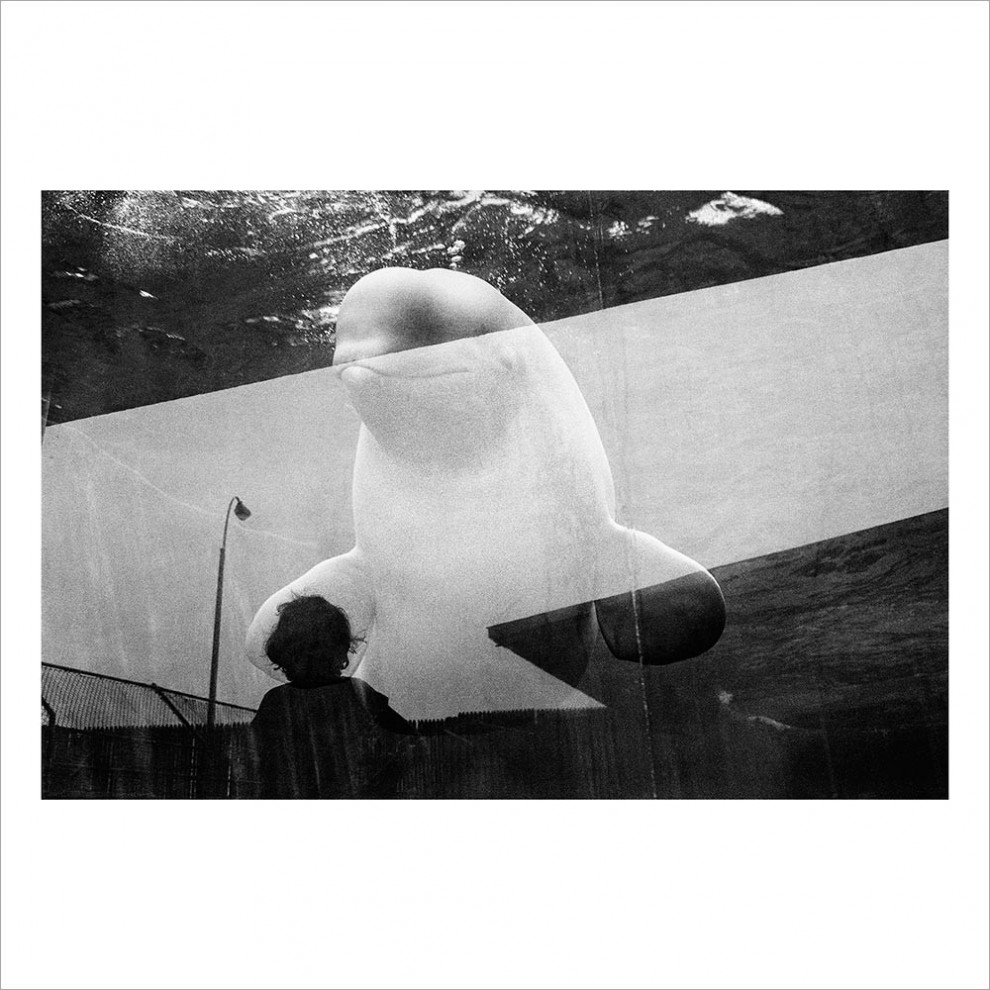 My daughter, Marie, and I discovered this beluga whale at the New York Aquarium on Coney Island. I was in fact in New York for three weeks, attending that other aquarium, the Magnum Meeting.

Little did my 11-year old daughter and I realize at the time, that this beautiful animal was in fact 'Blanchon', the hero of a very famous Canadian documentary film, Of Whales, the Moon and Men, directed by humanist filmmaker, Pierre Perrault. Eventually, Pierre became a dear friend. He was an incredible filmmaker, in the style of Leacock, Wiseman and Rouch.

This image is like a cocktail of intimacy, bringing together my daughter, the great animal, and subliminally, my friend Pierre, our shared passion for humanist approaches and documentary films.

I remember the guard at the aquarium was furious because Blanchon was a very curious animal, clearly happy to see somebody so close to the aquarium in a place not usually allowed to tourists. The other tourists, politely standing where they were supposed to, looked on in envy…
Magnum Square Print by Jean Gaumy – $100.00
Thomas Hoepker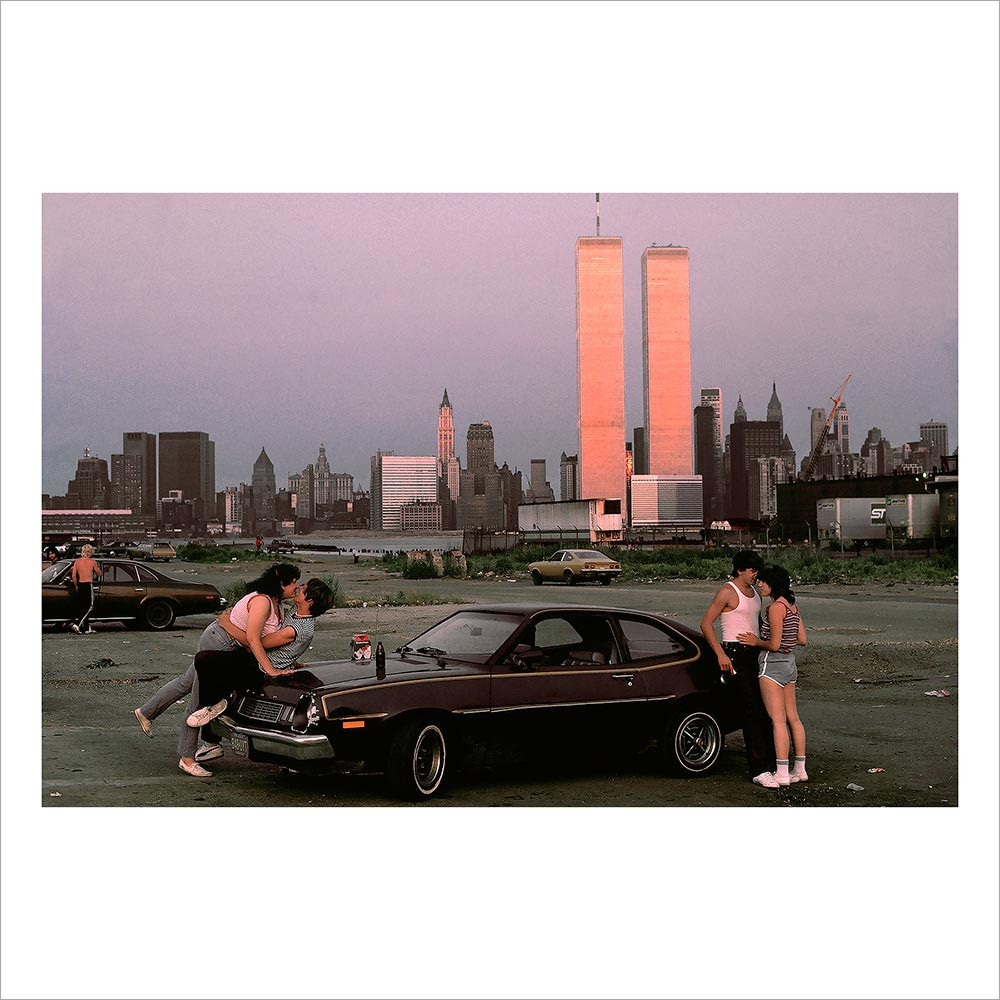 I took the picture in the fall of 1983, at sunset at the old docks in New Jersey with a view towards the World Trade towers in New York City. I had heard that there was a traditional Lovers' Lane, a meeting place of young people in their cars, bringing booze and sometimes drugs. The sun was setting and the towers across the river were glowing before it became too dark to take more pictures.
Magnum Square Print by Thomas Hoepker – $100.00
Jonas Bendiksen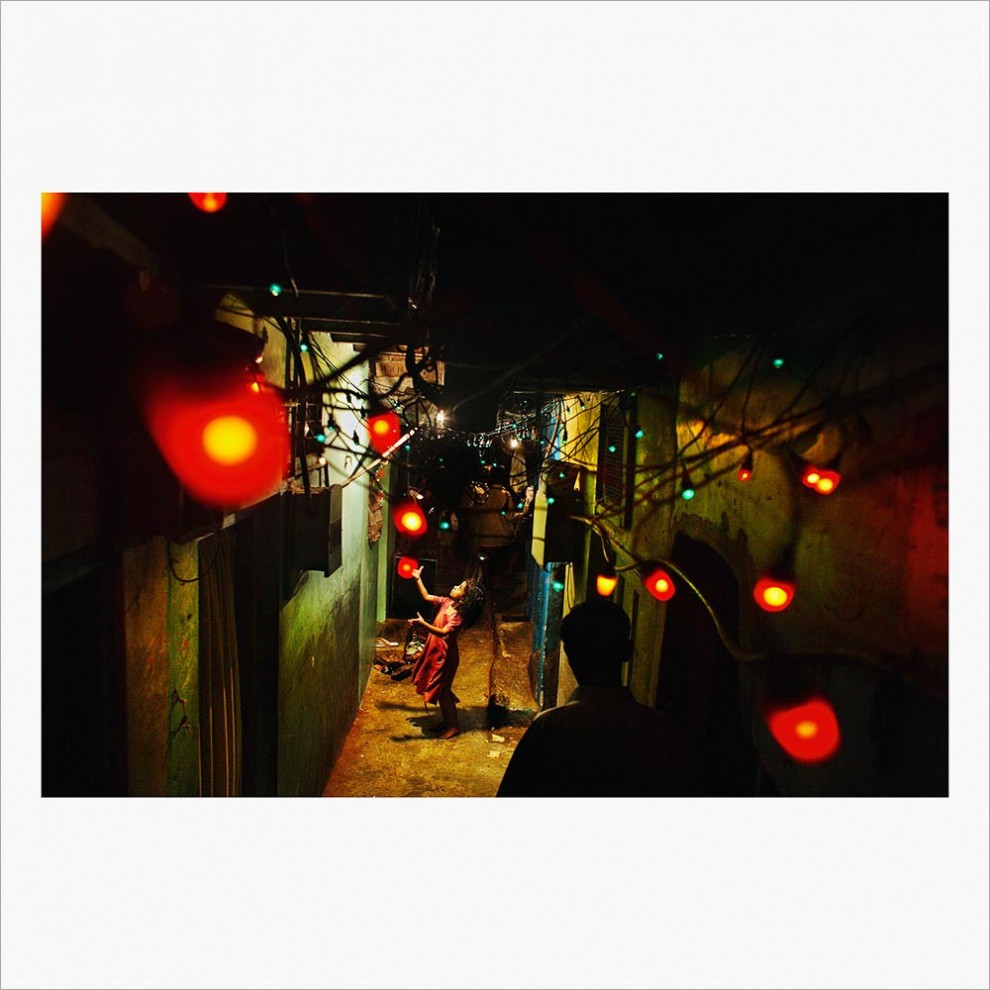 The girl playing alone beneath wedding lights in Mumbai's Dharavi slum is not the closest or rawest image I've taken. But it is somehow a subtly tender and magical moment, where I feel like I drift into this little girl's frame of mind for a second. Whenever I feel, I somehow am there with that person, and I feel something that connects me. That is what I define as an intimate image, more than if the picture is really up close or in your face.
Magnum Square Print by Jonas Bendiksen – $100.00
Mark Power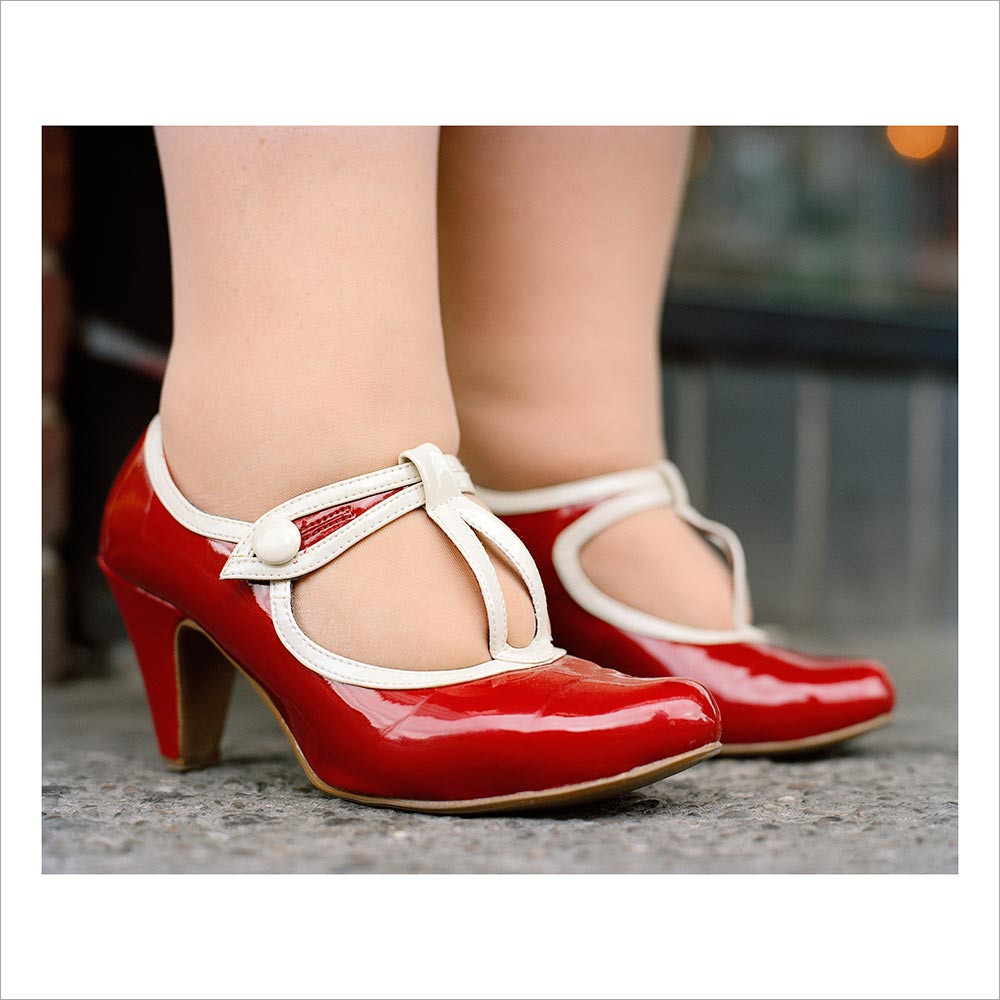 This is a tale of two daughters…

One of the many strands of my 'Black Country Stories' series is a collection of pictures of glamorous shoes.

The Black Country, which lies to the west of Birmingham, was severely affected by the recession yet, despite this, many residents continued to make considerable efforts to look their best against a backdrop of crumbling concrete and vacant shops.

Working with a (female) assistant, we'd ask appropriate pedestrians if I might photograph their shoes. This was, to say the least, an unusual request and the performative nature of my method – lying prostrate on the ground in reverence – only added to the tension of the moment.

A year later this picture was used on an enormous banner hanging outside the local art gallery to advertise the exhibition. Quite by chance, an elderly couple walking past recognised their daughter's shoes (and presumably her ankles too). I can only imagine their surprise, but Samantha duly appeared at the opening the following evening… in the same footwear.

My own daughter, Chilli, recognised her shoes immediately, and exclaimed: 'Daddy! Samantha's here… But she doesn't LOOK right!' From this simple image of red kitten heels and slightly puffy ankles, Chilli had constructed the rest of Samantha in her imagination. Needless to say, she was wrong.

(NB: On Magnum's website the keywords for this picture, written by an external organization and based entirely on what is seen or implied in the image, includes the term 'Young Adult'. This too is inaccurate).
Magnum Square Print by Mark Power – $100.00
In total, there are images from 68 photographers in this edition of the Magnum Square Print sale. The sale runs from November 9th 9:00am EST to November 13th 6:00PM EST so get over there and see if anything catches your eye!
StreetShootr's Take
I'm a big fan of the Magnum Square Print sales and it looks like I'll be ordering at least one print this time around. The Alex Webb shot is one of my favorites by him and having a signed copy (even if it's tiny) is something I would treasure. And I'm loving the shot by Jonas Bendiksen so I might just have to get two!
But even if you're not in a buying mood the sale is a great way for you to explore the work of the Magnum photographers you love with their own words to enhance the experience. Find the images you love then go and explore that photographer's portfolio on the main Magnum site. Think about why the images move you and see how those ideas show up in your own work. It's a great excersise that will improve your own photography in unexpected ways.
What's your take on the latest Magnum Square Print sale? A great way to snag a print from your favorite Magnum photographer? Or are the prints just too small to matter? Post your ideas in the comments below and keep the conversation going!