The Magnum Square Print Sale is back for another round with signed archival prints from your favorite Magnum photographers for only $100 bucks! The theme for this sale is The Unexpected and photographers were asked to submit images that celebrate the unpredictability of life. Hit the jump to see my favorite pics from the sale!
Magnum Square Print Sale – The Unexpected
As the long cold winter of lockdown comes to an end you can celebrate your eventual freedom with a print from the new Magnum Square Print Sale! The theme for this sale is "The Unexpected" and Magnum photographers were asked to share the happy accidents and unusual turns of events that lead to memorable images.
There are some amazing prints this time around and here are a few of my favorites from this sale:
Bruce Gilden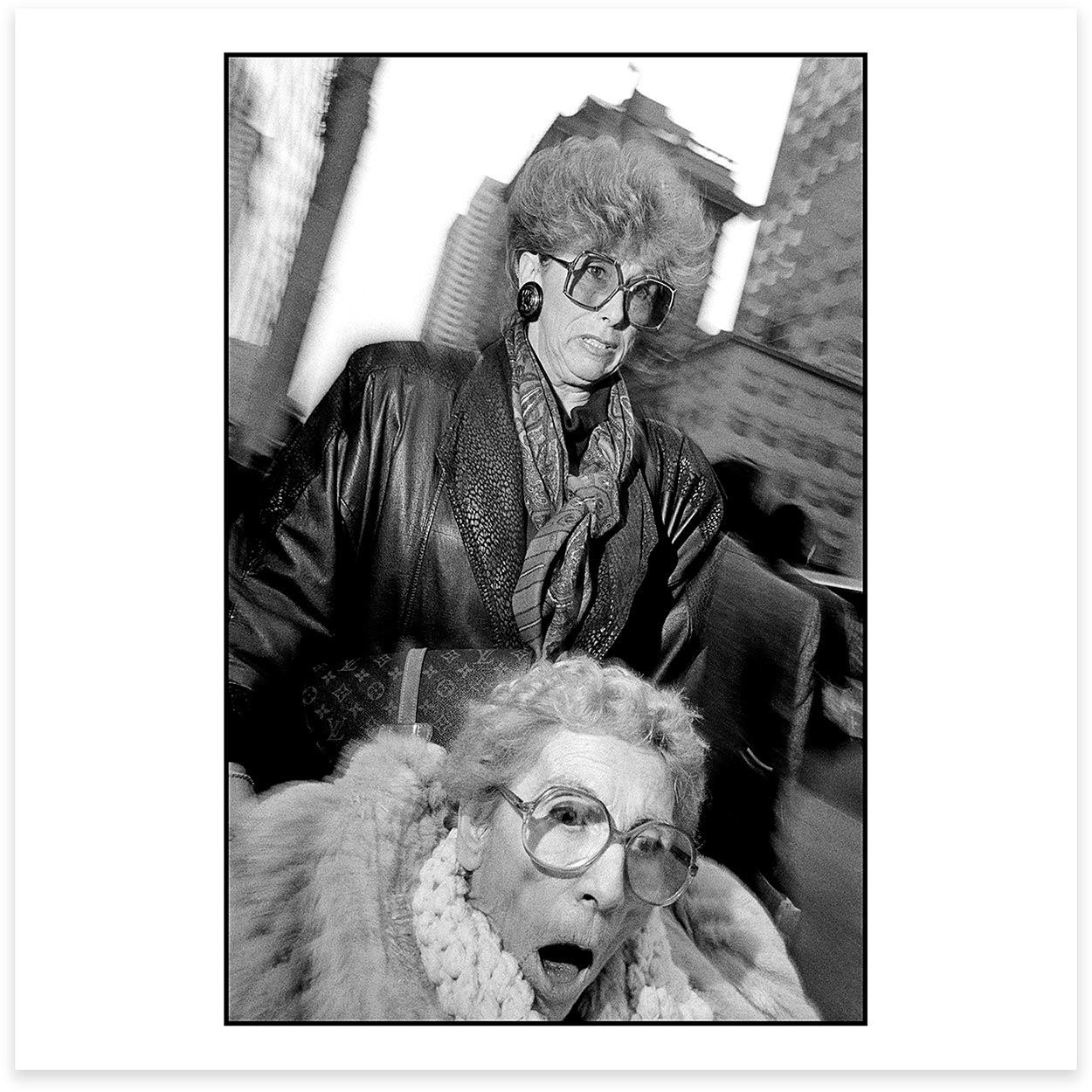 I couldn't believe my eyes when I saw the expressions on the faces of these two seemingly related women as the younger one was pushing the other along Madison Avenue in her wheelchair. Whatever the reason, her mouth was wide open. The scene spoke to me about the mother-daughter relationship: I imagined that the daughter had had enough and was perilously pushing the older woman over a cliff. — Bruce Gilden
Magnum Square Print by Bruce Gilden – $100
Harry Gruyaert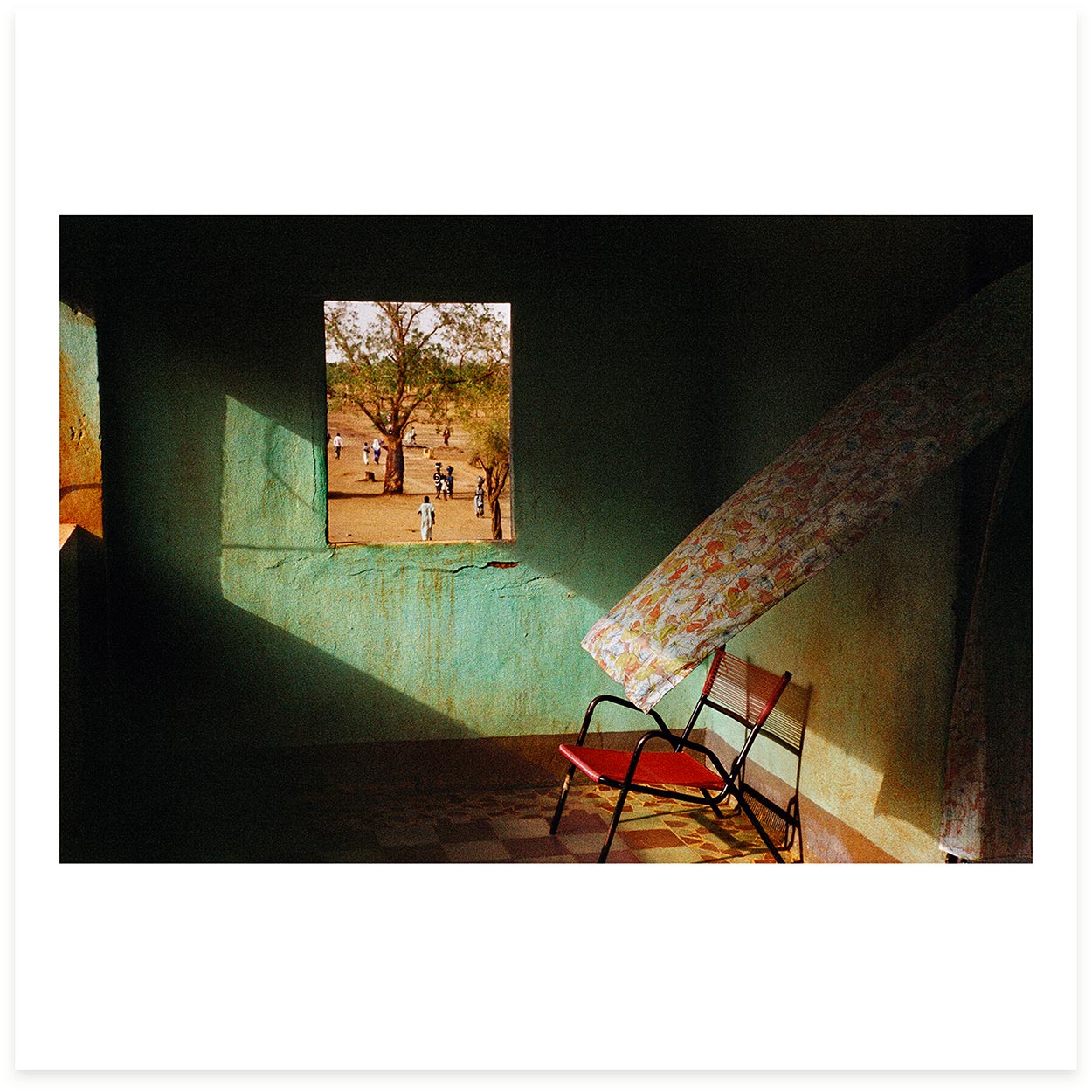 In 1998, I was working on an assignment in Mali. I was staying in a little hotel in Gao, a small town on the River Niger. It was terribly hot in the hotel. Looking for some air, I went to the room on the top floor. There was an opening in the wall which perfectly framed the landscape outside, while the light coming from another opening was cutting a sharp geometric pattern in the surrounding shadow. The air was perfectly still. And just as I started shooting, a sudden draft blew the curtain hanging on the right to a perfect angle. For me, photography is all about trying to be lucky. — Harry Gruyaert
Magnum Square Pring by Harry Gruyaert – $100
Danny Lyon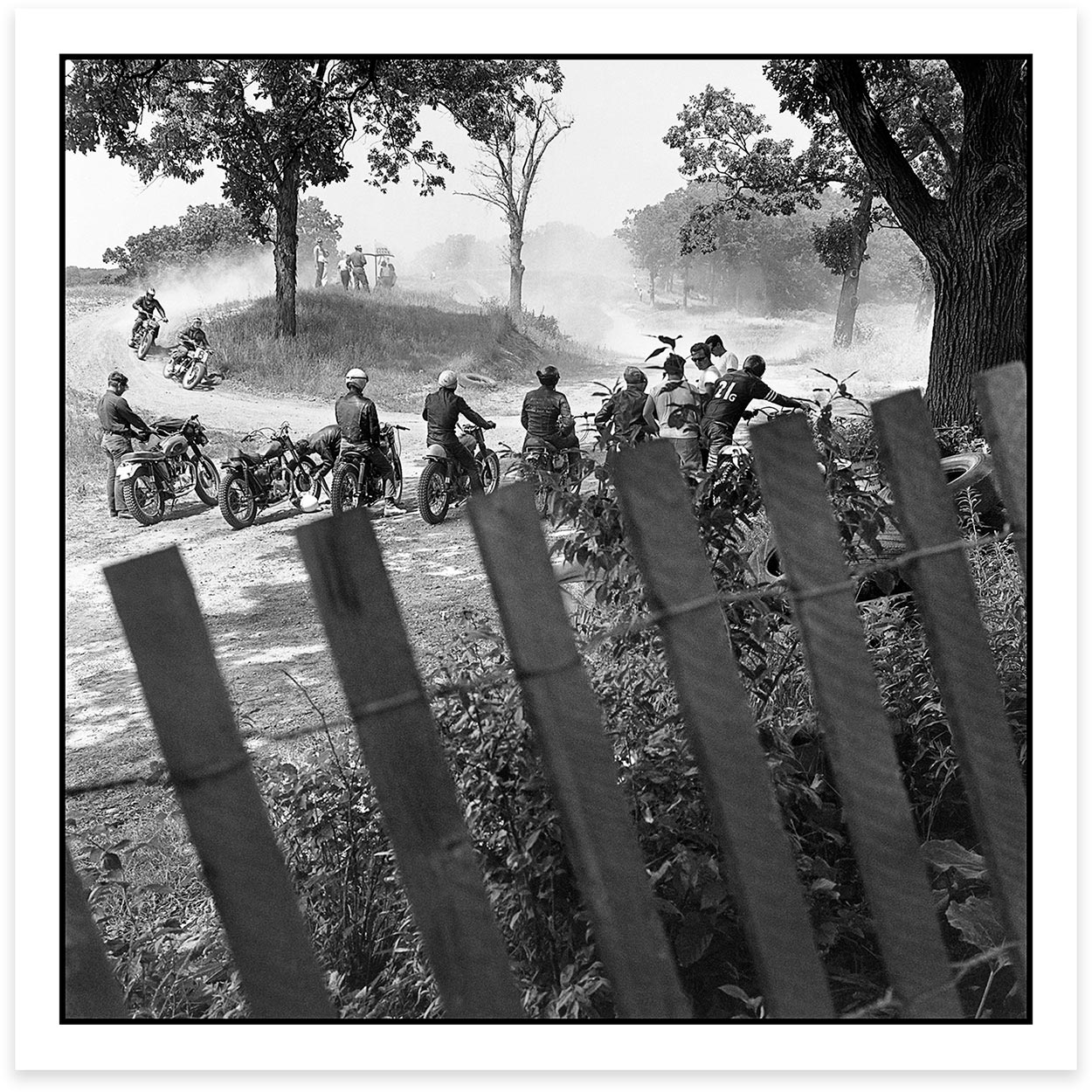 The Bikeriders was a book made in two worlds, the world of motorcycle racers and the world of the Outlaws. The track at McHenry was a favorite destination for both. Racers scrambled on the hilly dirt track winding through the woods. The Outlaws lay in the grassy hills above to watch. Leather-clad riders reached the peak of a hill and both wheels left the ground. Watching the racers in the ground glass of my Rolleiflex, I knelt behind a snow fence, my foreground. There was something dark and forbidding about the landscape before me, like a Dürer etching or Brueghel painting. The track at McHenry was the curator Hugh Edwards's favorite picture in my book. When I republished the picture later with Aperture in a horizontal format book, Edwards said it was the wrong design. It had to be vertical. "You would design an entire book around this one picture?" I asked. "Yes," he answered. — Danny Lyon
Magnum Square Print by Danny Lyon – $100
Constantine Manos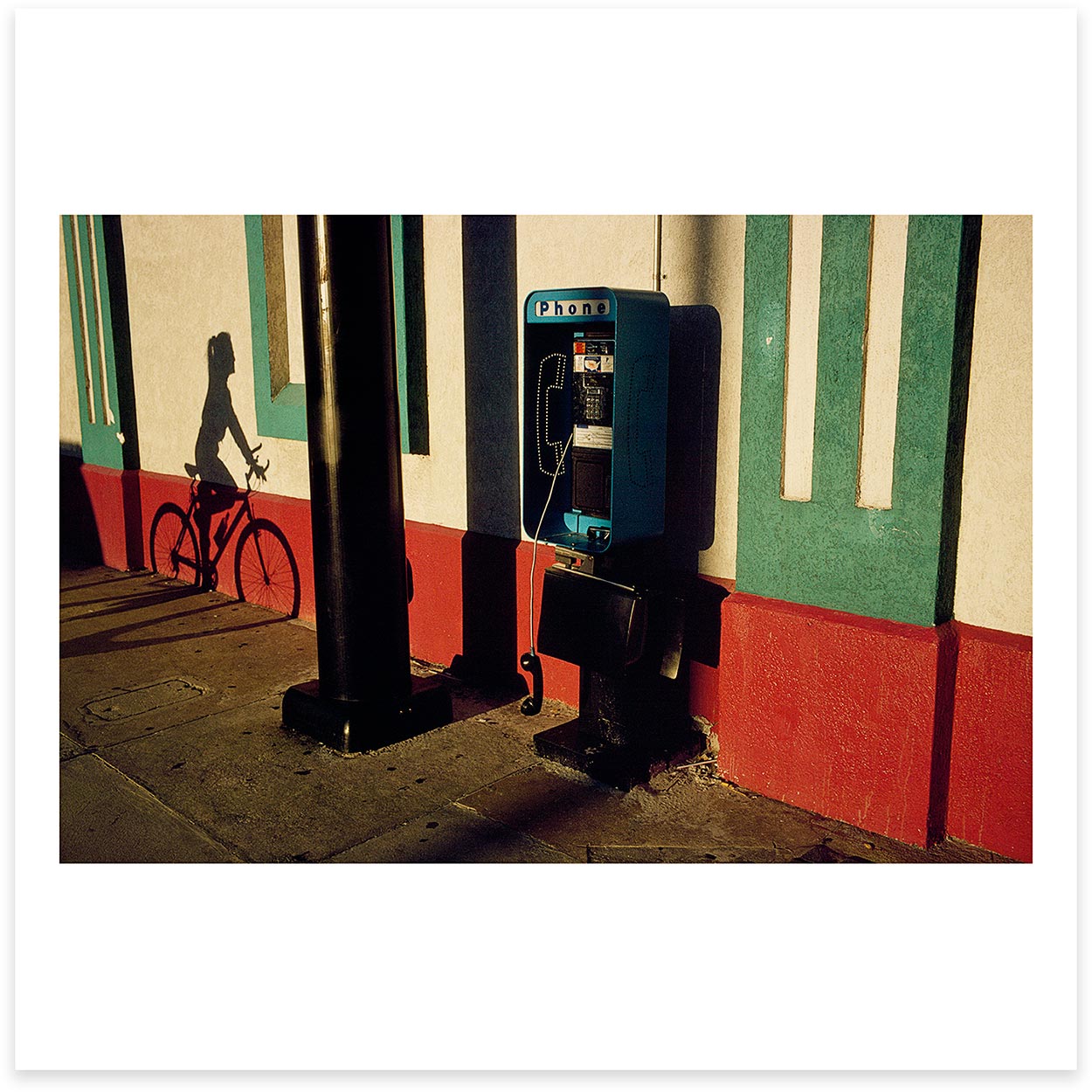 This picture, of the shadow of a girl riding a bicycle past a wall, next to a dangling phone receiver, was made in Daytona Beach, Florida, in 1997. In all my photographs I look for such a 'magic moment' – one that only happens once and will never happen again. The image appeared in my book American Color 2. — Constantine Manos
Magnum Square Print by Constantine Manos – $100
Trent Parke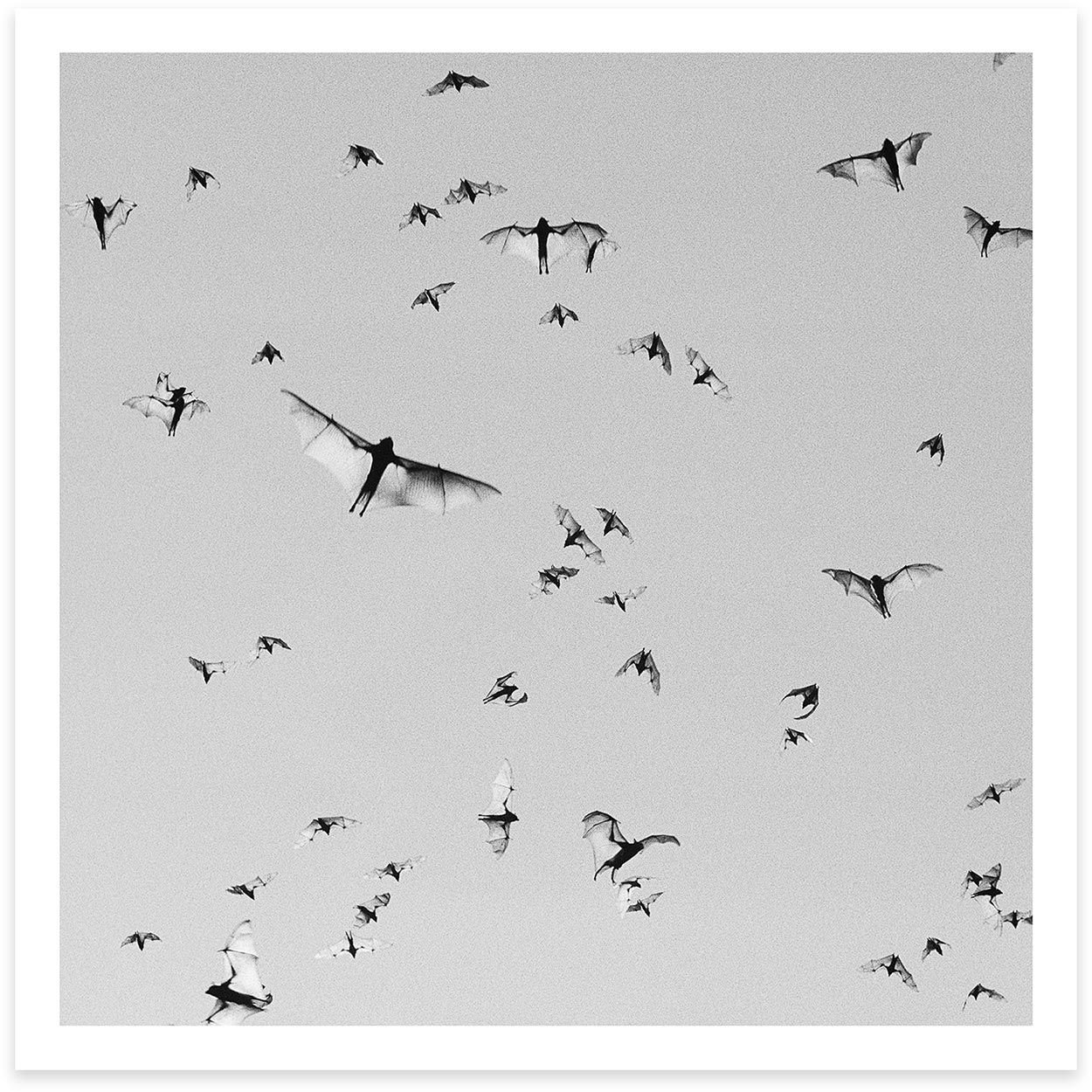 In 2003, Narelle and I quit our Sydney apartment, bought a two person tent, and took off on a road trip around Australia. For two years, we travelled from beach to bush, covering over 90,000 kilometres.
We had no set itinerary: letting life lead by chance and coincidence. Never knowing what was around the next bend. — Trent Parke
Magnum Square Print by Trent Parke – $100
Mark Power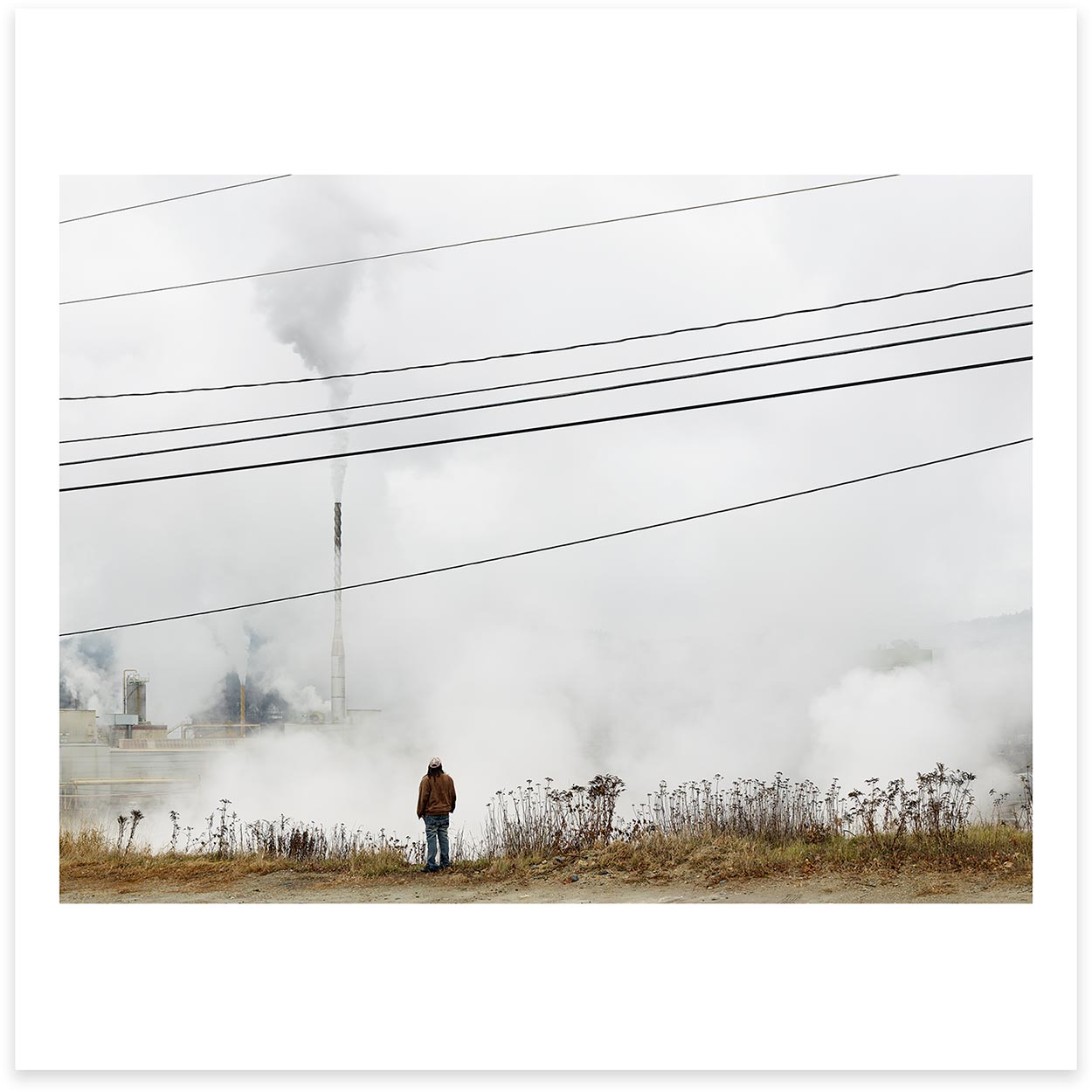 Even if I know where I'm going I can never predict what I'll see when I get there, and walking the streets, turning a corner, or making the decision to go left or right can all lead to unexpected encounters. Some, of course, are more memorable than others.
Recently, while making pictures for my project 'Good Morning, America' in New England, I made a detour to Rumford, Maine. I knew a paper mill had been operating in the town for over a century and that it was now under Chinese ownership — acquired the previous year by Nine Dragons Paper Holdings — but I couldn't have imagined how it would dominate the place.
The steam emanating from the plant blended with the thick, low-lying mist which (fortunately for me) hung about all day, as if the mill was on fire. — Mark Power
Magnum Square Print by Mark Power – $100
Chris Steele-Perkins
The unexpected is the lifeblood of photography. The predictable is safe, and boring. — Chris Steele-Perkins
Magnum Square Print by Chris Steel-Perkins – $100
Larry Towell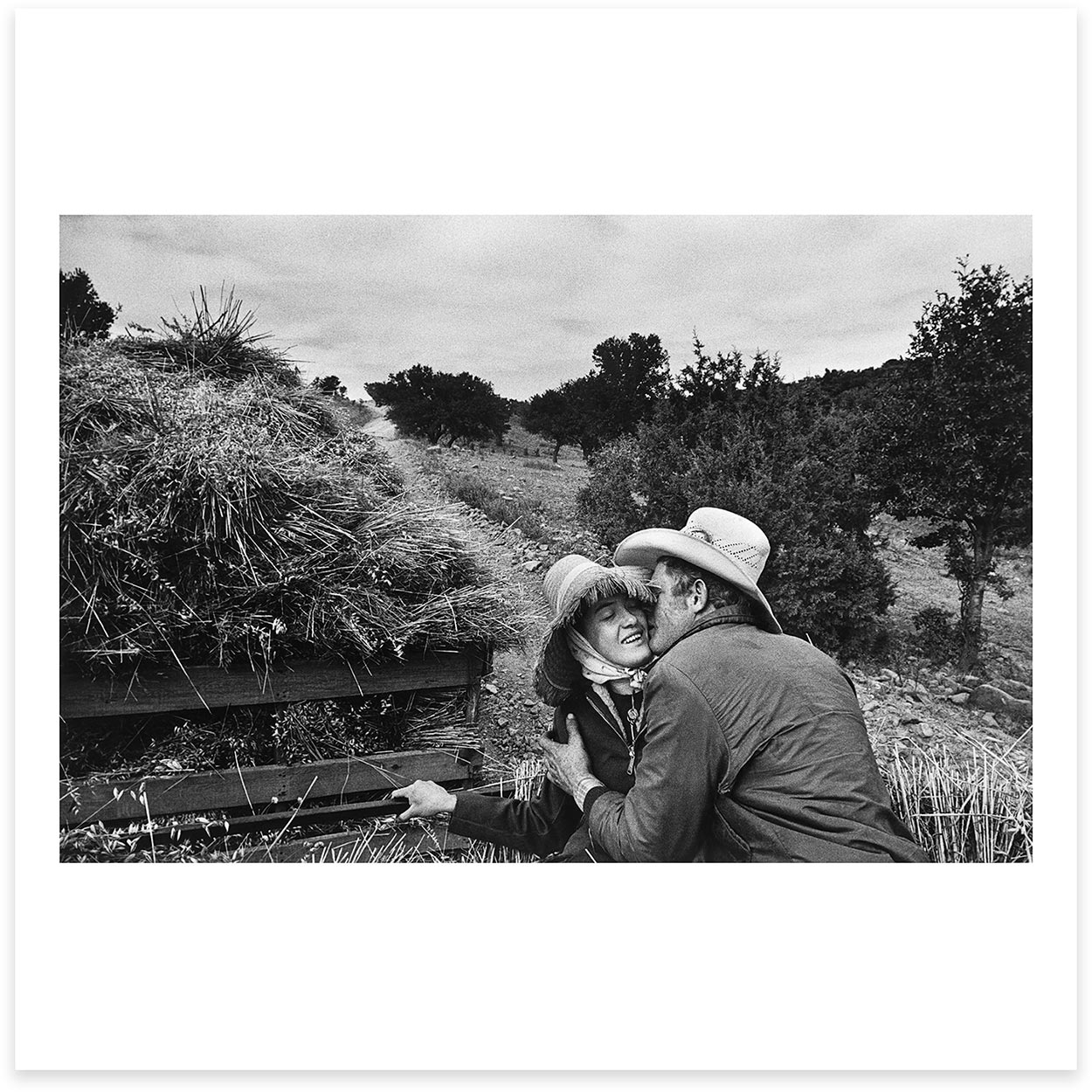 I'd spent a week driving from the Canadian border to Chihuahua in Mexico with Jacob and Susanna Wheeler and their seven children. Sometimes I rode with the boys in the pickup: sometimes with the parents and younger kids in the van. This was the first Mennonite migrant family I'd gotten to know. In the colonies around Cuauhtémoc, it was fall harvest. On a wagon full of oats, Cornelius Wall leaned over and kissed his wife Helen. The most conservative Mennonites in the world never publicly kiss, let alone in front of a camera. It didn't seem to bother them, meaning I'd gained their confidence. I would keep in touch with Cornie and Helen for years to come. — Larry Towell
Magnum Square Print by Larry Towell – $100
Alex Webb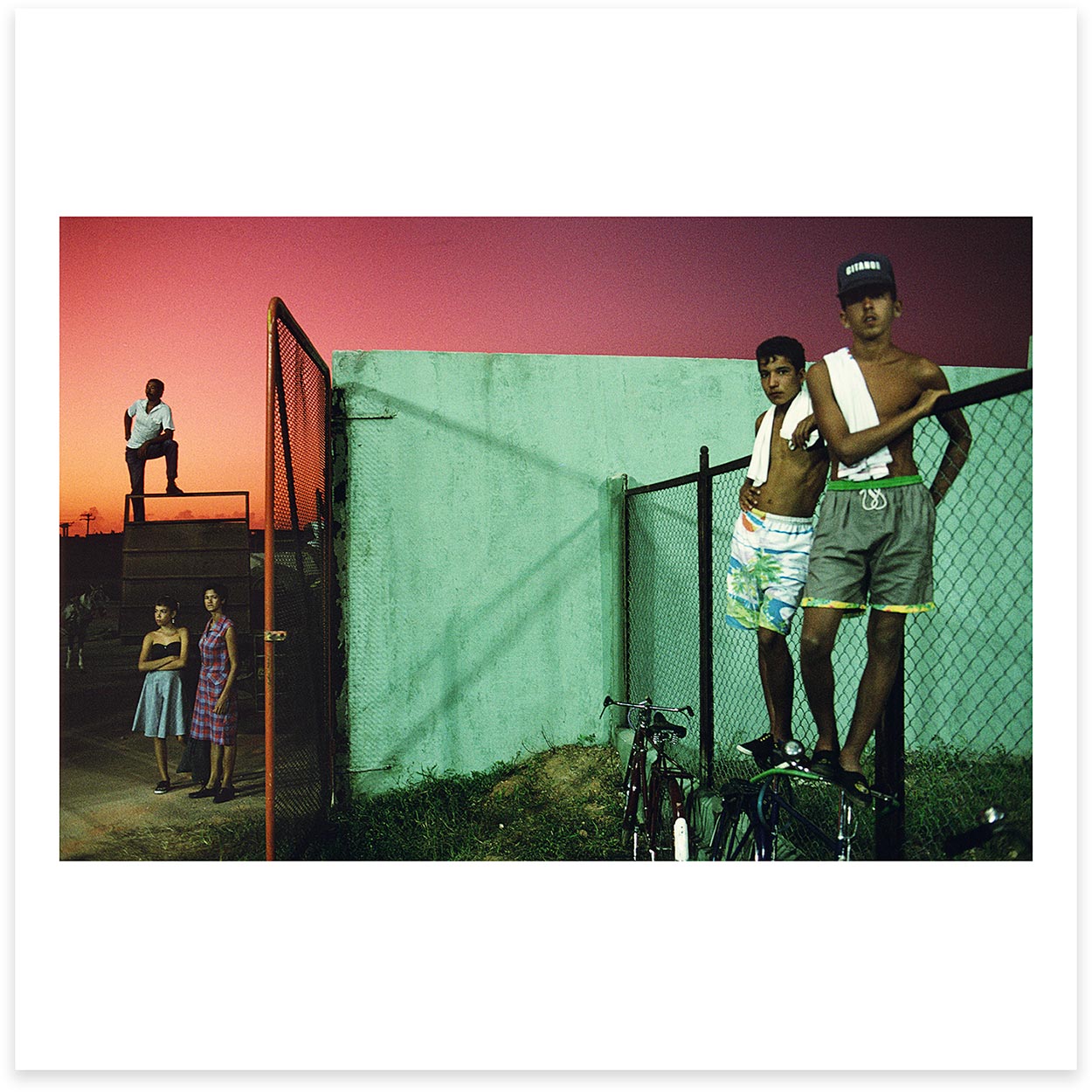 I only know how to approach a place by walking. For what does a street photographer do but walk and watch and wait and talk, and then watch and wait some more, trying to remain confident that the unexpected, the unknown, or the secret heart of the known, awaits just around the corner. — Alex Webb
Magnum Square Print by Alex Webb – $100
---
So there you have it! 9 Amazing images from some of my favorite Magnum Photographers. Do yourself a favor and check out all the images in the sale. Even if you're not shopping for a print there's some amazing work to see!!
The Unexpected – The Magnum Square Print Sale
UPDATE: The Magnum square print sale is now closed. Stay tuned to StreetShootr and I'll let you know when the next one is happening!
The Magnum Square Print Sale runs from Monday, March 22, 1AM PST to Sunday, March 28, 11:59 PM PST.
During the sale, over 100 archival-quality prints, signed by the photographers or estate-stamped by the estates, are available for just $100.
Magnum Square Prints are printed on 6×6" (15.24×15.24 cm) archival paper; image size is 5.5" (14 cm) on the longest side. Images will not be cropped but will instead have white borders. They are not editioned by quantity, but editioned by time, as these items will not be made available outside the sale window. The images in each sale are always different, and will never be available in this format again.
StreetShootr's Take On The Magnum Square Print Sale
Oh, here we go again! Every time a new sale comes along I spend 6 days convincing myself I don't need any more Magnum Square prints then order a bunch of prints on the last day of the sale. There should be a 12 step program for this!
I think the Alex Webb is one of my favorite images by him so that's a must buy for me. But the Costa Manos and Harry Gruyaert are also amazing images. What do do?
Might just have to get them all and be done with it!
---
What's your take on the latest Magnum Square Print Sale? Are you excited to get a print from your favorite Magnum photographer? Or do you think the format is just too small? Post your ideas in the comments below and keep the conversation going!